SF State-trained science and math teachers pay it forward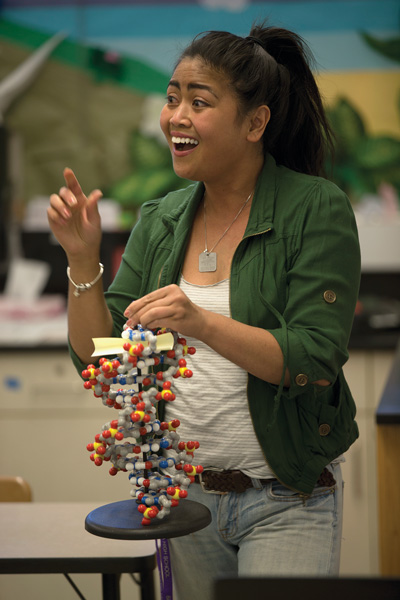 Sequoia High School science teacher Donna Dela Calzada(B.A., '06), is gleeful about the video of her mother's polyp-removal surgery. "It's pretty epic," she chuckles, swiping through her iPhone to find it. Ms. D., as her students call her, showed the pulsating globules to all five of her Redwood City classes, tailoring the lesson to each group. Her biology students learned about cell mutation, and for her biotech students, she focused on tools and techniques. "They loved it and hated it — all at the same time," she says.
Provoking emotional responses and using examples from her own life are a couple of Dela Calzada's techniques for connecting with students — a bag of pedagogical tricks she picked up in SF State's teacher education program, where she was a fellow at the Center for Science and Math Education (CSME). A College of Science and Engineering-based program, CSME partners with the Graduate School of Education to support future teachers in STEM fields — science, technology, engineering and mathematics. For Dela Calzada, that support included career counseling, an opportunity to do research at NASA and a group of people who just got her.
"As soon as I said I want to be a teacher, there were so many people who tried to talk me out of it, including my own family," she said. "The pay, the kids … so it was nice to have a community that understood [what was driving me] — the passion for teaching."
Mission Control
That sense of community Dela Calzada found in CSME arose by design. Pulling together formerly dispersed functions and resources, the center was created in 2008 as mission control for SF State's richly layered efforts to educate next-generation STEM teachers. Different points of entry include workshops for curious undergraduates, resources for credential candidates and professional development for working teachers. The goal is to increase the number of potential science and math teachers in the pipeline.
"It's a leaky pipeline," says Larry Horvath, an assistant professor of secondary education and senior science education faculty at CSME. Only 14 percent of entering SF State freshmen declare a STEM major, compared to 60 percent in non-STEM fields, according to the most recent statistics from the California State University Chancellor's Office. Of the declared students, just a quarter actually graduate in STEM fields. Only 6 percent of undeclared students graduates in a STEM field.
Further down the pipeline, the number of credentials being issued continues to decline, according to an April California Commission on Teacher Credentialing report. Over the past six years, math credentials declined 37 percent and science credentials had a smaller but equally alarming 25 percent falloff. And trained teachers continue to leave the profession within about five years.
CSME addresses these companion issues by building what Horvath calls a "community of practice" to support and inspire teachers from the time they first consider the profession all the way through their classroom service. "And if there are barriers, how do we get past those barriers?" says Horvath, explaining the center's philosophy.
---
"I would not be here without the Center for Science and Math Education. Sometimes it takes other people to remind you that you're worth believing in."
— DONNA DELA CALZADA (B.A., '06)
---
The support is as individual as challenges each student brings to the table.
For math major Norma Hernandez (B.A. '10; Cred. '13), just the center's physical space was a help. In the CSME office, she could use the computer, print out assignments and relax on the couch between classes. More importantly, as a single mother, she felt welcome. "I never felt ostracized because I had a son," she said. He was just 2 when she transferred from community college in 2008. "They never lost hope in me. They were like, 'Oh that's great, you should bring your son to our workshops.'"
The barriers Dela Calzada faced lasted 11 years. As a freshman she was diagnosed with lupus, an autoimmune disease. It would soon attack nearly every organ in her body. For a time she needed her sister's help getting dressed in the morning, and she faced dialysis twice a week for years. But her medical odyssey heightened her interest in science, and together with a passion for afterschool programs — she worked at Daly City Parks and Recreation — she stayed in school. "I would not be here without CSME," she says of the faculty's relentless encouragement. "Sometimes it takes other people to remind you that you're worth believing in."
Both women earned Noyce scholarships, a highly selective National Science Foundation grant that pays STEM-teaching candidates a game-changing $10,000 per year. Dela Calzada's was through a 2004-07 San Jose State-affiliated program. Then in 2011, SF State landed its own Noyce program. Hernandez was in the inaugural cohort.
Noyce is about both quality and diversity, and the two go together, Horvath says. Content-area and pedagogical expertise — in other words, knowing your subject and how to teach it — are both "necessary but not sufficient," he says. Context is a critical third element. "You cannot engage students unless you have a deep understanding of who they are and where they come from."
Noyce Scholars agree to work in high-needs schools for two years — no problem for people like Dela Calzada and Hernandez. "That's exactly what they want to do," Horvath says.
Hernandez describes her ethnic identity as "quirky." Raised in Mexico until first grade, she grew up mostly in San Francisco's Bayview-Hunter's Point housing projects, where she still lives. She feels a kinship with the Mission — "Pan dulce … the culture, the people who look like me," she says — but home is her largely African American and Samoan neighborhood, where she serves as a third-year math teacher at the International Studies Academy. Next year it merges with O'Connor High School, which has a larger Latino population.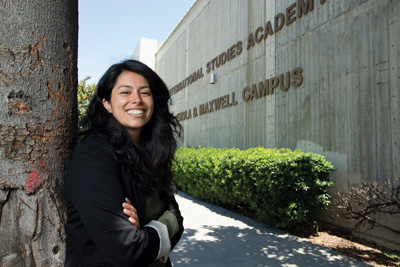 Rooted in Community
Hernandez is thoughtful and genuine about using her community roots to reach her students. One particular Samoan girl reminded her a lot of her herself — smart, but not engaged, she says. It took time, but Hernandez gradually built a trusting relationship. "Because you come from a rough neighborhood and they come from a rough neighborhood, you can engage in a certain type of language, and tap into who they truly are," she says. Then, she adds, you can slowly transfer the language over to academics.
Hernandez lights up as she talks about her student's transformation. Not only is she asking questions and participating in math, "she's become a critical thinker in her other classes. Because she feels so proud, she comes to me and says, 'Look Ms. Hernandez, this is what we're doing in this other class.' She doesn't shut down her brain anymore."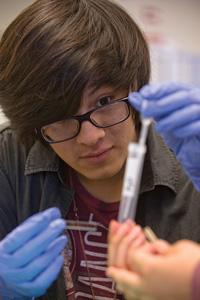 Hernandez reflects for a minute. "That's why I came into teaching — to change girls' minds about their potential," she says, acutely aware of her influence as a role model. "Growing up I felt this [message] … because you're a pretty woman there's this box you need to fit in — that you're not smart, that you can't do math. You're just pretty and that's all you'll be." Now, the values her students hear from her every day are to push their thinking and solve problems. "If you're not making mistakes, you're not learning," she tells them.
Dela Calzada says the Sequoia population, 72 percent minority, about half Latino, seems especially afraid of making mistakes. To counter that, she delivers a stream of personal anecdotes and Yoda-like wisdom about coping with life's challenges, including her health issues and having another language spoken at home. "When a student comes to me with some sort of struggle, that's one more student I'm able to help," she says, adding, "What other job is there where all the crap ... you go through, there's an immediate purpose to it?"
Hernandez and Dela Calzada have both completed their Noyce teaching obligations, but they came back to CSME as teachers in residence, giving workshops for fellows and helping develop curricula. "They're part of the SF State community of STEM educators, and they are fantastic advocates for what it's like to be in this profession and stay in this profession," Horvath says. "They really think about why it is they do what they do."
The residency helps the teachers grow professionally and provides collegial interaction with peers, veterans and newcomers — that community of practice. Dela Calzada says the monthly gatherings re-energize her. "Whether we're sharing stories of frustration, fatigue or guess-what-happened moments, we always end up laughing," she says. And it reminds her "what a good teacher-mentor looks like," something she strives to be.
Giving Back
Hernandez appreciates that her work is valued. "It makes me feel like this is my career, my profession," she says. But mainly, she likes giving back. "I love being part of that support, because that was given to me when I was a student. I like the cycle."
It's the cycle Horvath envisioned. "That's the goal: You've helped them and supported their developing the tools to where they feel empowered to make a difference."
And the work fulfills a desperate social need: access for everyone to a solid math and science education. "We need students who can make really strong evidence-based decisions … decide what's good information and what's not, what's data, what's not," Horvath says of our culture's daily internet bombardment. "Understanding how to identify and solve problems, how scientists build models to understand the way the world works … it's literacy writ broadly," he says. "The more students can do these things, the more opportunities they have."
CSME's Broader Mission: The Three E's
Love doesn't usually figure in mission statements, but it does for Mathematics Professor Eric Hsu, director for the Center for Science and Math Education. He describes the SF State center's overarching mission as "giving more people a chance to excel in and love science and math."
Three themes fan the ardor: educators, equity and enrichment.
"Equity is about giving students of all backgrounds a fair chance to succeed on campus," Hsu says. A one-unit workshop that uses peer-teaching to help undergraduates through tough classes is the centerpiece. "It gives people a chance to work in smaller teams … and see what other peoples' struggles are," Hsu says. "They get to practice asking questions and communicating their ideas."
CSME is always about opportunity, never evangelism, Hsu stresses. "If people leave STEM fields, we want it to be a positive choice and not something they weren't given a fair shot at."
The third E, for enrichment, gets reinforced by training participants in using effective enrichment activities including Math Circles — games and puzzles for elementary and middle schoolers. "The goal is to get people excited about thinking and wrestling with problems and having 'aha' moments," Hsu says. Unlike similar programs that tend to serve elite populations, SF State's Math Circles are inclusive. Based at a diverse set of school sites, they use teachers to help recruit kids. Undergraduates lead the sessions.
Another offering, STEM HOUSE, or Hands-On University-School Engagement, welcomes fifth grade classes to campus, where elementary education undergrads lead them through science activities. For many kids, it's their first visit to a college campus and a lab setting. "We give them little lab coats — they get really excited," Hsu says.
In both, the kids get fun, experiential exposure to the concepts, and the student facilitators get to try out working with kids. "These programs all feed on themselves," Hsu says. "We're all rowing in the same direction."
By ANN BRODY GUY | PHOTOGRAPHY By D. ROSS CAMERON