by Michael Bruntz | All photos courtesy of Michael Maltzan Architecture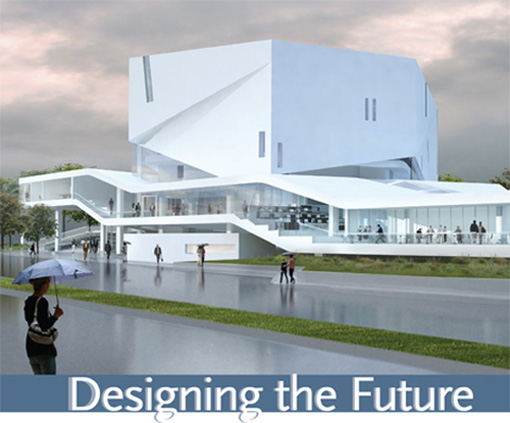 How to take SF State students and faculty to new heights in creativity, innovation and scholarship? Hire an award-winning architect who shares the University's vision for the future.
In February, a group of media and potential donors gathered around a model of The Mashouf Performing Arts Center as architect Michael Maltzan discussed his designs for the 242,150-square-foot building. He spoke of interconnectedness and collaboration, while revealing the building's spacious hallways and state-of-the-art performance spaces and broadcast facilities.
"This building is meant to be a gateway, both physically and culturally," Maltzan said. "The exciting challenge is to create a building that expresses the spirit of creativity in this special context -- strong and dynamic, with an optimistic view to the future."
Designing a new facility befitting SF State's venerable standing in creative arts is no small feat -- alums have won more than 11 Oscars, 11 Grammys, 12 Tonys and 47 Emmys since the mid-1950s. But those who attended the unveiling of Maltzan's designs found him up to the task. San Francisco Chronicle Urban Design Critic John King, for one, noted the building's potential as "one of the Bay Area's most architecturally provocative landscapes."
Funded with a mix of public and private funding, including a $10 million donation from Manny Mashouf (B.A., '66) and Neda Nobari (B.S., '84), The Mashouf Performing Arts Center will house SF State's nationally renowned programs in theatre, music, dance and broadcast and electronic communication arts, while keeping SF State on the forefront of creative education and the performing arts.
The new facility, to be constructed in three phases at the corner of Lake Merced and Font Boulevards, will feature expanded performance, practice and academic spaces. The centerpiece of Phase I, expected to begin in 2012, is the 1,200-seat theatre, a venue for large lectures as well as theatre, music, opera and dance performances.
The building's architecture is defined by an expansive horizontal form and is punctuated by the performance spaces rising above. A distinctive wave design flows along both Lake Merced and Font Boulevards, creating a feeling of movement and encouraging pedestrian activity through interconnected arcades and walkways.
Designed to a LEED Gold level standard, the center incorporates numerous sustainability features, including rainwater capture and reuse, natural ventilation and daylighting in non-performance spaces.
"The University has always been a powerful incubator for artistic talent, as evidenced by the success of so many SF State graduates," said President Robert A. Corrigan. "Now, The Mashouf Performing Arts Center sets the stage for even greater possibilities and achievements."
See the sidebar Q & A with Michael Maltzan.
View more images of the future Mashouf Performing Arts Center.