by Pam Grady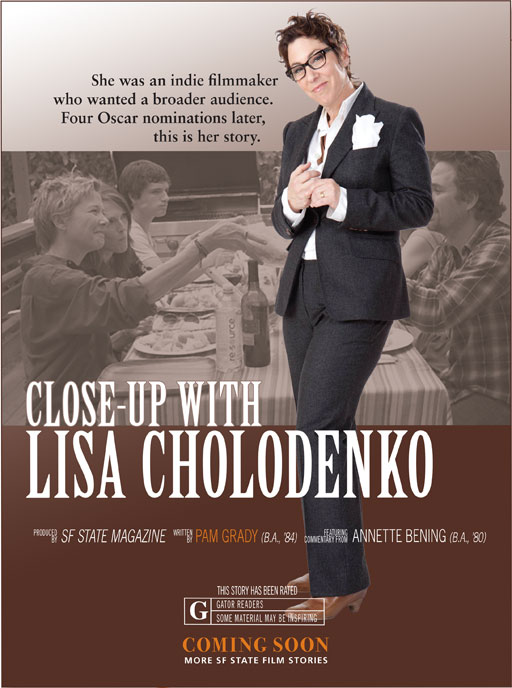 Lisa Cholodenko (B.A., '87) could hardly believe the news. Her comedy drama, "The Kids Are All Right," had received four Academy Award nominations: Best Picture, Best Supporting Actor, Best Actress (for alumna Annette Bening's performance), and Best Original Screenplay for the script Cholodenko co-wrote with Stuart Blumberg.
"It's awesome. It's what every filmmaker aspires to, getting the recognition of your peers in that way. For me, just being invited to the Oscars is astonishing and great," she says in a phone call the week before the ceremony.
The writer/director did not win the Oscar, but she and Blumberg took home the Independent Spirit Award for Best Screenplay, only the latest among the film's numerous honors that include the Berlin International Film Festival's Teddy Award for Best Feature Film and a Golden Globe Award for Best Motion Picture - Musical or Comedy.
While she learned the nuts-and-bolts of her craft at Stanford and Columbia, Cholodenko says that SF State, where she majored in Interdisciplinary Studies and minored in Women's Studies, laid the foundation for her career in film.
She studied under Stanley Bailis, founder of SF State's Interdisciplinary Studies program, and served as a teaching assistant to social activist and scholar Angela Davis. Her course work covered anthropology, sociology, psychology and ethnic studies.
"Clearly, I was interested in people and social studies. I was interested in gender politics," Cholodenko explains. "Something I got in those early days is that you can't look at human behavior without looking at context. I was really interested in anthropology and all those social science classes."
At SF State, she says, "I realized I really loved writing and telling stories. What I learned there really helped me kind of distill my ideas and learn how to be a better storyteller."
See more on Close Up with Lisa Cholodenko