Head of the Class
---
"I fell in love with the idea of learning, because I could see learning taking place," Matthews recalls. "It excited me and made me want to teach."
—Vincent Matthews
---
When Vincent Matthews (B.A., '85; M.A., '89; Ed.D., '10) began his tenure as superintendent of the San Francisco Unified School District (SFUSD) in the spring of 2017, it was a homecoming in more ways than one. Matthews now oversees a district in the city where he was born and raised, that includes schools he attended as a student and worked at as a teacher, with an educational focus that he says was nurtured in part by his time at SF State.
"Coming into SF Unified, one of the things I did was read about the district's mission, with its heavy emphasis on social justice and student-centered learning," Matthews says. "Seeing the values at SF Unified, and how well they matched both my upbringing and my time at SF State, helped to clarify that this was the exact position I wanted and that I would fit best in."
It also exemplified a tenet he says he keeps in mind as an administrator: "Who better to come back and impact an area than young people who were raised in that area?"
After receiving his B.A. in liberal arts and M.A. in educational administration, Matthews was part of the first cohort to graduate with the University's doctoral degree in educational leadership. He credits the program's professors, including Jeff Duncan-Andrade, with "really pushing us all to think about social justice and making sure that whatever direction we were going in would make a difference for students and families."
The first hints of his 30-year career in education came when he tutored his friends at McAteer High School.
"I fell in love with the idea of learning, because I could see learning taking place," Matthews recalls. "It excited me and made me want to teach."
Though Matthews might not be in a classroom every day anymore, he says he's holding onto that excitement and passion for educating.
"I still believe that the superintendent is the first teacher of the district," he says. "It's really about teaching our business community, our parent community, our student community and our education staff about who we are and what we are about."
As Matthews sees it, SFUSD is about more than reading, writing and arithmetic. The district's schools should also be helping students develop the skills that will be important in the 21st century job market, such as collaboration and critical thinking.
"What I'm working on with our administrators is being visionaries — having a vision of what the future will look like, and then asking ourselves how we shape our schools to match that mission," he says.
San Francisco has changed a lot since he went to church in Hunters Point or taught at George Washington Carver Elementary School, Matthews acknowledges, but "it's great to see that as the city has changed, in its diversity and in the corporate look of the city, we have a number of people still willing to step forward and partner with us, because they recognize the importance of our mission."
---
Poetry in Motion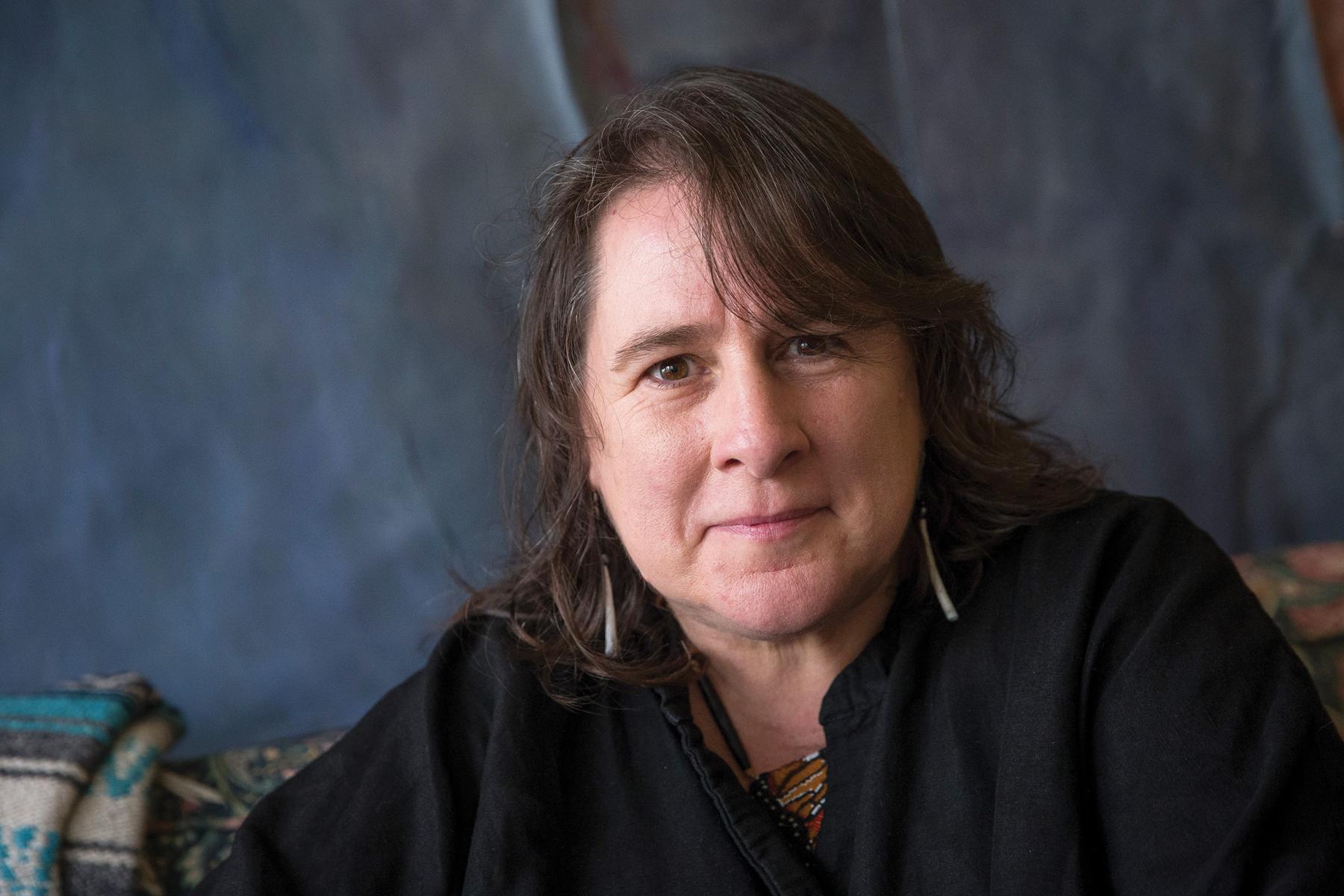 ---
"I like the sense that I can do something for poetry in the city that I couldn't do before"
—Kim Shuck
---
"You should really see my calendar. It's kind of lunatic," laughs Kim Shuck (B.A., '94; M.F.A., '98) as she lists off the readings, events and appearances she's scheduled to attend as San Francisco's new poet laureate. "I've heard from a couple of different people that this gig is quite strenuous. Maybe I'm just a weirdo, but I'm liking it so far."
Shuck is the latest in a line of SF State alumni and professors who have held the laureate position: Six of the seven laureates have had some connection with the University. "It has something to do with the enormous diversity of the student body — racial, economic, cultural diversity," she suggests. "I feel diversity is essential for deeper thought, and I think SF State provides that."
Shuck's poetry thrives alongside her weavings, her beadwork, her art classes at California College of the Arts and her math and art lessons at local elementary schools. A native of San Francisco, Shuck is of Tsalagi (Cherokee), Sauk, Fox and Polish ancestry and "was raised among working-class people for whom stillness was very unfamiliar," she says. All of her work, Shuck suggests, is part of the same storytelling impulse that she has followed since she was a child.
Shuck was also a lecturer in the College of Ethnic Studies from 1998 to 2004, teaching Native science, Native art and Native oral literature. "There are a lot of writers who will never find themselves in a creative writing department, no matter how people try to reach out," she says. "There's just more of a space for those people in an ethnic studies department. I taught a lot of people like that, and I think it's enormously important."
These students have a critical outlet for their work in publications such as Cipactli, SF State's Latina/ Latino Studies journal, which she says must be supported in the face of University budget cuts. "Magazines like Cipactli have encouraged the people who have provided the city with some incredible work over the years, and it would be amazingly disappointing if that completely dried up."
Among Shuck's big-vision goals as laureate is creating a digital poetry map of the city that would deliver poems to users at appropriate locales. "We would basically be landmarking things with poetry, and I want to focus on some people that we don't hear a lot about, like Mary TallMountain and Carolee Sanchez and Alfonso Texidor," she explains.
Shuck will also be reading poetry to children in local libraries and attending a new poetry reading each week. "I feel like the people who run the open mics in the city and the regular poetry reading series are heroes, because it's not easy to do that now and our spaces are dwindling," she says. "The more that I can do to support that part of the poetry community at the moment, the better I think things will be.
"I like the sense that I can do something for poetry in the city that I couldn't do before," she adds. "In a city like this, we get to keep what we support."
The Write Stuff
Kim Shuck isn't the first poet laureate of San Francisco with an SF State connection. Lawrence Ferlinghetti, the city's first poet laureate, received an honorary doctor of fine arts degree from the University in 2015. The second and third poet laureates, Janice Mirikitani and devorah major, are both SF State alums. The fifth poet laureate, Diane di Prima, has a longstanding relationship with the University's Poetry Center, where she has performed frequently. And Shuck's predecessor as poet laureate, Alejandro Murguía, is a professor of Latina/Latino Studies in SF State's College of Ethnic Studies.
---
The Music Man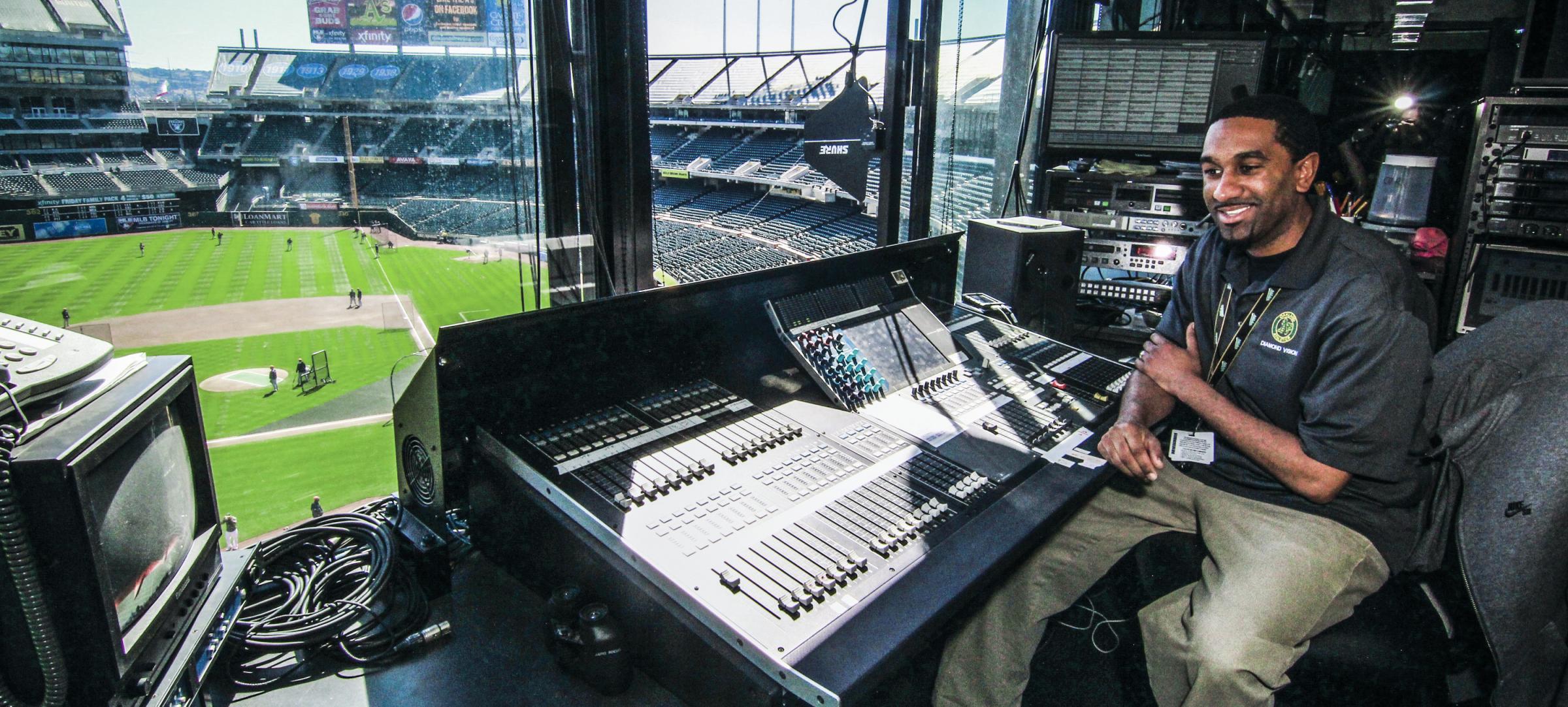 For Lee Merritts (B.A., '04), a ball game is raw material for a storyline he shapes via snippets of song. As music director and audio operator for the Oakland A's and the San Francisco Giants, this graduate of SF State's Department of Broadcast and Electronic Communication Arts is the reason you'll hear "California Love" when Rajai Davis rounds third base toward home for the game's first run or get a blast of NSYNC's "Bye, Bye, Bye" when pitcher Jesse Hahn strikes out a batter. But whatever nail-biting drama may be playing out on the scoreboard, Merritts has a higher goal: He wants you to have fun.
That philosophy crystallized a few years ago, when Merritts — who is in such high demand that this year he founded Game Day Audio Operators, a company that supplies DJs he trains to sports programs around the Bay Area — started working for the Oakland Raiders. "Their image has always been tough, and they wanted to change that," he says. "I came up with the idea that it needs to feel like a family Oakland block party."
The combination of Merritts' childhood and the education he received at SF State makes him ideal for the task. He grew up in San Ramon in a sports-fan household alive with music. His parents played Motown and threw house parties featuring their karaoke machine, while two older brothers loved hip-hop and R&B and another older brother blasted Twisted Sister.
Studying audio at Diablo Valley College and Chabot College before transferring, "I thought I was going to be Dr. Dre, producing in studio," Merrits says. But then, the summer after his first year at SF State, he took an internship with the A's. Learning of his passions, the team soon transferred him from sales to the audiovisual team, where the A's longtime audio operator took him under his wing.
Merritts says his studies under SF State Professor John Barsotti primed him for the day when opportunity would come knocking. "Professor Barsotti is simply one of the most knowledgeable people I've ever met in this business," he says. "There was no question he couldn't answer."
Currently, Merritts works up to five ball games a week and is responsible for everything from playing "stingers" (bursts of song you hear between innings) to soundchecking National Anthem singers. His Game Day Audio Operators has four employees, whom Merritts mostly deploys to lower-pressure gigs for the Stanford University Department of Athletics. Meanwhile, Merritts' newest initiative, his pre-game showcases of local music, reconnects him to the time when he yearned to be a music producer.
"I'm always playing local legends — Too Short, MC Hammer," Merritts says. "I realized I could have a connection to new artists, too. The local music scene is ridiculously awesome. I thought it'd be really be cool if I can land the local songs that have potential to be hits and give them a platform." So Merritts has taken it upon himself to ask local music artists to email them their new tracks, which he plays before Giants games and then promotes via Game Day Audio's social media channels.
But he hasn't forgotten his number-one duty. "You know, you work your job, you come to the ball game to have fun no matter what," Merritts says. "Especially this year, with the A's and Giants both in last place, my philosophy has to kick in during that seventh inning."
---