SF State experts say retail's going the way of the dinosaurs — and evolution, as always, is the key to survival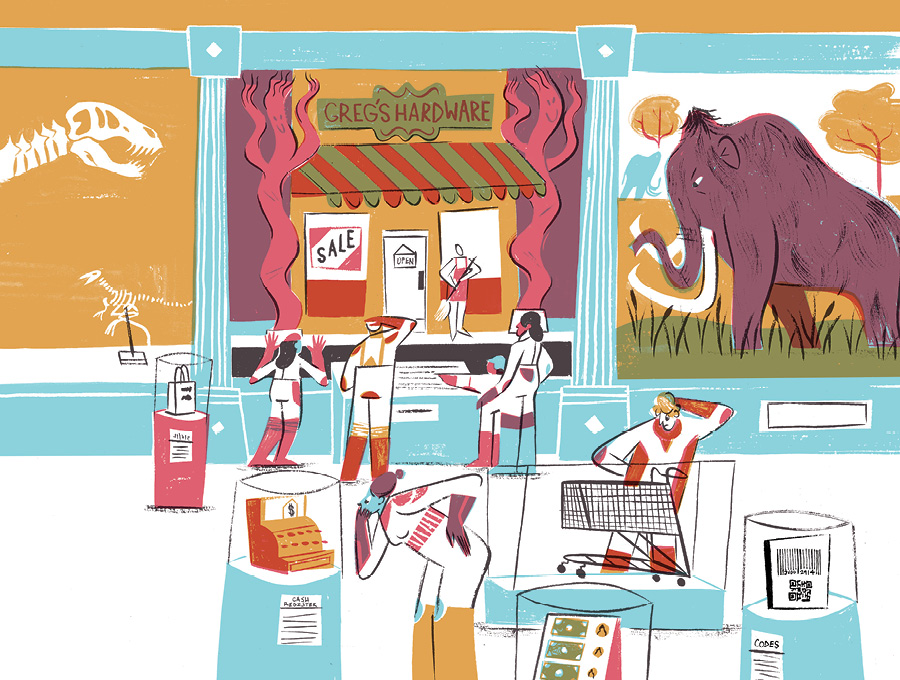 By Jamie Oppenheim, Illustration by Drew Lytle
From his office inside the Westfield Mall near Union Square, San Francisco State University Professor of Marketing Sanjit Sengupta has a firsthand look at how "disruption" can radically change a landscape. He sees stores closing all around him. There was the upscale grocery store Bristol Farms, then Lark Creek Steakhouse and a few months ago the restaurant Cupola…all gone. It's part of a nationwide trend of malls closing and retailers shutting stores — fallout, Sengupta believes, from the rise of mega-etailers like Amazon.
According to Sengupta, who works at SF State's Downtown Campus, even with the vibrant tech and startup scene, many stores downtown are struggling. People no longer see malls as social hubs, he said. For many shoppers, it's just more convenient to buy goods online rather than wade through crowds or sit in traffic.
Convenience isn't the only thing causing sales slumps. Some retailers didn't adapt fast enough to the changing economy. This is the classic problem with disruption, according to Sengupta: The old guard thinks it will survive under the old-world business models and hasn't been quick to adapt to the new business model.
Part of being an early adapter is developing new ways to hook customers.
"Amazon has tied people up with the Prime membership. Once I pay an annual membership, others have lost me. It's like Costco: It's not like they have a lot of variety, but people keep going back there because they are vested through their memberships," Sengupta says. "Macy's has been under the transactional model and they rely on brand recognition and expect loyal customers to keep walking in."
But brick-and-mortar stores will not evaporate entirely from the landscape, SF State Associate Professor of Marketing Ian Sinapuelas predicts. They'll just take on a different form.
"Gone are the days when you could go into a big-box retail store and find everything you want," says Sinapuelas. "The new stores are going to be smaller and they are not going to have the same inventory they used to. The physical store will be the place where people can experience the product — touch it, smell it, maybe even try it on. It's just a showroom, essentially."
Sinapuelas points to Best Buy as an example of a company that's adapted to that trend and is actually thriving.
"Best Buy fell prey to 'showrooming,' where consumers would come in and inspect the product in the store and then buy it online at another store for a lower price," he says. "But Best Buy didn't fight it. Instead, they offered more services to people looking to go into the store and experience the product. That increased foot traffic, and the company no longer saw showrooming as a bad thing."
Conversely, some of the successful e-tailers are now experimenting with expanding their footprint offline. Amazon is taking over hundreds of Whole Foods locations in the U.S. and United Kingdom with the recent acquisition of the company so it will have a physical footprint.
"Part of the reason Walmart has been so successful at competing with Amazon is that it had both online and offline stores," Sengupta says.
Yet there's still hope for "mom and pop" operations that don't have a giant corporation's financial might behind them. As retail stores fall out of fashion, a former SF State student is developing new ways for small businesses to grow.
Michael Perry started KitCRM in 2013. The company helps business owners market themselves online through a "virtual employee" that can create Facebook and Instagram ads, marketing emails and performance reports all over text message.
Perry, 31, grew up working in small family businesses. In 2004, he enrolled in SF State's College of Business, and his experience as a Gator played an important role in the development of his company.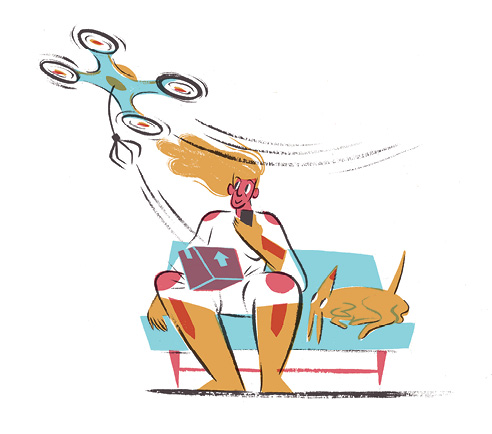 ---
"Gone are the days when you could go into a big-box retail store and find everything you want."
---
"I wrote my first business plan while I was in the college's entrepreneurship program," he says. "It helped me recognize that there's no blueprint for starting a business."
Perry had a number of business ideas, but he eventually stuck to what he knows: small businesses. He wanted to build a technology that could help them succeed, so he left school and devoted himself full time to his concepts. A few ventures later, he started Kit, which had its own growing pains. It eventually found its footing and Perry sold the company to the e-commerce software company Shopify in April 2016. He still serves as Kit's director.