These may be turbulent times, but SF State's faculty experts haven't lost their focus on a brighter tomorrow
It's become common these days for Americans of a certain age to feel short-changed when it comes to the state of the world. "It's 2020," they say. "Where are our jetpacks?"
The almost complete absence of jetpacks hasn't been the only disappointing thing about this year. Between a global pandemic and clashes sparked by deep-rooted (and deadly) racial injustice and a seemingly unbridgeable political divide, sometimes it can be hard to feel good about anything at the moment.
But great universities aren't merely about the moment. They're about preparing students, communities and the nation for a better tomorrow. They look back, too, for perspective. They look at the world today for challenges, opportunities and insights. And they look to the future with hope.
That's why, as a new year approaches, we asked a dozen San Francisco State University faculty members what they're looking forward to in their fields of expertise. They shared the dreams and possibilities that give them — and, we hope, you — continued faith in the future.
What's Ahead for Theatre
"Liveness and presence are at the heart of making theatre," says Assistant Professor of Theatre Studies Elizabeth Bradley Hunter.
So how is the theatre to survive with COVID-19 bringing down the curtain on most live performances for the foreseeable future? Never fear, says Hunter. The show will go on. But more and more, it will do so digitally.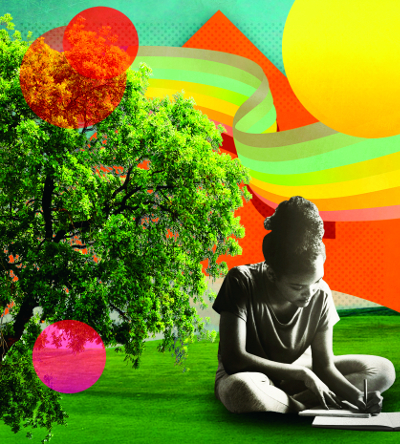 While earning a Ph.D. at Northwestern University, Hunter began experimenting with augmented reality and video games as possible mediums for storytelling. She hoped to use this technology to create an immersive experience for audiences. The result: "Something Wicked," a video game that brings to life a key battle described in a lengthy monologue in William Shakespeare's "Macbeth." In addition to being fun to play, the video game serves a pedagogical function by acting out a passage that, for a modern audience, could be considered dense and hard to digest.
However, as Hunter explains, understanding the monologue is key to understanding the character of Macbeth and his world. The video game stays true to the plot of the play, immersing the player in Macbeth's experience.
Hunter went on to design another digital experience, "Bitter Wind," which uses augmented reality to retell the Greek tragedy "Agamemnon." It's available to play on Microsoft's HoloLens "mixed reality" glasses, which merges the real and virtual worlds.
According to Hunter, such "augmented reality" technology opens up new possibilities for theatrical storytelling — possibilities today's theatre students (and tomorrow's theatre innovators) are going to learn to embrace.
"With the pandemic driving immersive digital technologies to become even more mainstream, I think theatre students who can get hands-on experience making work for a digital environment will be a natural fit for the new entertainment industry opportunities on the horizon," she says.
What's Ahead for Education
Across the country, universities have turned to remote instruction to help curb the spread of COVID-19. But for one SF State professor, virtual instruction is nothing new. It's his specialty — and he thinks it's not going away after the coronavirus is under control.
Associate Professor of Instructional Technologies Brian Beatty is the creator of HyFlex, a course design model that gives students the option of attending class in person, online or both. As an expert who understands the benefits of remote instruction, he says that educators will likely be more open to it post-pandemic.
"Many faculty taught completely online for the first time in the spring, when the pandemic started. And many did it successfully," Beatty says. "As long as we can come up with better teaching methods that support online learning, there's a chance for long-term change for remote instruction."
Research shows there has been growing acceptance of online teaching, but there is still resistance from some instructors. Beatty thinks the pandemic will change that. More faculty than ever have witnessed first-hand the benefits of remote education: more flexibility for instructors, more options for students and much more.
Although Beatty expects more instructors to embrace remote education in the future, he doesn't envision it replacing learning in person. Instead, he thinks the two approaches will complement each other. A perfect analogy, he says, is the way personal banking works today.
"While we have the option to do online banking, there are still many good reasons why we would go in person to see a banker," Beatty says. "Education is similar. In-person and remote learning both have different advantages, but it's all about giving students learning options that fit their needs."
What's Ahead for Money
That debit card in your wallet could soon be a useless antique. Digital wallets — virtual payment services like PayPal, Square or Apple Pay — are growing in popularity.
They're part of a FinTech (financial technology) revolution that's transforming how the financial service industry operates, says Finance Professor Todd Feldman.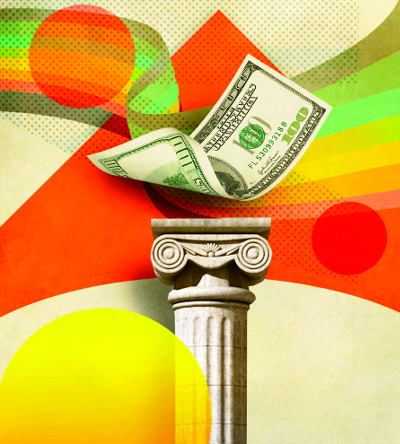 FinTech companies are developing technologies that are changing how value is transferred around the world. Feldman likens it to the change from snail mail to email: Transactions are faster, cheaper and more secure. In a recent paper published in the Journal of Index Investing, Feldman predicts that banks will play a smaller role in how consumers make payments.
"In this new world, the need for ATMs, phone-based banking and physical banking centers would be reduced," Feldman said in his study. "FinTech banking companies could overcome traditional branch-based banking networks globally in the future."
It's a theory he put to the test in his paper. After studying FDIC call reports (quarterly reports filed by banks that illustrate their financial health) between 2017 and 2019, he found digital wallet companies were expanding while bank deposits remained flat — results that could ultimately indicate that the stock value of banks is on the decline. And Feldman doesn't expect that trend toward FinTech to reverse itself.
"Tech companies are all about these innovative ecosystems. They take maybe 12 new innovations that no one's ever done before and then they create an ecosystem out of it," he says. "Once you're in the ecosystem, it's hard to get out."
One example: the ecosystem Apple created out of the iPhone. Customers purchase music from their iPhone, they store files in the cloud and they can purchase items using Apple Pay.
Another company, Square, is ahead of the curve, Feldman says. It created a digital wallet app for consumers and chip readers for small businesses, and now it has applied to become a bank. That's creating a system where there's no longer a need for credit cards, Feldman says. Square is on its way to becoming its own ecosystem.
Such developments won't just help FinTech stockholders. Feldman thinks they could be a real boon for the unbanked — people who don't have their money in traditional banks or who depend on alternative financial services like check-cashing establishments. Credit cards charge service fees, and businesses end up raising their prices to cover that. By helping consumers avoid those fees and the higher prices that come with them, digital wallets could bring the unbanked into the financial mainstream, Feldman says.
What's Ahead for Public Health
"COVID-19 forces us to reimagine a public health infrastructure that isn't plagued by structural racism and perpetual underfunding. This is a turning point to make real progress in preventing emerging threats from infectious and chronic diseases and climate change and in promoting measures to assure conditions where every Black and Brown baby is born healthy."
Assistant Professor of Public Health David Rebanal
What's Ahead for the City
Some say that urban environments such as San Francisco's will become obsolete now that remote work has shown people what it's like to live without long commutes, crowded spaces and expensive housing. Associate Professor Jasper Rubin begs to differ.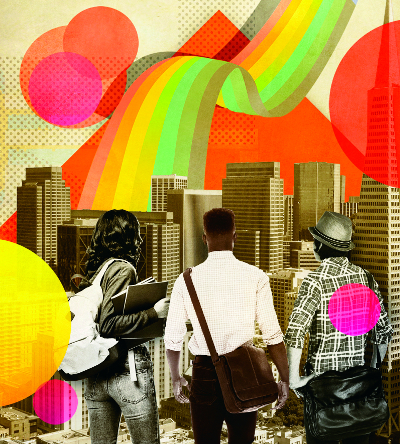 "People are going to want to come back," Rubin says. "They're going to want to walk down a street that's filled with other people, that's active, and live in a place where they can meet their daily needs by leaving their house on foot or on bicycle. We're social creatures by and large, and the trend globally has been to urbanize."
Rubin serves as coordinator of the Urban Studies & Planning Program and director of the School of Public Affairs & Civic Engagement. A former San Francisco urban planner, he's conducted extensive research on the city's development. Sustainability, he says, will be key to San Francisco's post-pandemic bounce back. "It's going to be interesting to see how we expand the notion of what is sustainable in an urban environment — not just to respond to climate change and sea-level rise, but also to the potential for the next round of global pandemics. How do we make a sustainable urban place, one that can accommodate people in a variety of conditions that are less than optimal? I think SF State, which we call 'the city's university,' should be front and center in those conversations."
Rubin is hopeful that the temporary restrictions on access to the city's museums, public transportation and other amenities will make people appreciate those benefits more when restrictions lift. "Maybe that will spread the idea that more places ought to have those things — that we should be doing everything we can to reshape the built environment so there are more places throughout the Bay Area that have the amenities people appreciate about San Francisco."
What's Ahead for Parks and Outdoor Recreation
"The future is bright as more people connect to nature and become stewards of our public lands, authentic voices are heard and expanded use ultimately enhances one's quality of life. Change is inevitable as access to parks increases and more people across demographics reap the physical, mental, emotional and intellectual benefits of immersion in nature."
Professor of Recreation, Parks & Tourism Nina Roberts
What's Ahead for Transit
Between slashed budgets, fears of public spaces and employees skipping the commute to work from home, you'd be forgiven for thinking that COVID-19 is a death knell for urban public transit. But that's not the lesson Professor of Geography & Environment Jason Henderson has taken from the past few months — just the opposite, in fact.
"This could be an opening to focus on the quality of the transit experience," he explains. "What if we thought of transit capacity not as 'how many people can you cram into a small space' but '[how can we ensure] everyone gets a comfortable seat?'"
For Henderson, the COVID-19 pandemic points to the need for a city of the future with well-supported public transit systems, robust cycling infrastructure forming "corridors" with transit and many more bicycle trips overall (along with far fewer cars). While the U.S. may not be leading the charge on that front, Henderson says he sees inspiration around the world. "When I do check in on Europe, I get very hopeful," he says.
Not only is this envisioned future city plausible, Henderson says, it's necessary. And it has to happen soon to avoid the worst potential impacts of climate change. "It has to be within this decade," he explains. "It has to be fast."
Another recent event that gives him hope is the national outpouring of anger over George Floyd's murder in Minneapolis. These protests, he says, point to a politically engaged public that will not repeat the mistakes of the past and that will demand that this transition to a green future happens with the well-being of the most vulnerable in mind.
"The protests against police murder are a hopeful articulation that this response — the climate response and the pandemic response — can't be fascist," he says.
What's Ahead for Criminal Justice
"Recent uprisings ignited by police terrorism have brought an anxious palpitation to the state, and attempts to co-opt and vitiate these radical demands have further exposed the fruitlessness of liberal reformism. Yet there is hope in these contradictions. It is only in times of certain uncertainty that real change is possible."
Associate Professor of Criminal Justice Studies George Barganier
What's Ahead for The World
It takes creative thinking to respond to a global crisis. Aritree Samanta, an assistant professor of Environmental Studies in the School of Public Affairs & Civic Engagement, believes that innovations born of the pandemic have the potential to change the world in important ways. We could see a greener economy and better food systems in a post-COVID world, she says.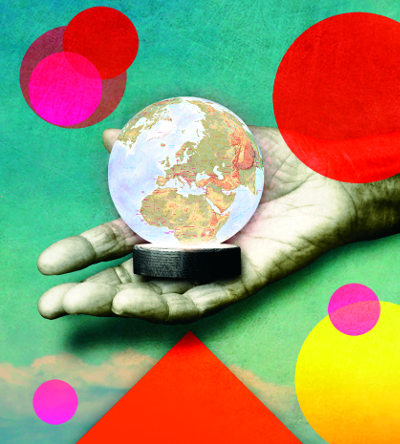 "What is happening in other nations is really inspiring, even though this is dire," Samanta says. "The United Kingdom and several countries in the European Union, now that they are planning their post-COVID economic recovery, are heavily investing in a green recovery. What these countries are doing in terms of national policies — they are re-investing, changing policy goals, and they are prioritizing the environment."
In addition, Samanta says, lessons from the public health crisis will be good preparation for future climate-related challenges regarding food resilience.
"There is so much food-related inequity," she says. "We all knew it exists, but now it has risen to the top. This has given us time to reimagine how we think about our food systems, how we think about supporting our food systems, how we grow local food, how we develop community food banks, how we make free food available and how we redistribute food. It was happening in bits and pieces and in pockets, but it's happening a lot more now."
Samanta is encouraged by the knowledge that SF State students, with their grounding in social justice, will be working on some of these ideas in the future. She and her colleagues have been exploring how to integrate social justice into their courses in explicit, intentional ways that put it at the core of their teaching.
She is also excited about the potential impact of a proposed interdisciplinary climate-change certificate program, which would focus specifically on social justice and would train both matriculated and non-matriculated students.
"We count on our students as a hope for a changed, sustainable and more just future," she says. "Now more than ever we look forward to embrace our legacy of academic excellence and commitment to social justice at SF State in training the next generation of change agents and leaders."