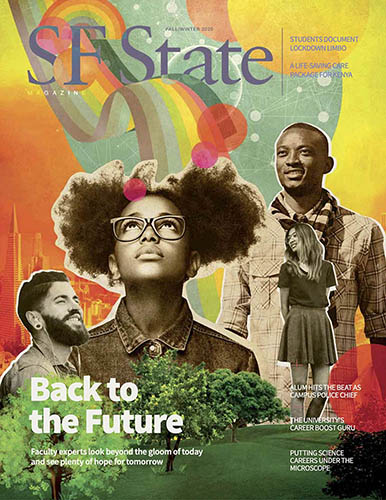 I always enjoy reading your articles and checking up on old — often very old — classmates. Great publication!
Don McPhail, B.S., '66
Secretary, Gator Gridiron Club
I really enjoy reading SF State Magazine whenever it appears in my mailbox. I had many wonderful years studying at SFSU and took many classes outside of my major, such as filmmaking, acting and yoga!
Katharine Harer, B.A., '67
To read more about what these alums have been up, turn to the Class Notes section. Have updates of your own to share? Go to the Class Notes submission page.
Within three years of attaining my Marketing degree, I was able to secure a six-figure salary at a massive tech giant in Silicon Valley. I could not have done it without guidance and knowledge gained from SFSU. As a first-generation Asian American from a refugee camp in Thailand, I could not be more thankful for where I am today and the faculty, family and friends that helped me get here. I'm now a student again for a master's program at Western Governors University. SFSU definitely made learning more enjoyable and is a continued inspiration for my ongoing education.
Tuan Pham, B.S., '17 
During the 1968 strike and "campus closure" not all the school was shut down. The Department of Design and Industry (DAI) held classes much of the time. When official classes were not held, most areas in DAI were open to students to continue working. Most students in the department, even if they supported some of the demands, were on campus for an education/jobs, not to make a political statement.
Tony Sittner, SF State student '68-'71
Want to share your perspective on the University and its history?
Send comments to sfsumag@sfsu.edu.