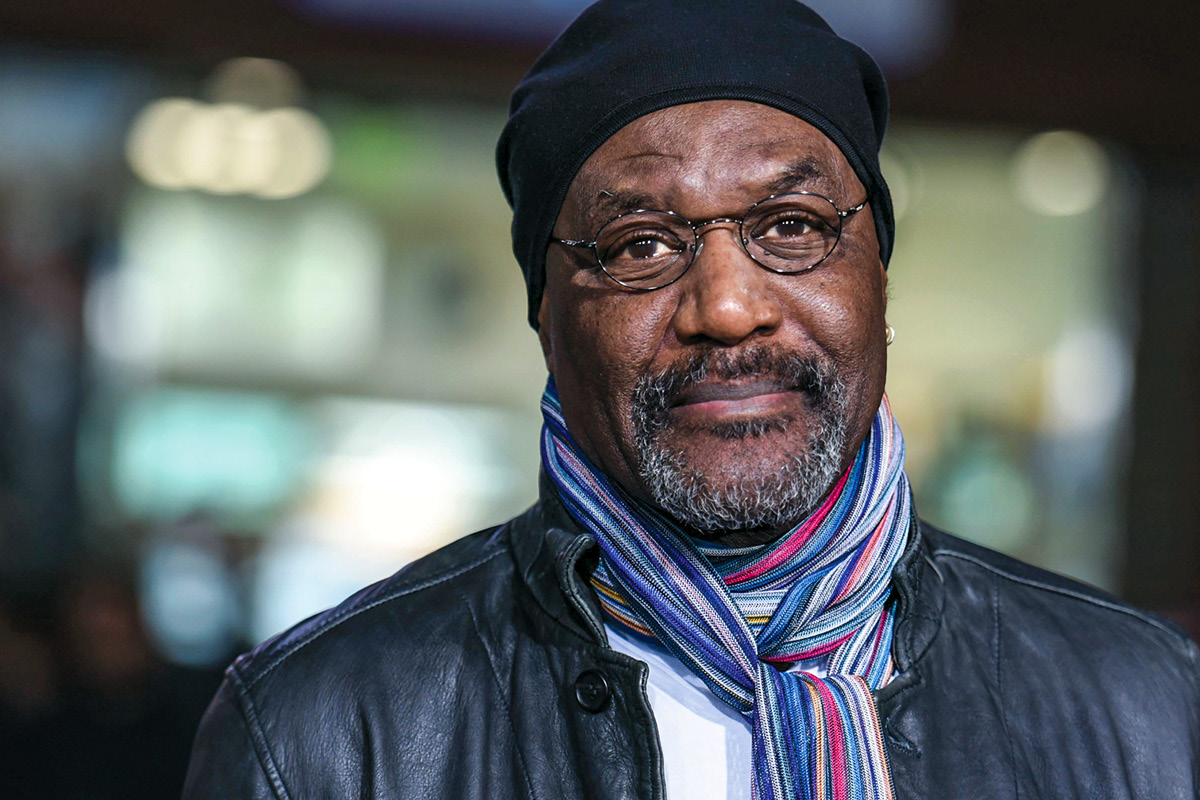 Class Act
Actor Delroy Lindo — SF State's 2021 Alumnus of the Year — is known to bring gravitas to any scene he enters. It has come across in dozens of films (including "Get Shorty," "Malcolm X" and "The Harder They Fall") and in his Tony-nominated theatre roles. But one of his most cher­ished moments in front of an audience wasn't while playing a role. It was when Lindo, at age 50, took the stage at SF State's Commencement in 2004, walking alongside fellow recipients of the Bachelor of Arts in Cinema. A first-generation college gradu­ate, Lindo made sure his young son not only saw him on the Commencement stage in Cox Stadium but also the dedication it took to make it there.
"I needed my son to see me put the work in. I needed to set an example," Lindo told graduates at this year's School of Cinema Valediction Ceremony, held May 28 through Zoom. "I needed for him to see me applying myself, so that hopefully the example I would set for my 3-year-old son would translate into his educational desires later on in his life."
Lindo was only 5 or 6 years old when he dis­covered acting as his passion. He recalls vividly a rehearsal in his native England for a school Nativity play. Lindo played one of the kings. The teacher noticed one classmate was struggling to recite his lines without looking at the cardboard cue card in his hands.
"At a certain point she said to him that he should do it like me," says Lindo. "He should watch what I was doing, and that would help him."
It was a moment that he only recently realized was so impactful.
"It was not an affirmation for my ego. It was just an affirmation for who I was, as a little Black kid in this all-white elementary school," Lindo says.
That little kid would go on to rack up nearly 70 appearances in film and television. He's acted in several Spike Lee-directed films, including "Malcolm X" (1992), "Crooklyn" (1994), "Clockers" (1995) and most recently "Da 5 Bloods" (2020), for which he won a New York Film Critics Circle Award for his portrayal of a Vietnam veteran. He recently won widespread acclaim and awards for his work on four seasons of the CBS series "The Good Fight."
In 2003 and 2004, long before the COVID-19 pandemic forced all students to go to school remotely, Lindo took his SF State classes by cor­respondence. He used a pseudonym. Even some of his instructors did not know one of their students was a famous actor.
Returning to SF State for this year's Cinema ceremony reminded him of the "generosity of spirit" he experienced as a student, and he per­sonally thanked former College of Creative Arts Dean Keith Morrison and Associate Dean Wan-Lee Cheng. Their investment in his academic success remains an inspiration.
Lindo urged the new graduates to harness all of their experiences as motivation — the good, the bad and the indifferent. "If you are able to embrace your challenges and put them to con­structive use," he told them, "that's where magic can happen."
A Gator Showcase in Marin
Michelle Gregor (MFA, '92), Pancho Jiménez (MFA, '93), Tiffany Tang (B.A., '15), Jeannie Ichimura (MFA, '18), Tiffany Schmierer (MFA, '04), and Shenny Cruces (MFA, '11) were all featured in an exhibition of contemporary ceramic work at the Marin Museum of Contemporary Art this summer. The exhibition was curated by SF State Professor of Art Jeffrey Downing.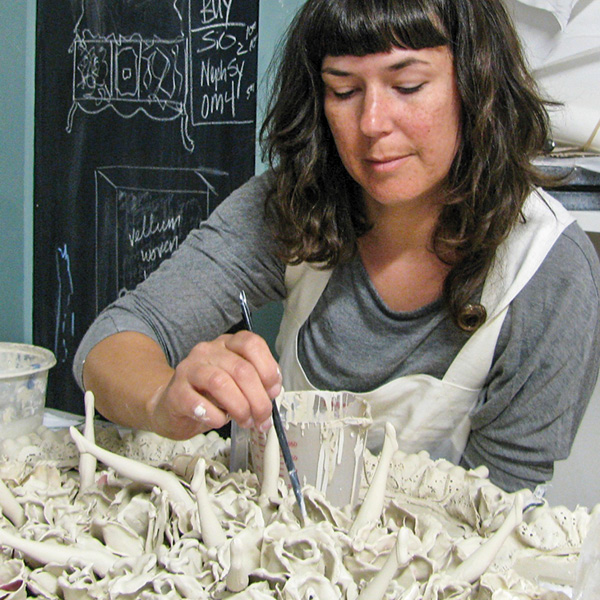 Cruces working on "Breast Plates"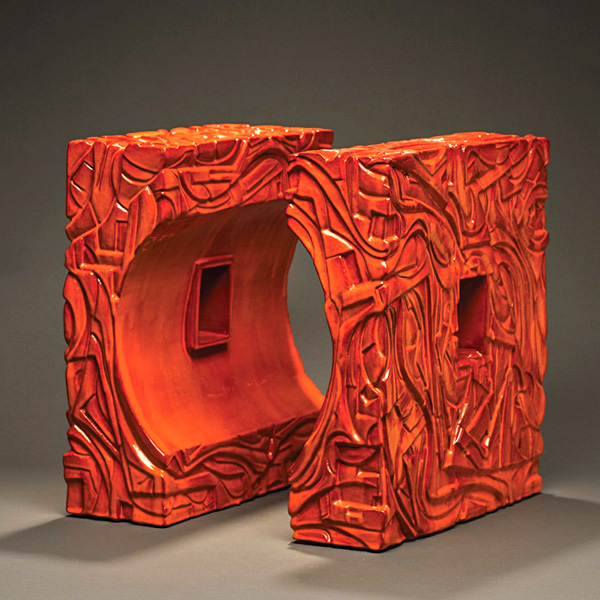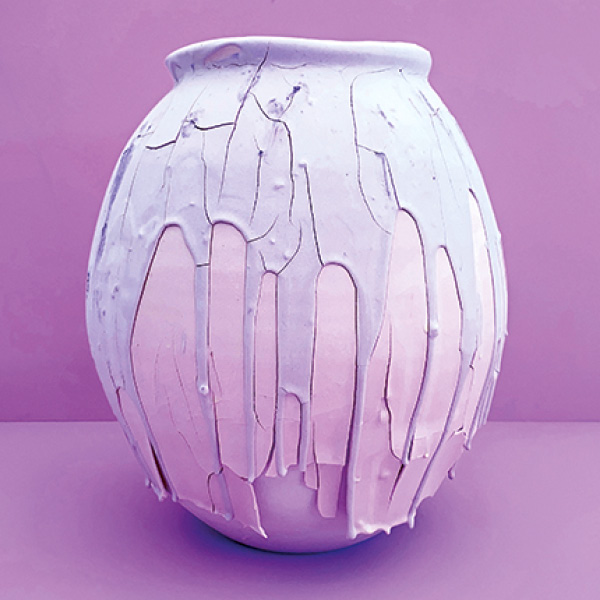 "It's Ok to Fail Sometimes" by Tang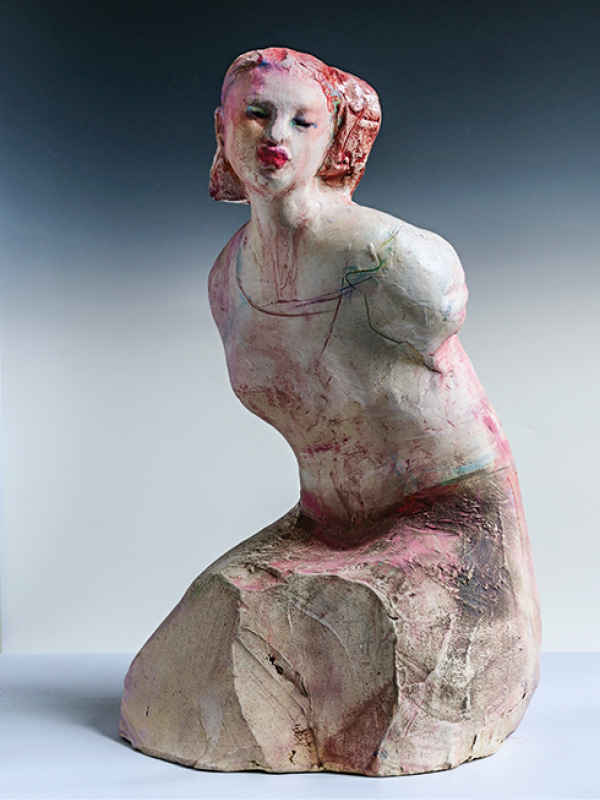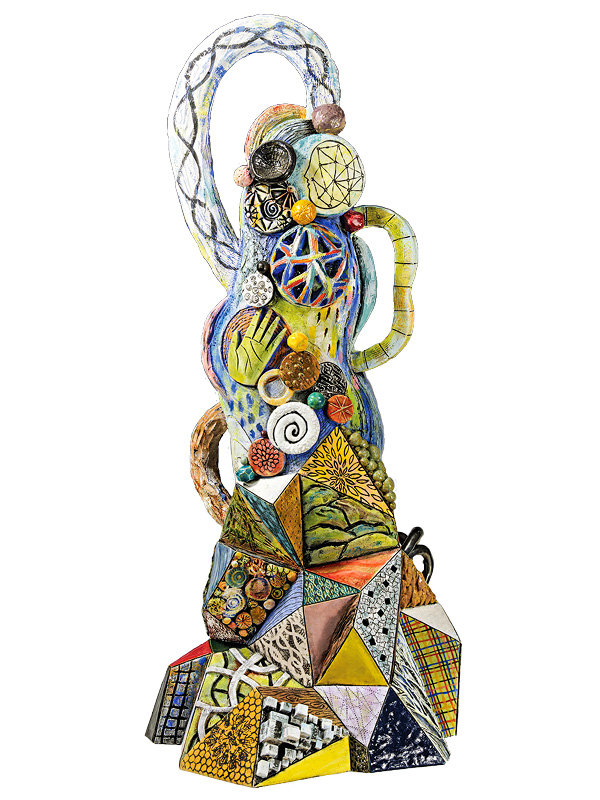 "Interconnection" by Schmierer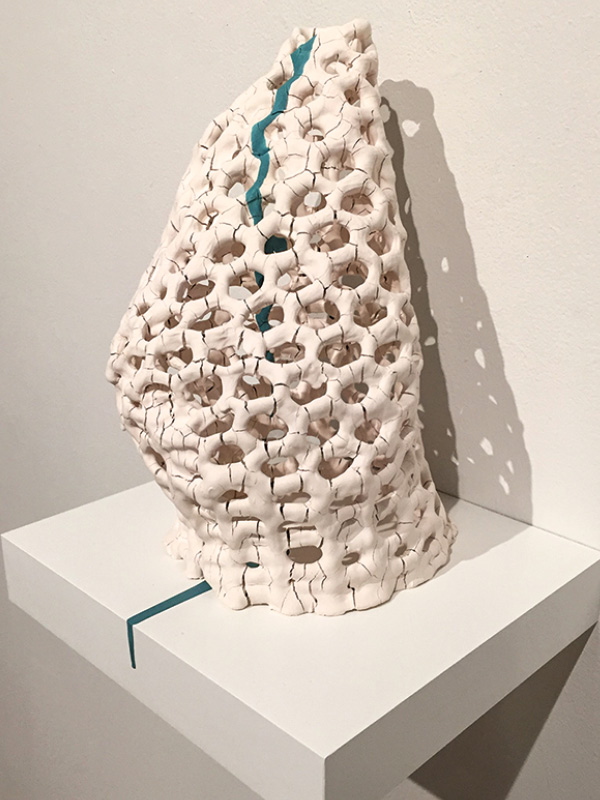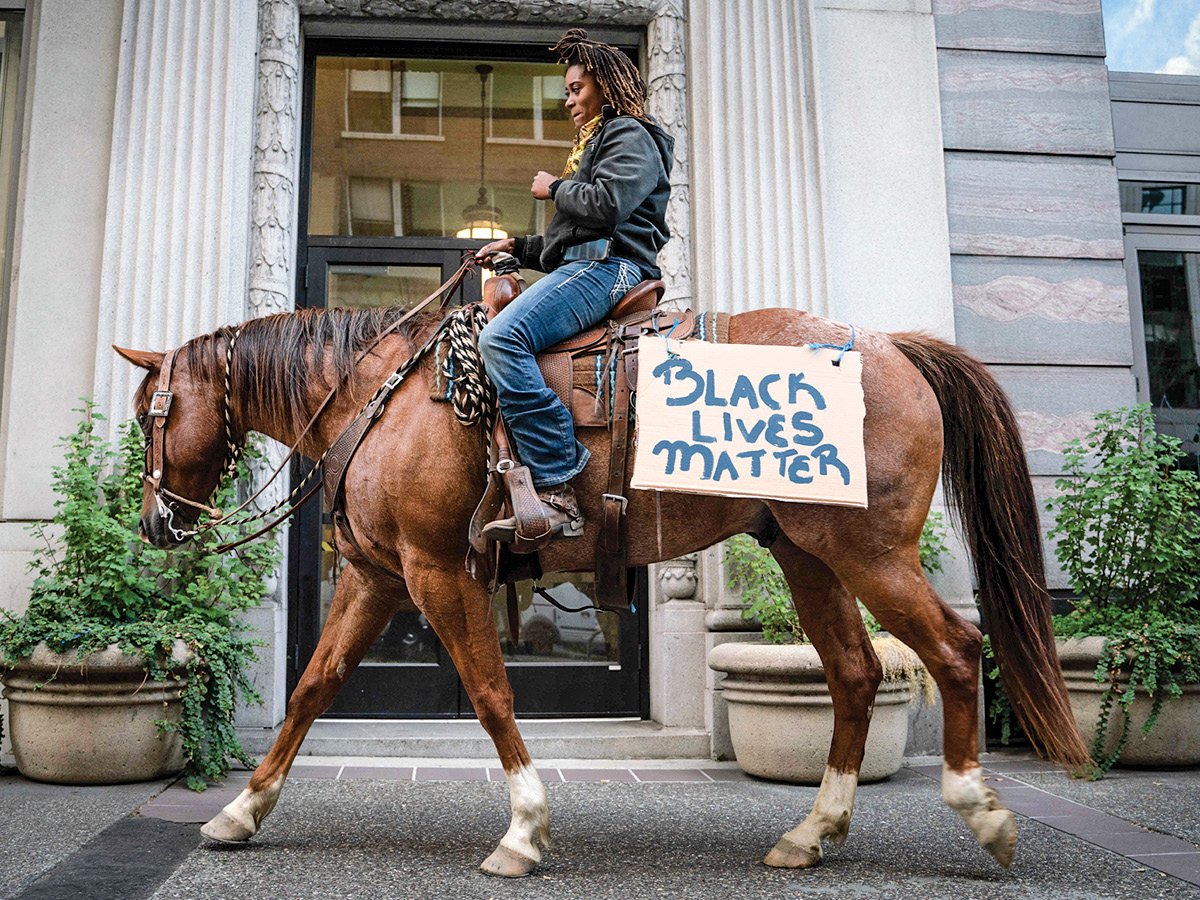 The Big Picture
I n fifth grade, SARAHBETH MANEY (B.A., '19) started carrying a camera with her everywhere. To this day it hasn't left her side. In junior high school, after reading National Geographic, she decided she wanted to be a photojournalist. So when it came time to apply to college, she chose SF State, which was close to home in Martinez and had a photojournalism program. Now, two years after graduating, she's embarked on a career-defining journey, camera still in hand.
In June, Maney began a yearlong fellowship with The New York Times, along with 32 other promising young journalists and media profes­sionals. The program replaces The New York Times' summer internship program. Fellows work in areas ranging from graphics, science, art to photography. Maney is based in Washington, D.C., and is doing the work of any beat photog­rapher covering stories on and off Capitol Hill. She also gets to travel with the president and vice president.
The fellowship was a long time in the making, she says. During and after college she held internships at the San Francisco Examiner, the San Francisco Chronicle and the Flint Journal in Michigan. As a freelancer, her work has appeared in Vanity Fair, The Guardian and The Wall Street Journal, among other well-known publications. This was her third time applying for the fellowship at The New York Times, and she says she was in shock when she learned she got the position.
"I felt really proud of myself, especially because representation is really important," she said. "To see the first-ever mixed-race woman in the White House as vice president, that was inspiring for me. When I realized I'm going to be able to document this time in history, it was an unbelievable feeling of excitement. ... Being a mixed-race woman and not growing up seeing a lot of people who looked like me, I think it's really important to provide that sense of representation and let people know that their stories are relatable and that they matter."
And those are the stories she hopes to continue telling.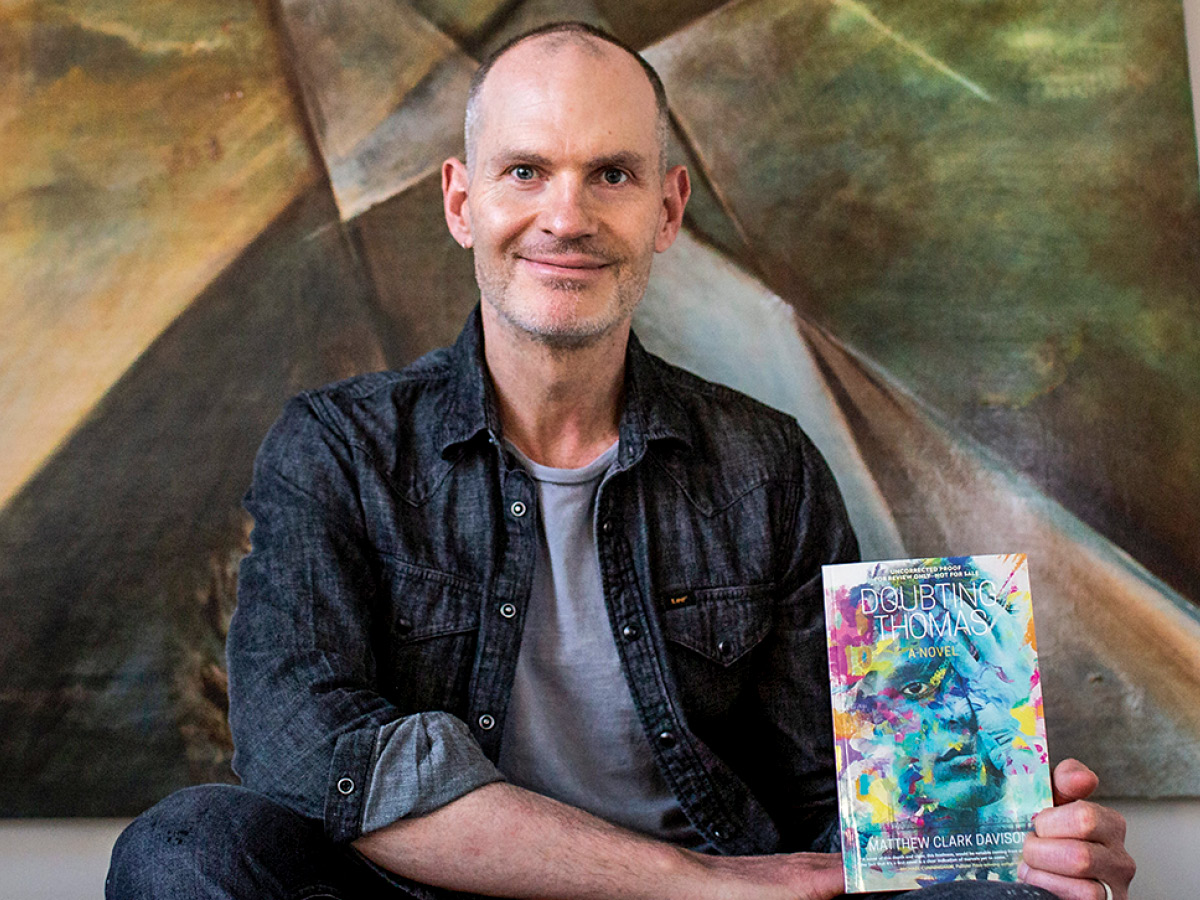 Turning Anger Into Art
After dropping out of high school and running away from home in the 1980s, Matthew Clark Davison found himself bewildered in San Francisco during the AIDS epidemic. Fortunately, a writing class in the basement of the Tenderloin's Glide Memorial Church showed him a new path — one he's still on today. Taught by celebrated poets June Jordan and Janice Mirikatani, the class liberated Davison to showcase his true self in his writing without worrying about playing down vital aspects of his life in order to assimilate or fit in. Davison went on to study fiction writing at SF State and become both a full-time lecturer in the Creative Writing Department and a ubiquitous presence in the city's writing community.
And recently, with the summer release of "Doubting Thomas" (Amble Press), he became something else, as well: a debut novelist.
"I had such spectacular teachers who helped me think differently about the world I lived in," Davison says. "I was still working out some anger when I came to San Francisco State because of what was happening to my friends with AIDS and the government's lack of response and funding toward research. My teachers helped me figure out positive ways to channel that frustration and injustice into an art form."
"Doubting Thomas" follows the life of an out fourth-grade teacher after he's falsely accused of touching a student. The novel explores the dangers of anti-LGBTQ tropes and the illusion of politi­cal and social progress.
"I hope people that shield themselves from other peoples' reali­ties will at least have a harder time doing that," Davison said. "In order to be a nation of citizens, we need to be aware of what one another are going through on some sort of level."
Connection and nurturing understanding are important to Davison. After earning a B.A. and an MFA in Creative Writing at SF State, he founded the Lab Online and the Lab Live — hubs for spark­ing creativity and honing skills with fellow writers. As Davison sees it, helping others find their creative voices is a way to pay back the teachers who made such a big difference for him.
"The fact that I was validated and taken seriously by the faculty in the Creative Writing program is something that I appreciate and want to pay forward," he says.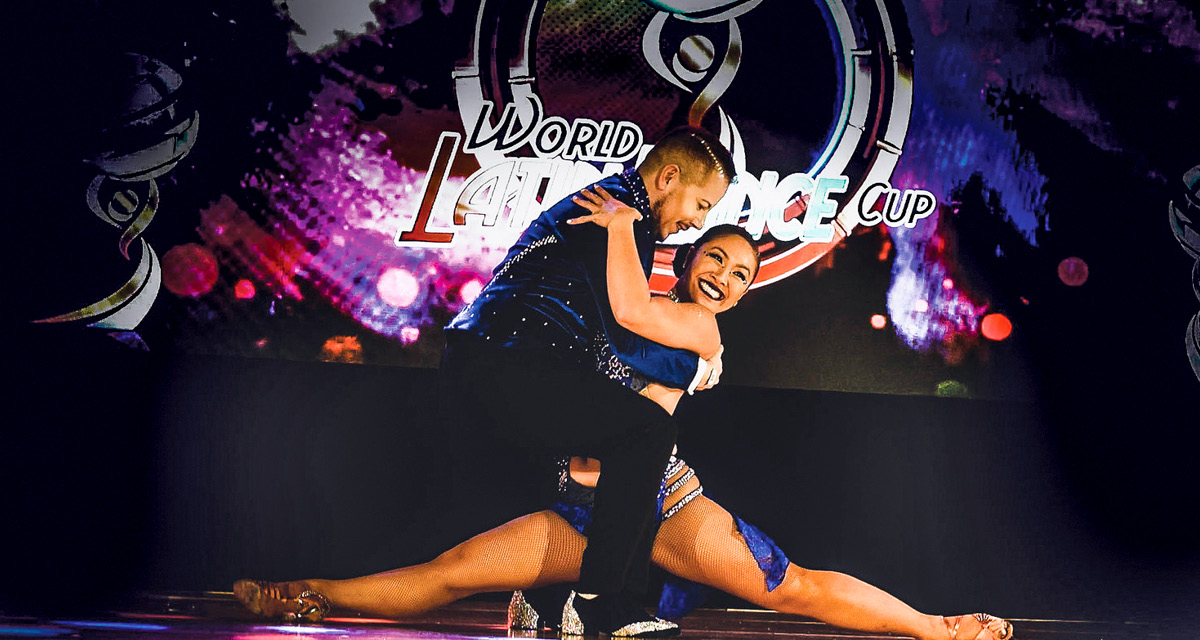 Supporting a New Generation of Pioneers
When Sarah Taborga (MFA, '19) changed the topic of her film school thesis at the last minute, it could have led to disaster. Instead, she found an empathetic, nurturing community in SF State's Queer Cinema Project (QCP). The support paid off: This summer that thesis project — the documentary "Dear Queer Dancer" (pictured below) — aired on national television as part of PBS' "The Latino Experience." 
"Being able to share my film in its different iterations with a group of peers who have deep lived experience and a synergy with the content I was making was actually the most supported I ever felt in the University," says Taborga. "Being in class, it can often feel that there's a lot of pressure to know everything. There's a lot of pressure to perform in a certain way, particularly as a master's student. But in QCP, there was much more of a desire to help each other, a desire to learn and a desire to connect."
When Taborga found her original thesis topic lacked spark, she stepped back into dance, a lifelong passion. "Dear Queer Dancer" follows queer and trans performers competing in the World Latin Dance Cup.
Barbara Hammer (M.A., '75) would have approved. A groundbreaking experimental film director, producer and cinematographer known for her raw, audacious depictions of lesbian life, she died in 2019 at age 79. QCP recently received a $27,000 donation from her estate and executor Florrie Burke, an international human-rights advocate and Hammer's spouse of 31 years. The gift is a match to a 2018 challenge grant from the Jonathan Logan Family Foundation, which made an additional $25,000 grant to QCP in 2018. The combined donations will fund screenings and events with visiting queer filmmakers, the promotion of QCP's online platform for student films, yearlong mentorship cohorts and the annual Barbara Hammer Award, a $1,000 scholarship.
"The Barbara Hammer Award and the challenge grant fit within her vision of encouraging other artists and filmmakers," Burke says. "The School of Cinema and the Queer Cinema Project are vital parts of the University. To support them is an honor and a testament to the beginning of Barbara Hammer's long career."
"Even in 2021, it's tough to be queer. We almost always grow up in heterosexual families, many of whom are not supportive of us," adds Associate Professor Johnny Symons, director of the Queer Cinema Project. "By making films, students learn to tell their own stories in authentic ways. Finding your voice is empowering. QCP helps those student films find larger audiences, which advances the careers of the makers and inspires other young queer people to tell their own stories, too."
Greta (Smith) Gregory (B.A., '51) reports that several members of the Kappa Theta Sorority in the late '40s and early '50s have remained in touch and were meeting for monthly lunches before the pandemic. Among the Kappa Theta members taking part are Polly Johnson Bacich (B.A., '49), Doris Mercurio Murphy (B.A., '49), Janet Nye Blomquist (B.A., '51), Joan Levy Cartman (B.A., '51), Pat Kohtz (B.A., '51), Mary Meagher Shearer (B.A., '51), Jean Giovannoni Shelley (B.A., '51) and Judy Pors Zugelder (B.A., '53).
Peter Gray (B.A., '66) is the author of "Famous Americans — Their Childhood Years," a five-volume series of Kindle ebooks. The books collect biographical sketches that integrate history, social studies, geography and mathematics. The lives of Benjamin Franklin, suffrage movement activist Elizabeth Cady Stanton, labor organizer Cesar Chavez and 22 other notable Americans are explored.
W. Gary Westernoff (B.A., '68) is the founder and CEO of Constructionplace.com, a building construction industry internet service. He credits his success to his studies in the University's Design and Industry (DAI) program. "My DAI curriculum has taken me to senior design/construction executive positions with fortune 500 companies, semi retiring from my own national design build company, and now founder of www.constructionplace.com," he writes. "SFSU definitely helped my goals come true. Thank you, SFSU!"
Norman A. Stahl (B.A., '71; M.A., '76) co-edited "Literacy Across the Community: Research, Praxis, and Trends" for Routledge. Stahl is professor emeritus in Literacy Education at Northern Illinois University. He is a member of the Reading Hall of Fame and a fellow of the Council of Learning Assistance and Developmental Education Associations.
John Sommers (B.A., '72) enlisted in the U.S. Navy after graduating and was assigned to a destroyer in the Pacific Ocean Fleet. He later worked as a civilian employee of the U.S. Air Force for 21 years. After retiring from civil service he began collecting vintage post cards, photographs, letters, maps and other material. He's written extensively about collecting and history and also became a busy volunteer at several museums. In 2019, the Conference of California Historical Societies presented him with its Award of Merit in the Individual Category. Several members of Sommers' family have also attended SF State, including his niece Amber Smith (B.A., '92) and grandnephew Morgan McCombe (B.A., '12).
Albert Lord (B.A., '75) curated the exhibit "Celebrating Black Music Month and Juneteenth" at the headquarters of L.A.-based community services organization Community Build in June. The exhibit featured more than 100 pieces of memorabilia and histori­cal documents. Lord is Community Build's VP of government relations and arts programs.
Barry Becker (B.A., '76) has released two novels in his Mark Ericksen thriller series. "The Ericksen Connection" and "The Ryzhkov Vendetta" are both available on Amazon.
Gregory Yasinitsky (B.M., '76; M.A., '78) recently released a new album, "YAZZ Band: New Normal" (Origin Records). The album features Yasinitsky's saxophone playing and compositions scored for "little big band." Half of the album was recorded in the studio, but then the pandemic hit, so the remainder was recorded virtually, with musicians contributing their parts individually, most recording in their homes (the "New Normal" of the title). The YAZZ Band is a group of improvisers and ensemble veterans based in the Northwest. Also featured are musicians based in Bologna, Italy; Baton Rouge, Louisiana; and Los Angeles. "A real pulse pounder," said one review. Learn more
at gregyasinitsky.com.
Susan E. Greisen (B.S.N., '78) received two awards for her memoir "In Search of Pink Flamingos": first place for nonfiction narrative memoir from the 2020 Chanticleer International Book Awards and Best Peace Corps Memoir – 2020 from Peace Corps Worldwide. Greisen is the lead editor of a Peace Corps Liberia Anthology, a collection of stories written by those who served in Liberia. The book is due out in the fall of 2022. For more information, go to susangreisen.com.
Vinnie Hansen (M.A., '80; teaching credential, '82) has had five short works published in 2021: "Geography Lessons," a creative non-fiction piece in Catamaran Literary Reader (Winter 2021); "I Want to Be Your Boyfriend," a short story in "Gabba Gabba Hey: An Anthology of Fiction Inspired by the Music of the Ramones" (Fahrenheit Press); "Ending Things," a flash-fiction piece in the web magazine Shotgun Honey (Aug. 5); "Dead Revivial," a short story in the web magazine Yellow Mama (Aug. 15); and "Try Again," a short story in Mystery Weekly Magazine (September issue).
Sherrie L. Perkins (M.A., '80) has retired as CEO of ARUP Laboratories, a leading national reference laboratory and a nonprofit enterprise of the University of Utah and its Department of Pathology. A hematopathologist and an internationally known expert in pediatric lymphoma, Perkins joined ARUP in 1990 as a fellow. She had been CEO since August 2017.
Rose Marie Prins (teaching credential, '80) created 22 illustrations for the new book "A Leaf in the Wind," which features poems by her late son Jaro Majer. Prins has a Ph.D. from Union Institute and University, which published the book as part of its Authors of Union series.
Cathy Sandeen (M.A., '81) has been named president of Cal State East Bay. Before accepting the position, Sandeen was chancellor of the University of Alaska Anchorage. 
Kim Addonizio (B.A., '82) is the author of eight poetry collections, two novels, two story collections and two books on writing poetry. Her newest book is "Now We're Getting Somewhere: Poems" (W.W. Norton & Company, '21).
Colette Lafia (B.A., '84) is a San Francisco-based writer, spiritual counselor and retreat leader. She is the author of
several books, including "The Divine Heart: Seven Ways to Live in God's Love" (Monkfish Book Publishing, '21). 
Don Falcone (M.A., '85) produced and played keyboards on the new Spirits Burning album "Evolution Ritual," an acoustic-based instrumental folk album featuring violinists from King Crimson, Steeleye Span, Tangerine Dream and Camper Van Beethoven, and wind/reed players from Van Der Graaf Generator and Soft Machine. The album was released in June on Noh Poetry Records.
Dan Brook (M.A., '90) teaches sociology at San Jose State, where he organizes the Hands on Thailand program. His most recent books are "Harboring Happiness: 101 Ways To Be Happy" (Beacon, 2021); "Sweet Nothings" (Hekate, 2020), about the nature of haiku and the concept of nothing; and "Eating the Earth: The Truth About What We Eat" (Smashwords, 2020).
Otto Bischof (attended '92-93) cowrote the book "Electric Vehicles: The Automobiles of the Future." Print copies have been available since April 2021 on Amazon and elsewhere. The book discusses the technology and necessity of electric vehicles given our current climate crisis.
Matt Johanson (B.A., '93; M.A., '99) introduces non-climbers to the world of mountain climbing in his new guidebook "California Summits" (Falcon Guides). Johanson highlights entry-level outings throughout the state and suggests a path to more challenging adventures. The book is filled with hundreds of images, inspiring anecdotes and the author's unique insights into climbing. "California Summits" is his sixth book.
Colin Cooper (B.A., '94) has been named business manager for Salem Media Group (SMG) San Francisco and continues in his role as business manager for SMG Sacramento. He's also in his fifth year with TopGolf Roseville, where he was recently promoted to team lead. He's in his 14th year as an officer of the Knights of Columbus St. Clare Council #12887.
David Diepenbrock (M.A., '95) was listed in the 2022 edition of "Best Lawyers in America." He was also included in Sacramento Magazine's Top Lawyers list for 2021. Diepenbrock is a commercial litigation and real estate litigation attorney in the Sacramento office of the law firm Weintraub Tobin.
Pamela Valois (M.S., '99) is the author of "Blooming in Winter" (She Writes Press, '21), a photography-filled portrait of Berkeley potter Jacomena (Jackie) Maybeck. Maybeck was also one of the subjects in Valois' bestselling 1985 book "Gifts of Age." Kirkus Reviews calls the new book "an engaging and detailed portrait of a 20th century woman and the communities she tended."
Anthony Doctolero (B.A., '01) was selected to be part of the Forbes Next 1000, a list of inspiring entrepreneurs and small business leaders — many from diverse, underrepresented communities — who are redefining what it means to build and run a business amid the new normal.
Cristina Flores (M.A., '03), a lecturer in SF State's PACE-Gerontology Program, is the principal and founder of Eldercare Advocacy Bay Area LLC and has joined the Governing Board of the National Consumer Voice for Quality Long-Term Care.
Raymon Cancino (B.A., '04; MPA, '08) is CEO of the Watsonville-based community service nonprofit Community Bridges and a board member of Meals on Wheels California (MOWCA). MOWCA recently appointed him to the board that oversees statewide advocacy efforts in affiliation with Meals on Wheels America.
Jenny Joseph-Hayle (B.A., '04) is a lecturer of General Education at Suffolk University in Boston. The university recently named her associate director of alumni career engagement for seniors and young alumni. Suffolk University President Marisa Kelly received an M.A. from SF State in 1989.
Brian McCallen (B.A., '09) is the host of the radio show "Speaking Out for the Blind." A production of the American Council of the Blind, the weekly series is also available for download on most major podcasting platforms.
François Vigneault (attended '08-'10) provided the artwork for the new sci-fi/fantasy graphic novel "Orcs in Space" 
(Oni Press).
Tan Phan (B.S., '10) was named to InvestmentNews' 40 Under 40 List, which celebrates professionals under 40 in the financial advice field who have shown themselves to be leaders. Phan is an independent Certified Financial Planner practitioner serving clients in the Bay Area.
Miles Marshall (M.A., '12), a retired U.S. Air Force lieutenant colonel, has been accepted into Bancroft Capital's Veteran Training Program (VTP) as part of its 2021 class. Bancroft Capital is a certified Service-Disabled Veteran-Owned Small Business (SDVOSB) specializing in institutional brokerage and capital markets services. Launched by Bancroft Capital in 2019, the VTP puts disabled veterans and first responders in a position to develop a skill set capable of supporting a new career as institutional traders and investment bankers.
María Emilia Labaca (B.A., '13) has been a project manager at Valle Translations since 2014, working as a linguistic coordinator, translator and proofreader. She recently created a two-part course for beginning translators which has been certified by Argentine Atlantis University.
Conrad Panganiban (MFA, '15) is co-writing a play for the Chikahan Company, a new Filipinx American theatre company. Panganiban is working with another local playwright, Lauren Andrei Garcia, on the play, which will focus on Filipina health care workers. The Chikahan Company's co-founder and co-artistic director is Alan S. Quismorio (B.A., '00).
Robin D. López (B.S., '15), currently a Ph.D. candidate in Environmental Science, Policy and Management at UC Berkeley, has been named a CSU Chancellor's Doctoral Incentive Program (CDIP) fellow. The goal of CDIP is to develop the next generation of CSU faculty. López is also a National Science Foundation fellow, a UC Berkeley Chancellor's fellow, a Berkeley Science Communication fellow and a California Freshwater Society fellow.
Justin MacFayden (B.A., '17) studied law at UC Hastings after graduating from SF State, then went on to found the legal tech company ProSe Claims. This spring, ProSe Claims was acquired by PainWorth, a Canadian company that's created an app for assessing injury claims, and MacFayden joined the PainWorth team as international expansion lead.
Mary Gutierrez (Ed.D., '18) has been named chancellor of the University of New Mexico-Taos branch campus. Gutierrez also remains an adjunct faculty member of SF State's Educational Leadership program.
James Brooks (M.A., '20) is the co-author of the article "Climate Change Warning Labels on Gas Pumps: The Role of Public Formation in Climate Change Mitigation Policies," which was published on the Wiley Online Library this summer. The article studied the effect of mandatory climate change and public health warning labels on gasoline and diesel pumps in Cambridge, Massachusetts.
Leticia Hernández-Linares (MFA, '20) was awarded $5,000 as a winner of the inaugural 2021 Nomadic Press/San Francisco Foundation Literary Awards. A lecturer in SF State's College of Ethnic Studies, Hernández-Linares won the award in the poetry category. Current MFA student Lillian Giles won a Nomadic Press/San Francisco Foundation Literary Award in the fiction category.