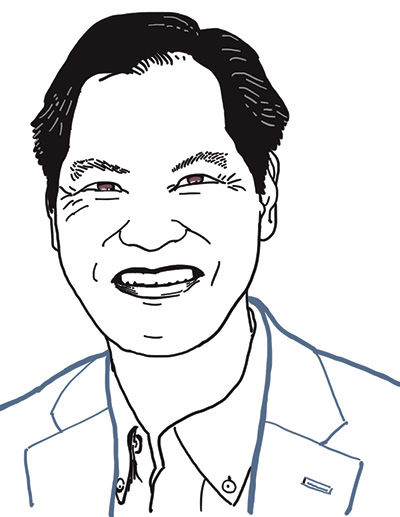 Russell Jeung joined SF State's Asian American Studies Department in 2002. He's the author of several books, including "Family Sacrifices: The Worldviews and Ethics of Chinese Americans."
Standing Together to Fight Division
In September, San Francisco State University Professor of Asian American Studies Russell Jeung was named one of TIME Magazine's 100 most influential people in the world for 2021. Jeung earned this recognition for co-founding Stop AAPI Hate (stopaapihate.org), a national coalition against anti-Asian American and Pacific Islander (AAPI) racism and hate in the U.S. Stop AAPI Hate was created to address the rise in racism linked to the COVID-19 pandemic. The coalition does this by tracking and responding to incidents of hate, violence and discrimination targeting AAPI people. The coalition has been recognized by national media outlets such as The New York Times, "PBS News Hour," Oprah Daily and more. After the TIME announcement, Jeung sat down to share what this recognition means to him and how 
he sees it making an impact on the community.
How does it feel to receive this recognition?
I feel overwhelmed because I know this award is not only for me but for others. It's for people who built the Stop AAPI Hate movement that's been so influential. It's for the 9,000 people who reported to Stop AAPI Hate to tell their stories. It's for people from all walks of life who rallied and pushed for legislation. They also deserve this award.
What does this recognition do for the AAPI community?
This recognition shows the AAPI community has been heard and seen. Sadly, because of the hate we've received. We've been both invisible and hyper visible. Invisible because people don't see us, especially because we don't fit in the Black-White binary in the U.S. Hyper visible because we're perceived as perpetual foreigners and people are attacking us. This recognition shows that we're a community of color fighting for racial justice, that we deserve equity and inclusion.
What made you launch Stop AAPI Hate?
Because I know our history and our history has been filled with racism. We've faced interpersonal violence and racist legislation whenever an epidemic originates from Asia. Knowing this history, I wanted to prevent another surge of racism. Who knows how bad the racism could have been if we didn't have a movement like Stop AAPI Hate?
How do SF State and its students play a role in receiving this recognition?
San Francisco State students, especially those in Asian American Studies, have been at the forefront building the Stop AAPI Hate movement. They were the first ones that helped Stop AAPI Hate with data collection. They have been instrumental in organizing youth campaigns that led to Congress introducing legislation and influenced the California state superintendent [of public instruction] to address racial bullying. They inspire people, even me, with their fierceness, courage and empathy. Our students are also continuing the legacy of the Third World Liberation Front strikers [of 1968]. I'm proud that the Stop AAPI Hate movement grew out of SF State — just like the movement for ethnic studies.
What's next for Stop AAPI Hate?
Further key initiatives to prevent racism. We want to promote ethnic studies to build racial solidarity and empathy. We want to expand civil rights protections and promote restorative justice so that those who are harmed get redress. We want to promote community safety so that our elders can walk in the streets safely again. The Stop AAPI Hate movement has just begun. We need to build the capacity to keep it operating long-term because we know the fight against racism is a lifelong battle. We want a movement that lasts.