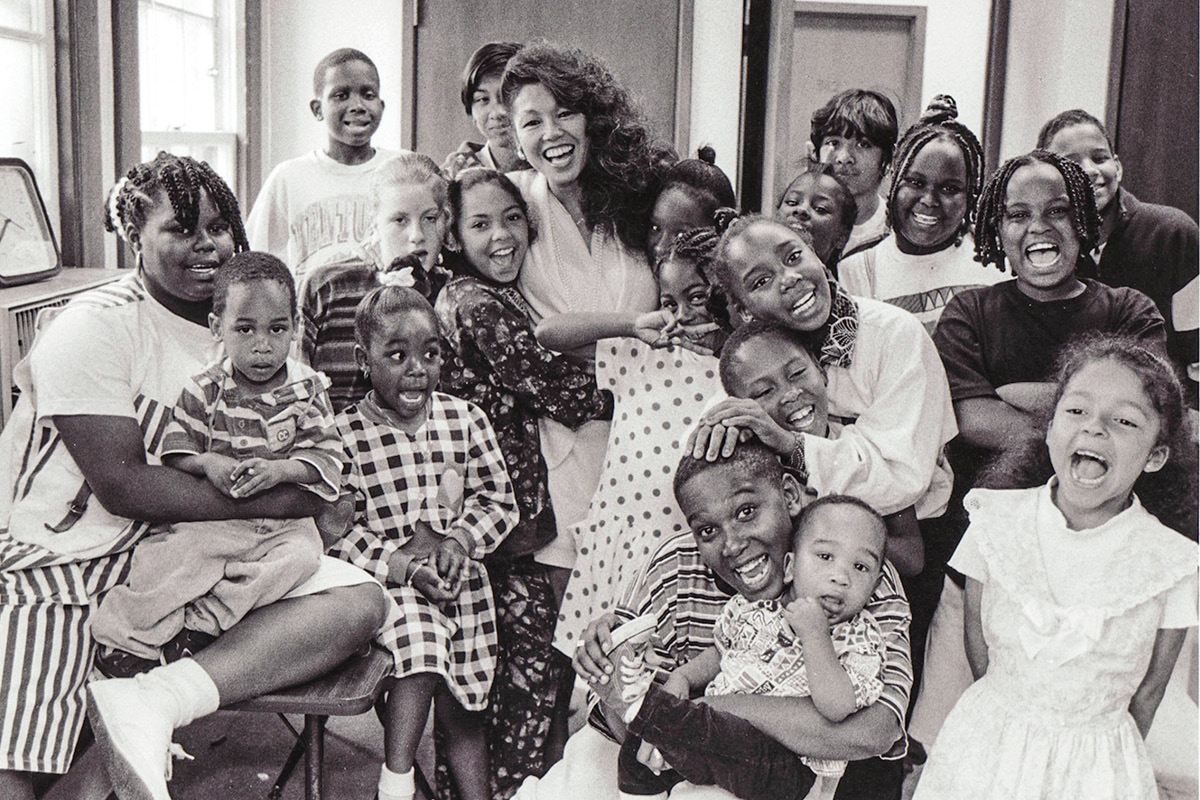 I found that my wounds begin to heal when the voices of those endangered by silence are given power.
—Janice Mirikitani
Janice Mirikitani (pictured above with some of the youths whose lives she touched) studied creative writing at SF State in the 1960s and began publishing acclaimed poetry in the years afterward. Forced to move with her family to an internment camp during World War II and later a survivor of sexual abuse, Mirikitani frequently addressed racism and abuse in her work. She also created dozens of social programs for the poor and homeless. The University named her one of its Distinguished Alumni in 1999, and a year later she became San Francisco's poet laureate.
Alvin Duskin was born and raised in San Francisco and earned his B.A. at SF State in the early 1950s. His family operated a sweater factory in the city, and in the 1960s he founded his own sweater store. When he began selling dress-length sweaters, the style — dubbed "the Peace Dress" after peace symbols were added to the design — became a fashion sensation that swept the nation. Duskin used the resulting wealth to launch a lifetime of activism, crusading for a variety of environmental causes.
Gerald W. Haslam (B.A., '63; M.A., '65) passed away April 13, 2021, after a long illness. In addition to SF State, Haslam's academic career included a Ph.D. from the Union for Experimenting Colleges and Universities ('80), and he also attended Bakersfield College, Sacramento State and Washington State. Haslam taught in Sonoma State University's English Department for 30 years before retiring in 1997, then teaching part-time 15 more years at the University of San Francisco's Fromm Institute. In volumes such as "Coming of Age in California," "The Great Central Valley: California's Heartland" and "Haslam's Valley," as well as hundreds of essays, op-eds and short stories, he established himself as a significant interpreter of his native state. With his wife Janice he wrote "In Thought and Action: The Enigmatic Life of S.I. Hayakawa," a biography of SF State's president during the tumultuous late '60s and early '70s.
Yolanda López was a student at SF State when she had an experience that changed her life. "I did not become aware of our own history until 1968, when there was a call for a strike at San Francisco State — a strike for ethnic studies," she said in a 2014 interview with the Shaping San Francisco website. "I heard the men and women who led that Third World [Liberation Front] strike speak and I understood at that point what my position was being part of this long legacy of being part of the oppressed people, just like Black people." López went on to become a celebrated painter, printmaker, educator and film producer whose work frequently focused on the experiences of Mexican-American women. She died in September at the age of 78.
Jerry Wayne Varnado (B.A., '69) was involved with the Negro Students Association at SF State and co-founded the Black Student Union (BSU). In 1968, he and his fellow BSU leaders established a coalition with the Third World Liberation Front, other students, faculty and community members and organized the nation's longest student strike to protest the lack of access and overall neglect of Indigenous peoples and people of color within the University's curricula and programs. Their efforts led to the founding of SF State's College of Ethnic Studies in 1969. Varnado went on to become a successful Bay Area attorney. 
Terry Collins (B.A., '69) helped launch independent noncommercial radio station KPOO in the 1970s and was an on-air personality for years. A member of the Black Student Union while a student, Collins remained an active supporter of the College of Ethnic Studies throughout the decades, regularly coming to campus to help with classes and archiving efforts. In 2012, the college recognized his dedication with its Exemplary Leadership Award.
Michael Jensen (B.A., '86; M.A., '90), an SF State staff member for the past 55 years, passed away in March. He was 78. At the time of his death, he was the longest-serving staff member at SF State. Most recently, Jensen was both an administrative support coordinator for the College of Liberal & Creative Arts and an instructional support assistant for the Family, Interiors, Nutrition and Apparel Department.