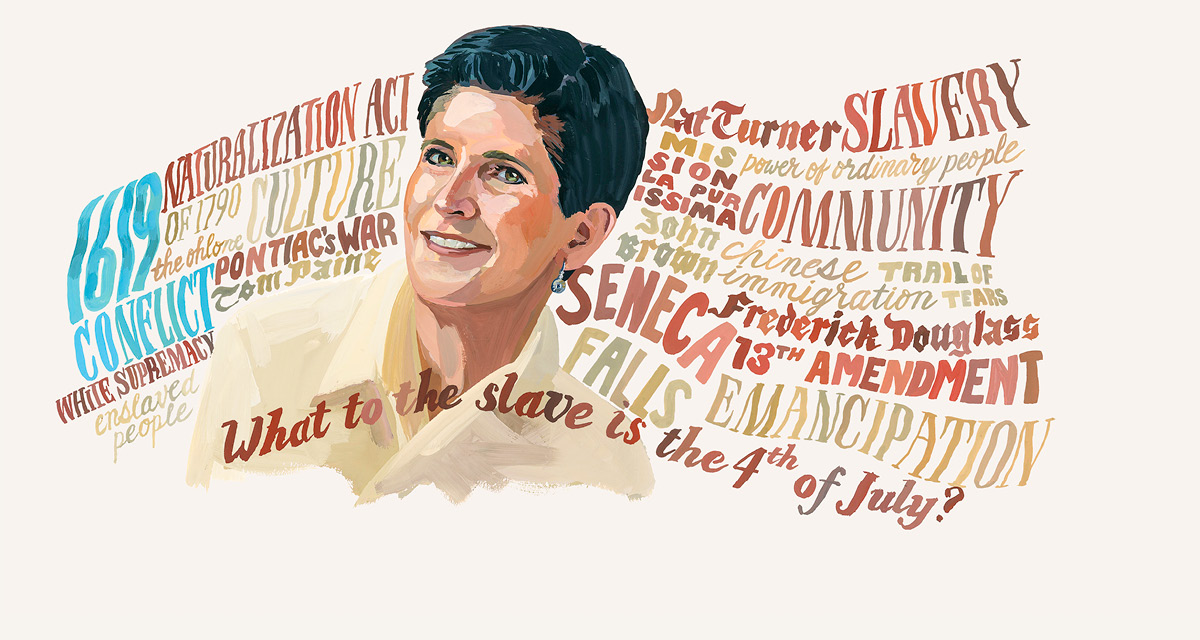 By Kent Bravo
As a former professor of history, SF State President Lynn Mahoney says one of her greatest joys is teaching. But as one might expect, not many university presidents have the time to step into a classroom and teach a course themselves. In fact, it almost never happens.
This fall, at SF State, it did. President Mahoney returned to her roots as a professor and taught a U.S. history course with an important lesson: Individuals can and do change the world.
"What I love about history is that it's about people," says President Mahoney, who taught history as a faculty member at Purchase College, State University of New York. "It's about their agency, what they can accomplish and what they can do to change the course of history amidst conflicting ideas and conflicts over power." 
With the help of SF State's Center for Equity and Excellence in Teaching and Learning, President Mahoney taught "History 120: History of the U.S. Through Reconstruction." It was offered through a hybrid model, which means her 26 students, who were mostly in their first year, met weekly on Fridays in person (with face coverings) but also accessed material online at their own pace.
History 120 focused on the period between colonization and the post-Civil War Reconstruction era, with an emphasis on tensions between liberty and slavery as well as social movements for change and resistance. In her course, President Mahoney covered the creation and re-creation of a new nation; the emergence of tensions over development, immigration and slavery; the spread and limits of democracy; the causes and consequences of the Civil War; and more. Her goal was that students learn more about this important time in U.S. history, which in turn will help them understand how race, ethnicity, class and gender are historically and culturally constructed by humans over time.
President Mahoney also hoped students got a sense that ordinary people can change the world. To illustrate this, she explored the stories of individuals who made a difference without becoming the sort of well-known historical figures most people remember today. "History really is just the stories of a lot of people," she says. "It explains how we got here and opportunities to do it differently in the future."
Another approach to her teaching style was focusing less on dates-and-figures memorization and more on substantive discussion. "When I was an undergraduate you had to memorize all sorts of things, and I came to realize nobody actually remembers all of that," says President Mahoney, who earned her bachelor's degree in American Studies from Stanford University and a Ph.D. in History from Rutgers. "What's more interesting is getting them to think historically and critically about the content and by extension the present."
Abby Freyer, who moved from Georgia to attend SF State, was a first-year student in the class. They not only liked how the course was discussion-based but also found it "cool" to see this rare moment. "… the president of the school teaching in class," they say.
Department of History Chair Laura Lisy-Wagner also saw this as a unique moment. "Having the president teach a class of first-year students shows how important our students are to us," Lisy-Wagner says. "She brings a vital perspective as a social historian and as someone who is familiar with the excellence and enthusiasm of CSU students through her time at Cal State LA and Long Beach."