By Matt Itelson
Photography by Garry Belinsky
Snugly tucked in our foggy corner of the city, the SF State campus has expanded geographically, vertically and intellectually since it opened in 1952. You will find more than 50 works of public art along its pathways and hallways — sometimes hiding in plain sight — symbolizing the evolution of a university, of a community, of public space. Here, we feature a dozen standout works.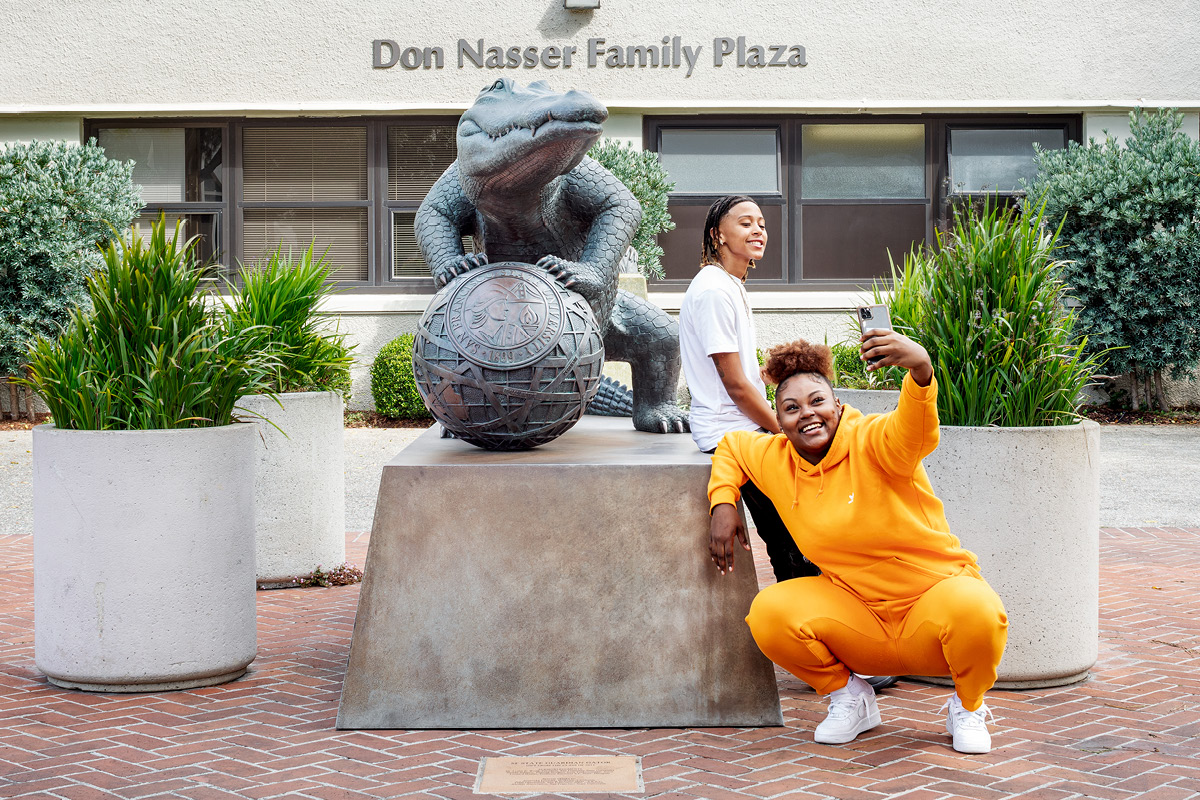 SFSU Gator
Leonard Hunter and Ilaman Sabirov
Members of the Class of 2015 made this 10-foot-tall piece their gift to the University. 
It is located on Don Nasser Plaza near the bronze bust of legendary SF State coaches Vic Rowen and Joe Verducci. The Gator rests on a globe emblazoned with SF State values, such as "community" and "social justice."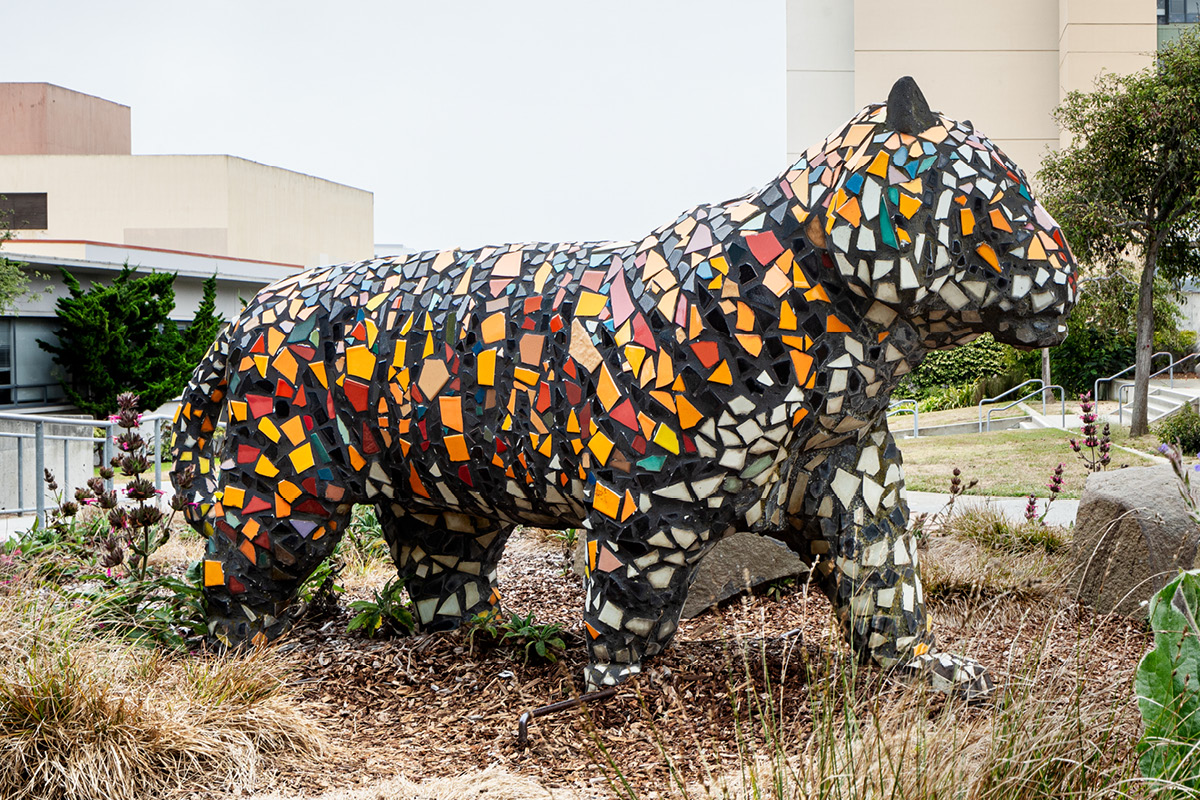 Tiger, Tiger
SF State students
This sculpture, made under the tutelage of Professor Leonard Hunter, poses mid-stride outside of the renovated J. Paul Leonard Library. Young children often like to play around it, providing them with an early enticement to attend SF State when they're of age.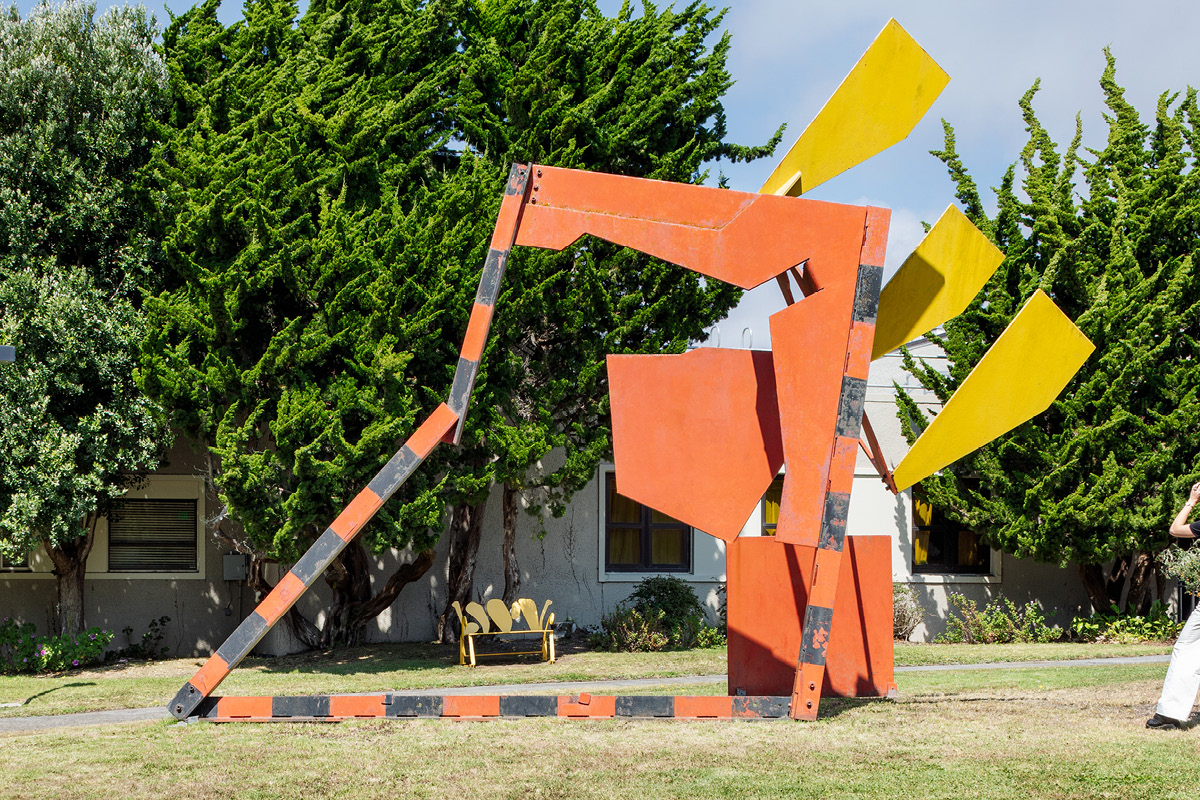 Buckeye and Benches
William Wareham
Originally designed by a William Warham in the 1500s, a former SF State instructor with a similar name was the one to erect it more than 400 years later. Three colorful benches with the same abstract modern touches accompany the main sculpture, all in front of the Gymnasium.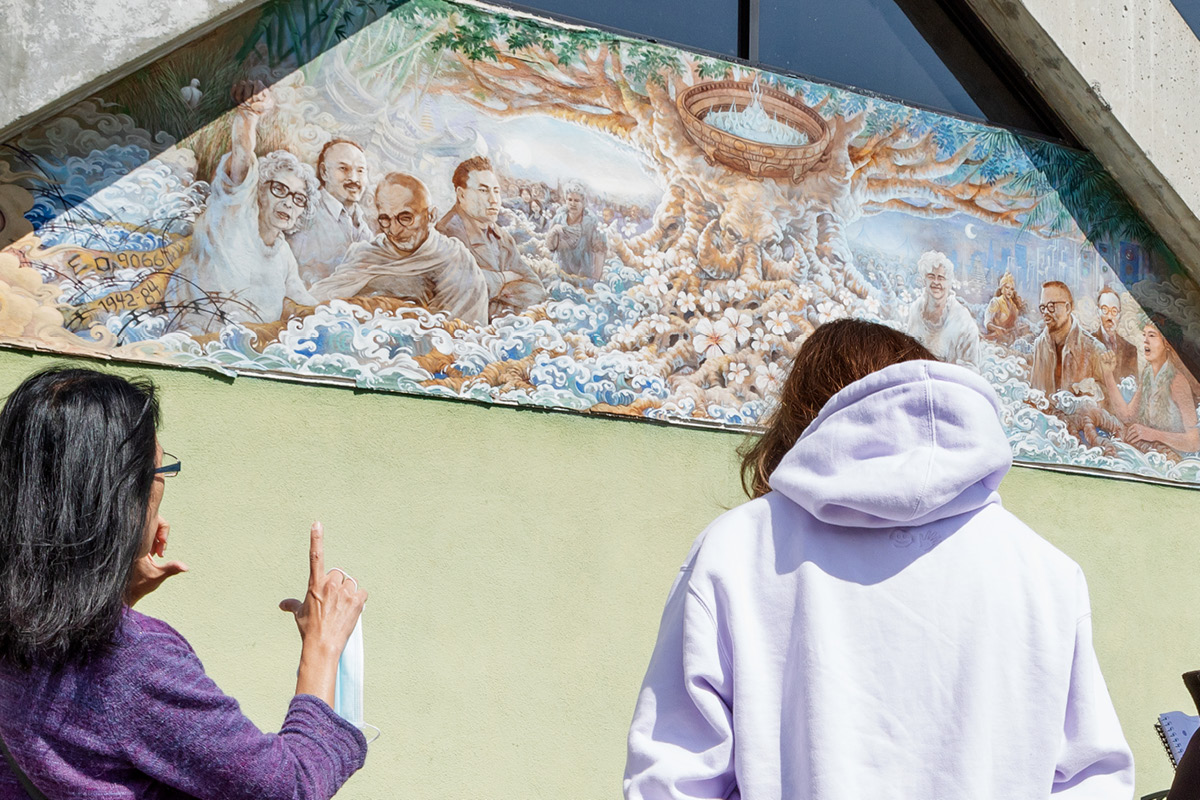 Asian and Pacific Islander Mural
David Cho and Albert Yip
This mystical mural, created in 2004 near the Cesar Chavez Student Center outdoor seating, honors activists who fought for the rights of their communities and inspired people worldwide: Mohandas Gandhi, Yui Kochiyama, Queen Solate of Tonga and Filipino Farm Labor Union founder Larry Itliong, among others. Images recalling Japanese American internment camps, the SF State student strike and more reflect the struggle.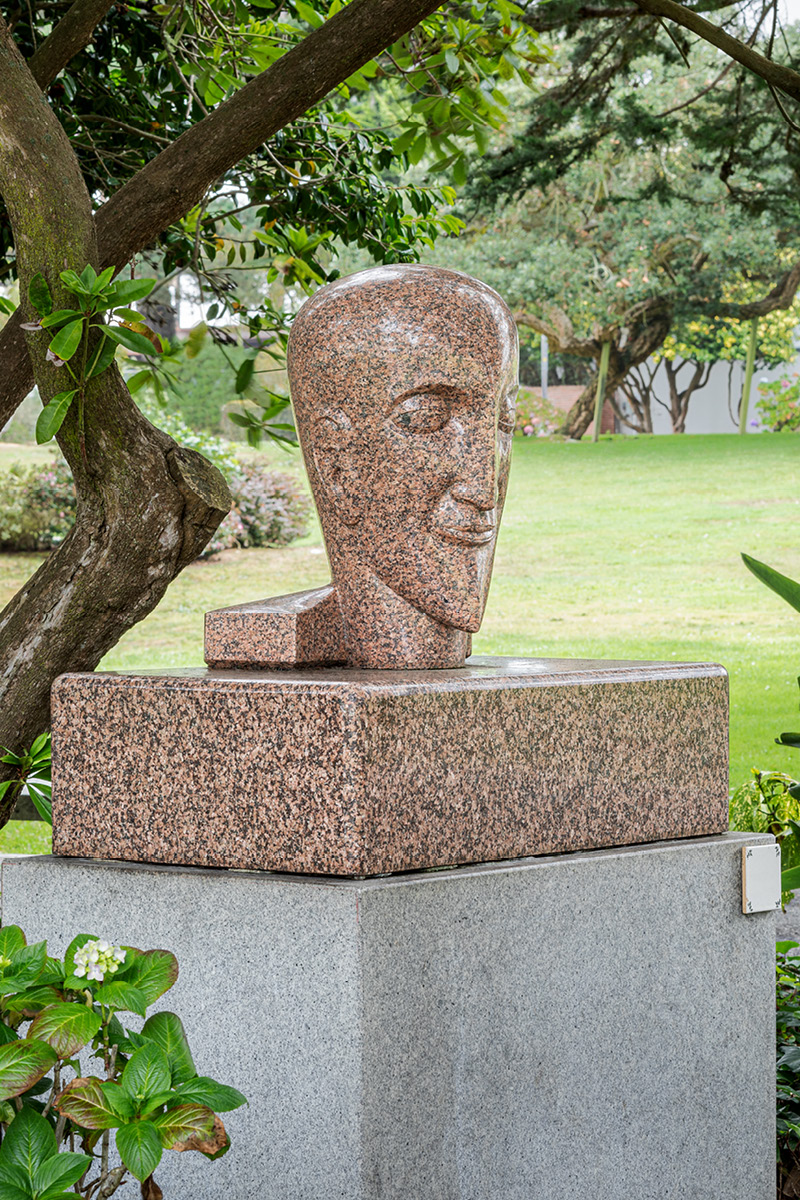 Head of St. Francis
Beniamino Bufano
Under a tree canopy in the middle of the Quad, this is one of two granite monuments on campus by the Italian American modernist sculptor. Both are projects of the Works Progress Administration from the New Deal era.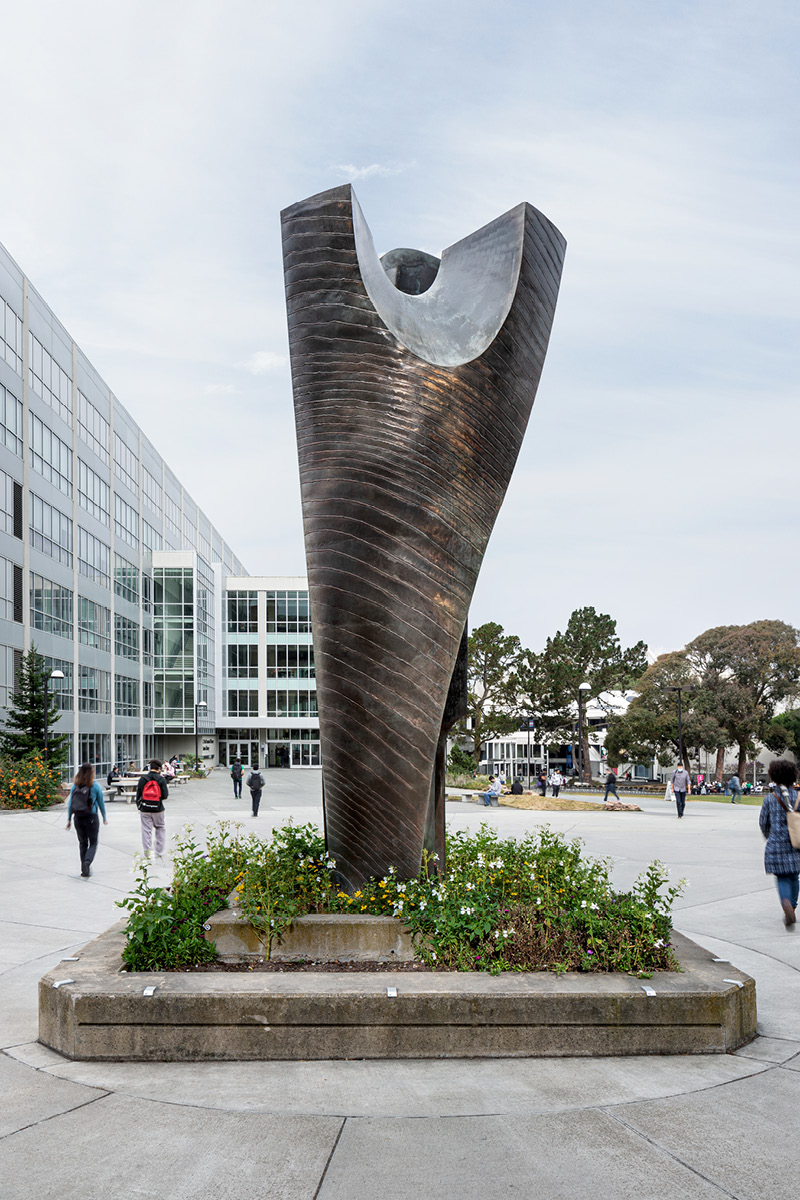 Caring
Aristides Demetrios
These dual, twisting columns emerge as you make your way downhill from the 19th Avenue/Holloway campus gate through the shade-filled path to the Quad. As you leave campus, they point us toward the sky and a future filled with hope.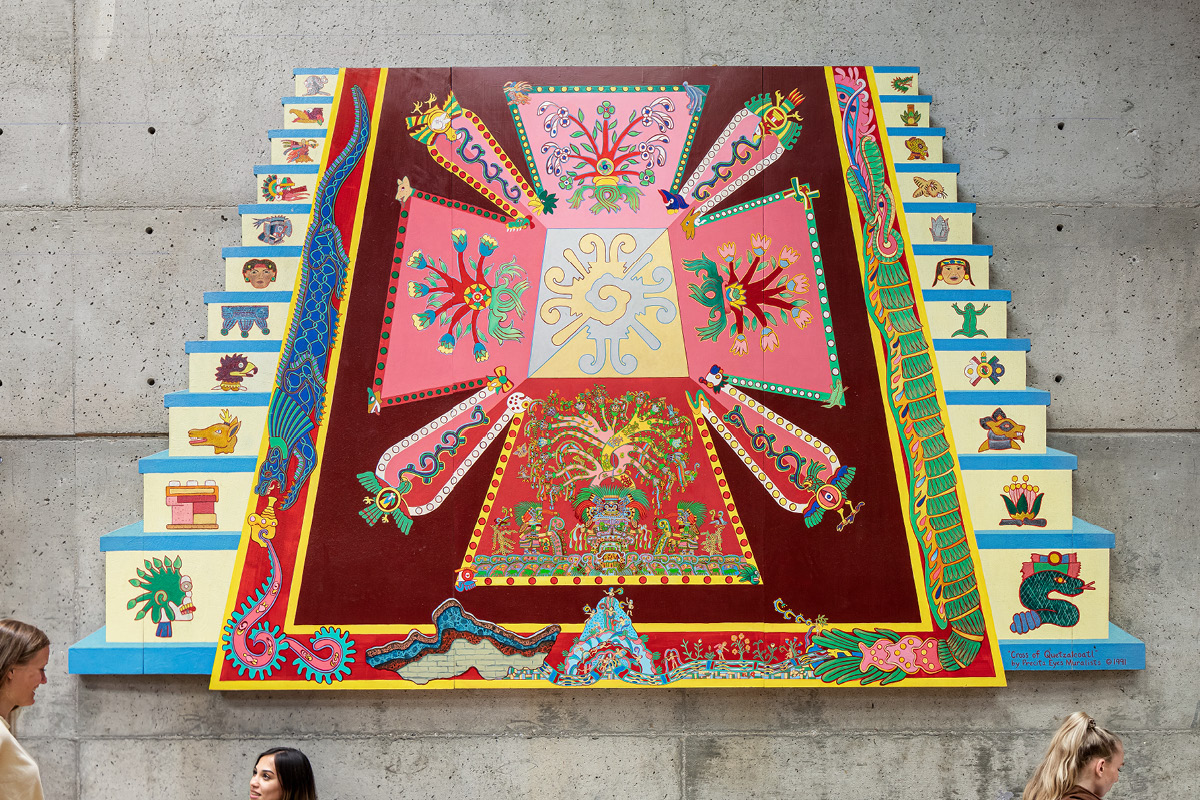 Cross of Quetzalcoatl
Precita Eyes Muralists: Susan Cervantes, Luis Cervantes, Margo Bors and Tony Parinell
One of 11 murals in the Cesar Chavez Student Center, this 1991 piece from the renowned Bay Area arts organization is inspired by mural fragments of Teotihuacan, the ancient Mesoamerican city in Mexico. Traditional symbols represent the solar and lunar cycles, Aztec gods, cosmos and the continuum of space and time.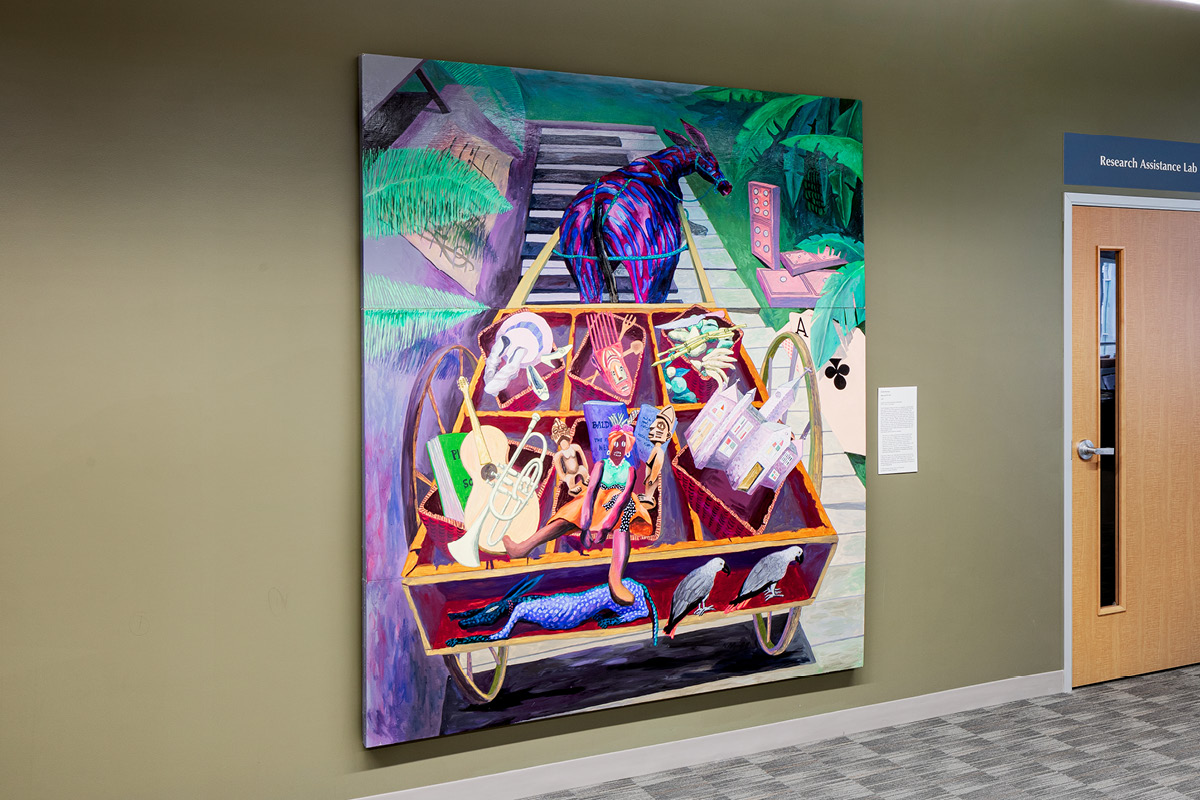 Rags and Old Iron
Keith Morrison
The former SF State College of Creative Arts dean illustrates traveling blues musicians in this acrylic painting displayed on the third floor of the Library. Taking the name of a blues standard by Oscar Brown Jr., it captures Morrison's free associative, fantastical style depicting "a journey to freedom" in his native Jamaica.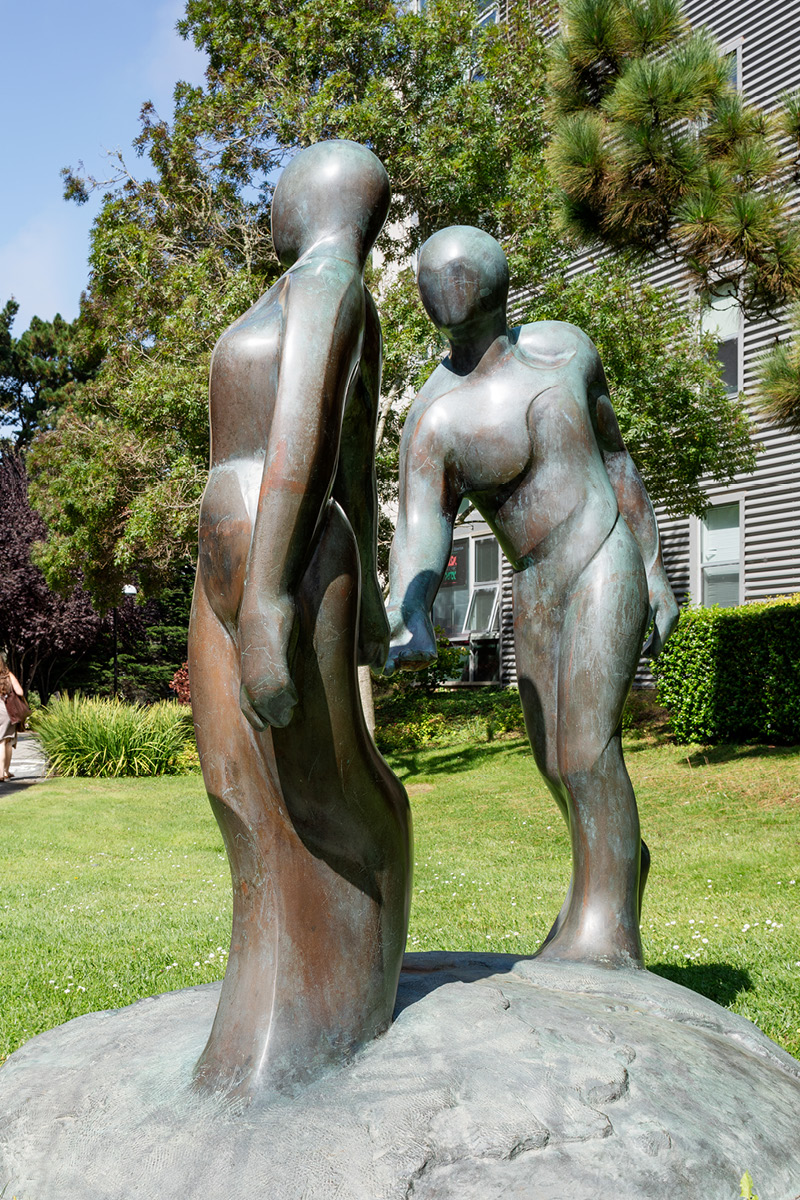 Reach Out and Touch Someone
Sandy Sloan
Though created in 1975, this bronze statue behind the Humanities building takes on new meaning in the modern age, as in-person, human-to-human connections are lost. "Reach Out and Touch Someone" reached campus in 2013.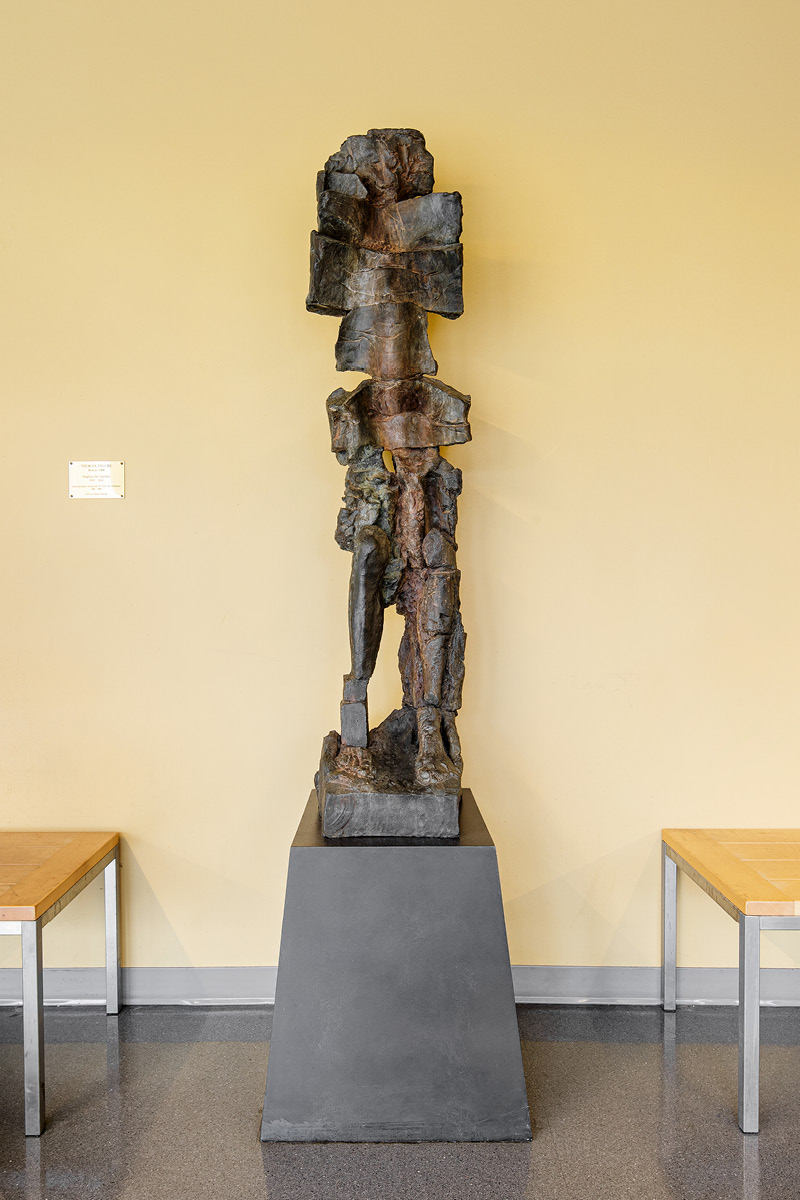 Thorax Figure
Stephen De Staebler 
Created by a professor emeritus and pioneer in the California Clay movement, this bronze sculpture lives in the first-floor lobby of the Library. It pays homage to antiquity while manifesting a yearning for unity and spiritual transcendence.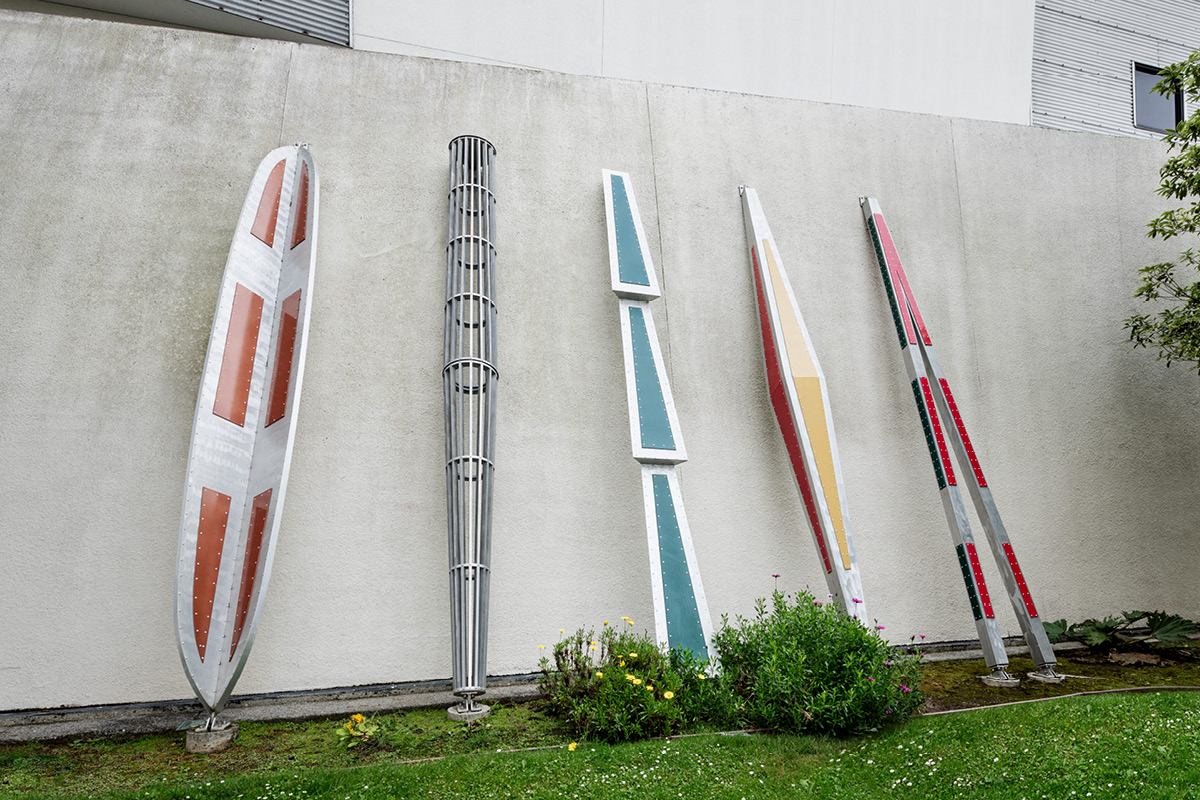 Ode to Hank 
Terry Marashlian (MFA, '06)
Installed in 2009, this installation replaces — and honors — Hank de Ricco's wooden totems that had rested against the north wall of the Cesar Chavez Student Center the previous 20 years. Marashlian, an SF State lecturer at the time, used aluminum coated with a specially engineered finish normally used for cars and marine vessels.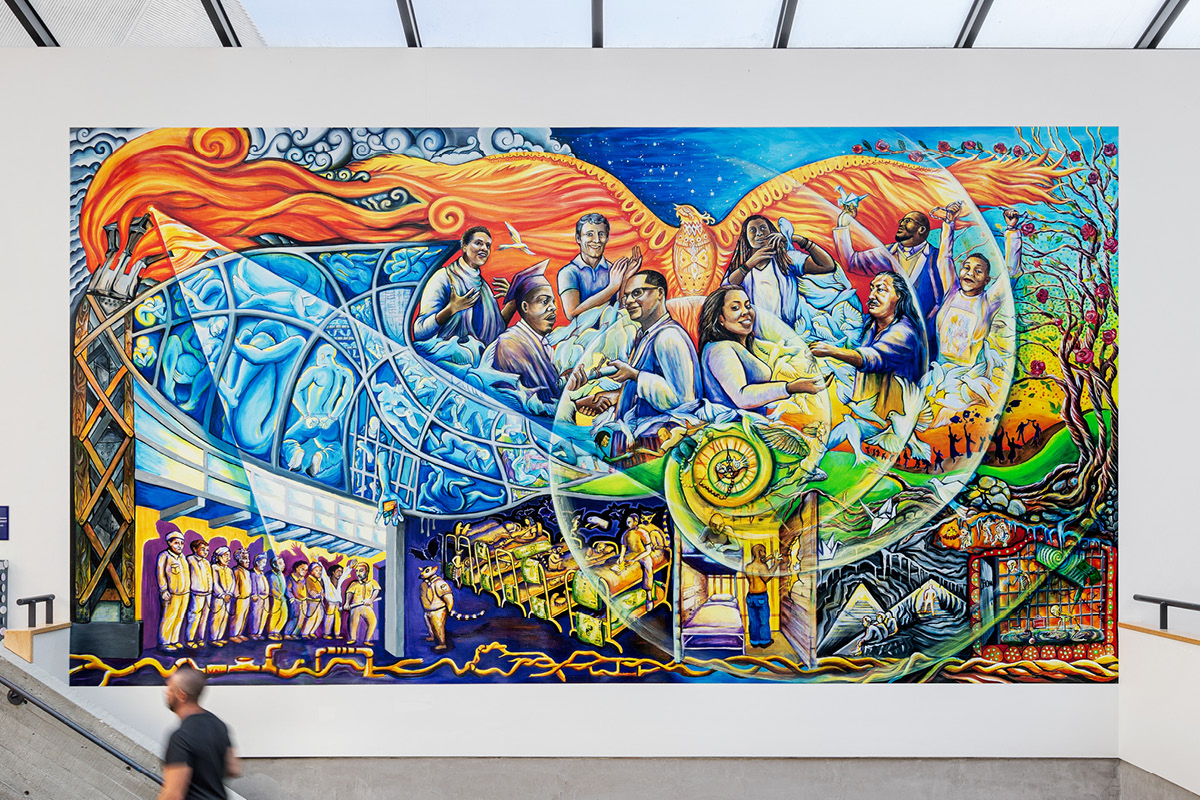 Incarceration to Liberation/De la Encarcelación a la Liberación
Juana Alicia
Dedicated in 2018, this 13-foot by 35-foot mural on the terrace level of the Cesar Chavez Student Center demands criminal justice reform. A student-driven collaboration between SF State's Project Rebound and Berkeley City College, it depicts Professor Emeritus of Sociology John Irwin, Project Rebound Director Jason Bell (B.A., '05; M.S., '10) and other activists.