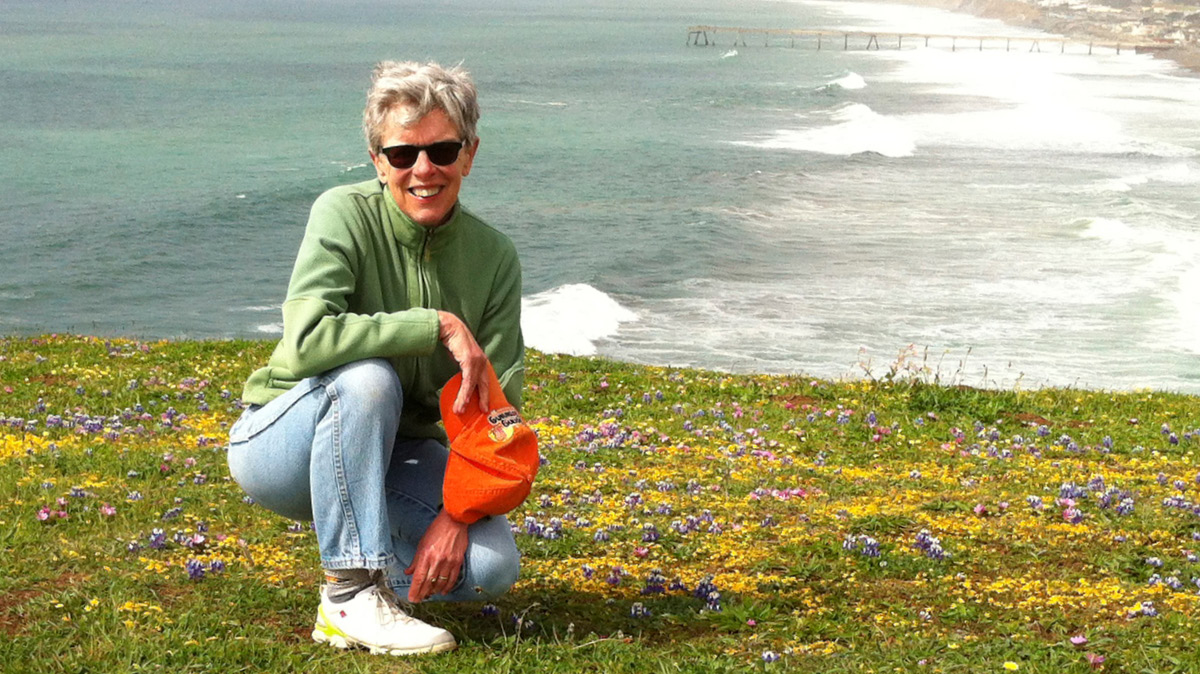 Photo courtesy Toni Mirosevich
Making Magic in Pacifica
Jobs in truck driving, restroom maintenance and attic insulation attracted Toni Mirosevich. Anything involving manual labor, she felt at ease — until chronic fatigue syndrome arrived in her 30s. She then discovered a new vocation using her hands. Writing led to a distinguished career as an author, poet and SF State Creative Writing professor spanning three decades. Now retired, Mirosevich (M.A., '92; MFA, '94) is the new poet laureate of Pacifica.
Mirosevich has forged an unlikely bond with the denizens of the town's seaside pier, about 8 miles south of campus but a world away from the city bustle. Mirosevich's most recent collection, "Spell Heaven and Other Stories" (Counterpoint Press), is a fictionalized account of the fishers, crabbers, surfers, drifters and other "outsiders" whose ways of life draw them to the 49-year-old pier that extends a quarter mile into the surf. Characters like The Crab King, Kite Man and Tommy Bench are based on five elderly men who gather by a bench and talk every day.   
Raised in a working-class Croatian American fishing family and immigrant community in Washington state, Mirosevich enjoys manual labor and reveres the people who do it.
"These are my people. You don't have to put on airs around them," Mirosevich said during a walk along the pier on a sunny and windy afternoon. She visits twice a day from her home up the hill, often with her wife and dog. "My wife said that someone told her, 'All the marbles roll from the edge of the continent,' so things are a little crazier down here, too. And that's good, too."
Mirosevich relates to first-generation students as she does the people of the pier. She is one of them. A few years ago, she hand-picked a writing group of six Creative Writing alumni whom she sensed would mesh. Mirosevich doesn't participate herself, but her generosity, humor and teaching approach are present in the Zoom room.
"It's magic." said Ann Guy (M.A., '18; MFA, '20). "It's just what she does."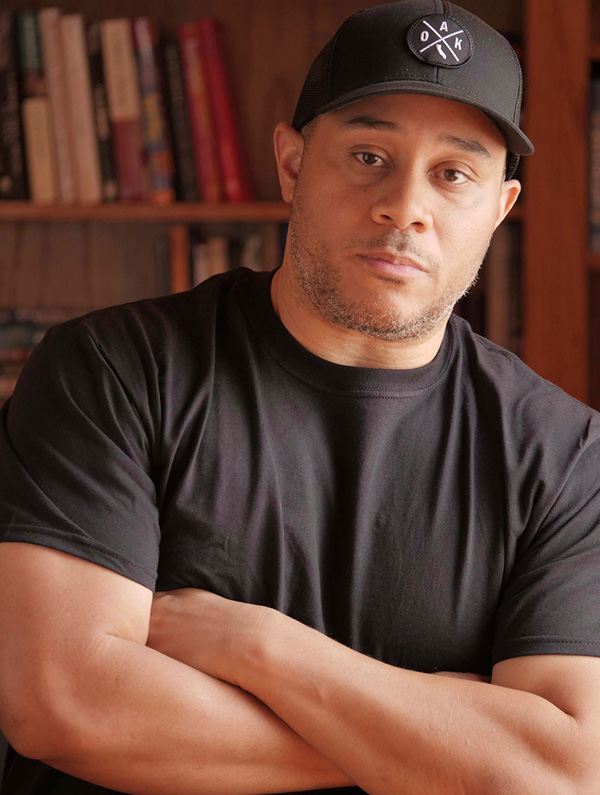 Photo Courtesy Silence Demall
Saeed "Balance" Crumpler (B.A., '03) is a rapper turned screenwriter who recently signed a multiyear overall deal with Sony Pictures Television to develop new projects. He has credits on Showtime's "Flatbush Misdemeanors" and Starz's "Blindspotting." Previously, he was a fellow in the Nickelodeon Animation Writing Program.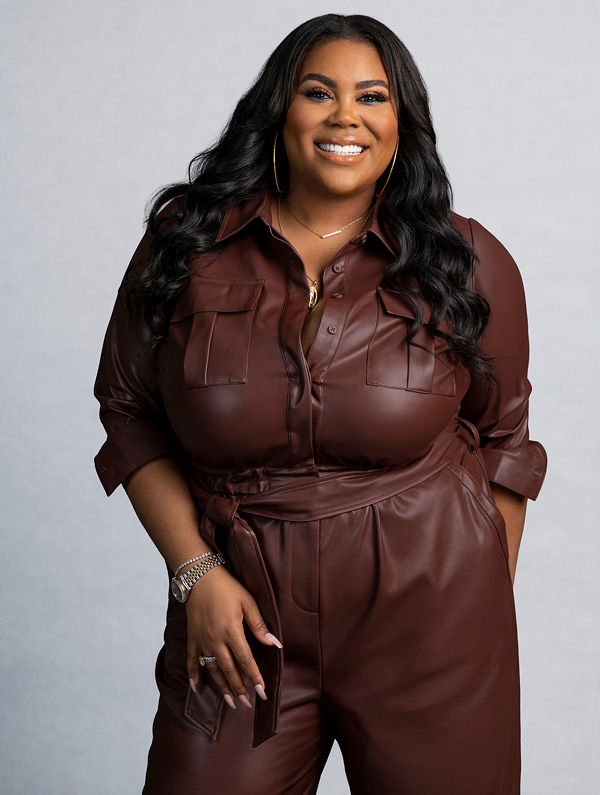 Photo Courtesy Netflix
Nina Parker (B.A., '03) is the host of the Netflix program "Buy My House," an E! News correspondent and owner of the Nina Parker Collection at Macy's. Prior, she was talent, producer and web manager for TMZ. Parker has also served as a fill-in host for NBC's "Access Live."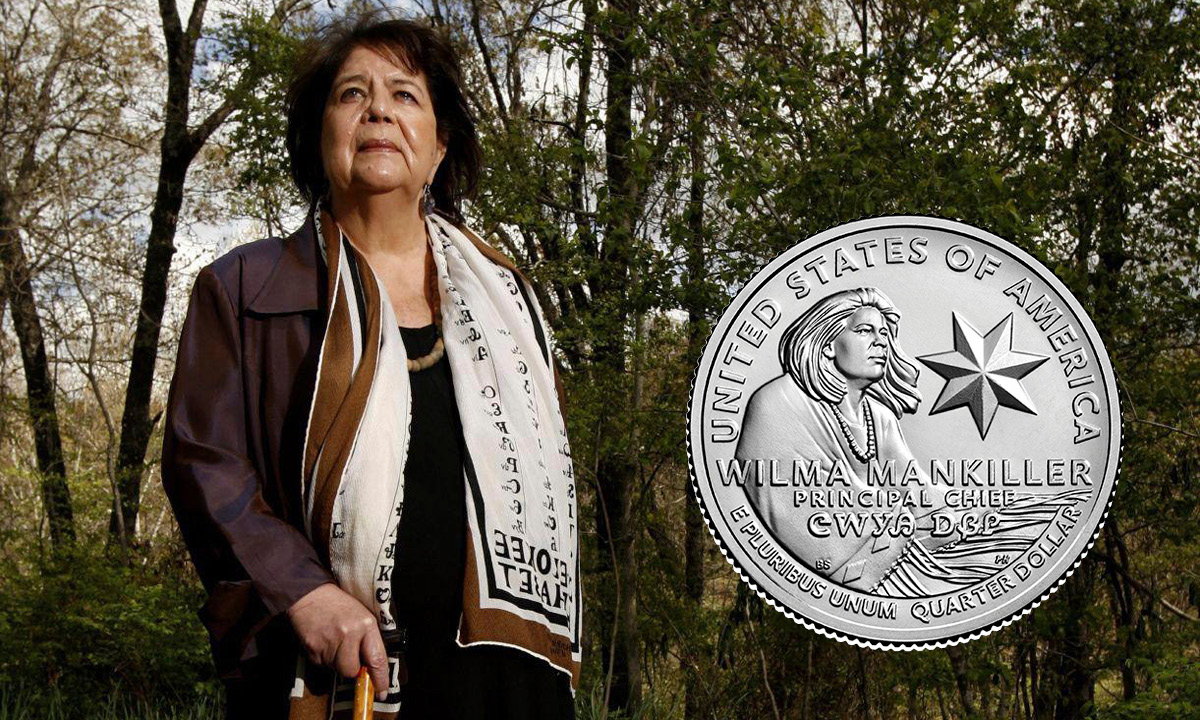 Photo Courtesy Tulsa World Magazine
Wilma Mankiller Recognized as Trailblazer
The latest United States Mint quarter recognizing trailblazing U.S. women features alumna and 1995 San Francisco State University Alumni Hall of Fame inductee Wilma Mankiller — the first woman ever elected principal chief of the Cherokee Nation. The American Women Quarters Program celebrates the accomplishments and contributions of women who have transformed U.S. history. This four-year program, ending in 2025, has already featured luminaries like writer Maya Angelou, astronaut Sally Ride and Chinese American film star Anna May Wong.
The new coin design shows the late Mankiller with a "resolute gaze to the future," the U.S. Mint said in announcing the design. She is wrapped in a traditional shawl with the Cherokee Nation seven-pointed star, and "Cherokee Nation" is written in Cherokee syllabary. Mankiller's legacy is alive and well and continues to influence today's tribal leaders, said Cherokee Nation Principal Chief Chuck Hoskin, Jr. at an event celebrating her legacy and the new quarter.
"Even years after her passing, chief Mankiller is still making an impact," Hoskin said. "Right now as we speak the Cherokee people remain organized in their communities. … That spirit of 'gadugi' (which in the Cherokee language means working together) is alive and well because of chief Mankiller's efforts to inspire our people to work together at the grassroots to build strong communities."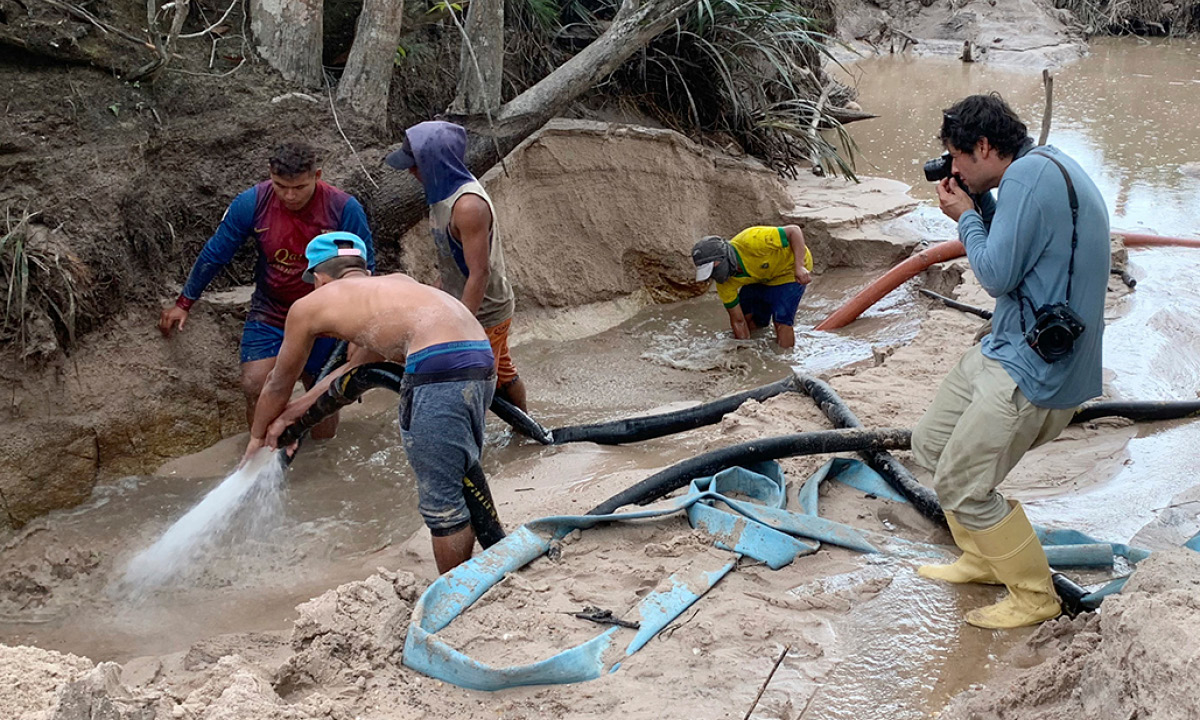 Photo Courtesy Michael Robinson Chavez
Michael Robinson Chavez (B.A., '94) was named the Department of Journalism's 2022 Alumnus of the Year. He is a staff photographer at The Washington Post covering issues such as climate change, revolutions and violence. He won a Pulitzer Prize in 2020.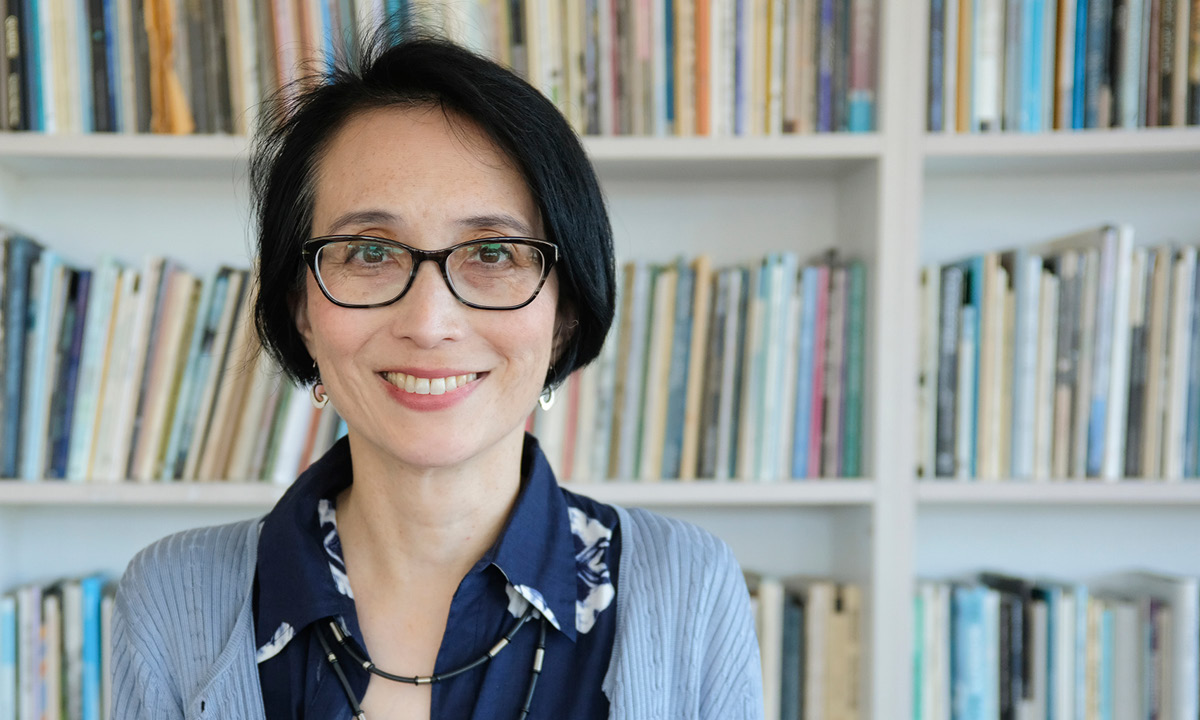 Photo by Sreang-Hok
May-lee Chai (MFA, '13) is an associate professor of Creative Writing at SF State whose latest book is "Tomorrow in Shanghai and Other Stories" (Blair). Ms. Magazine writes: "Set in China and across its diaspora, the latest collection by award-winning writer May-lee Chai is complex and courageous, inspiring and insightful."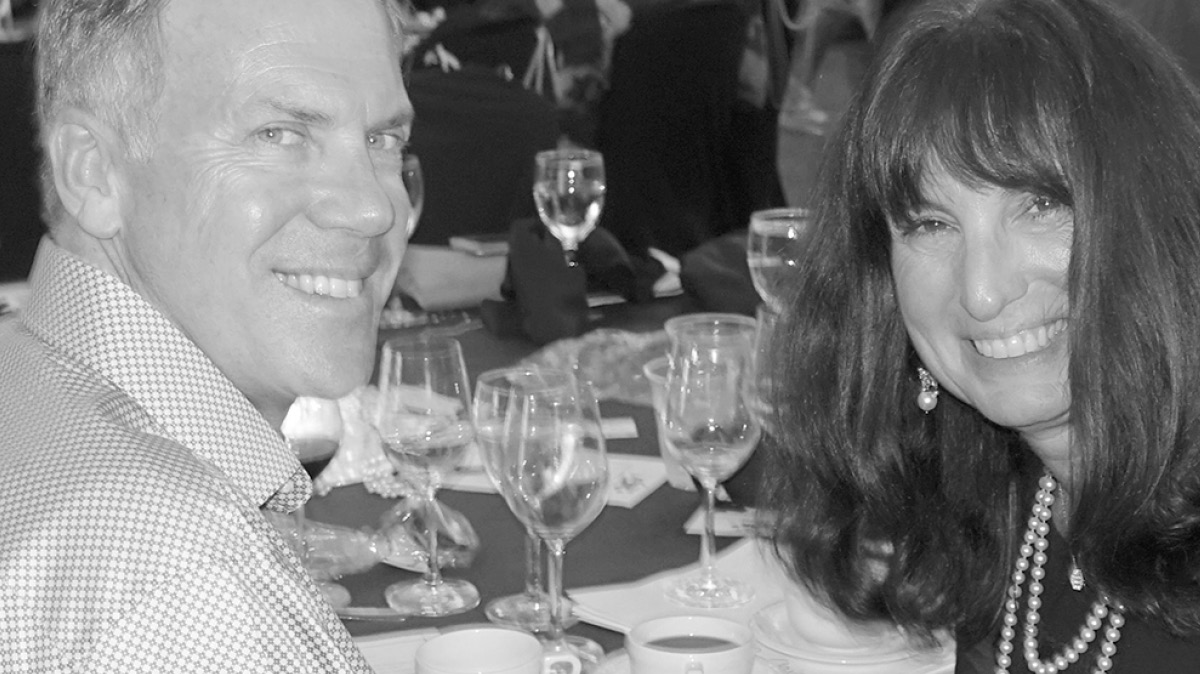 Photo Courtesy Adrienne and David Yarnold
Work Hard and Do the Right Thing
SF State holds a special place in Adrienne (B.S., '83) and David Yarnold's (B.S., '82) lives. The two met in 1981 while they were both studying accounting, at a party held by Beta Alpha Psi, the honor organization for financial information students and professionals. "I literally saw Adrienne across the room," David recounts. "One of my friends was standing next to me and I asked, 'Who is that?' and he said, 'That's my ex-girlfriend.'"
David grew up in Daly City and could not afford to move away from home for college or attend a private university. To him, 
an Accounting degree from SF State meant a well-paid, dependable job after graduation. Adrienne was a first-generation college grad and remembers her family's pride in her career. "My dad was so happy when I graduated with an Accounting degree," says Adrienne. "He would tell all his friends, 'My daughter is an accountant!'" 
Both David and Adrienne feel that their careers got a great start at SF State and that the Accounting program gave them an excellent foundation in the practical mechanics of the field. "If you're in business, the way you value a business and look at it is all based on the numbers," says David. "If you're going through an accounting program you learn all of those details." 
After graduating, both Adrienne and David became certified public accountants, with David eventually becoming CEO of a software business. Adrienne worked as a CPA headhunter. The couple also became major donors to the Lam Family College of Business, with a focus on funding scholarships for Accounting students. Having come from less-privileged backgrounds themselves, they have a deep appreciation for hard work and the road blocks many students at SF State face. 
"That's been our deal — our whole life is just work hard and do the right thing," says David. "It's still at the core of what SF State is about. It provides an opportunity for students to get a relatively inexpensive education and to do whatever they dream of accomplishing. We want to see as many kids understand that opportunity and take advantage of it as possible."
Ira Cooperman (B.A., '62) teaches lifelong learning courses, mostly on national security issues, in the Philadelphia area. His career included tenures as an Air Force intelligence officer in the wars in Southeast Asia, a staff writer for The Los Angeles Times, campaign speechwriter for L.A. Mayor Tom Bradley and development officer for nonprofit organizations. An International Relations major, Cooperman credits Professors Urban Whitaker, DeVere Pentony and James Hirabayashi for teaching him the importance of learning about peoples and cultures: "All three led principled lives in search of peace."
Nancy Hensel (B.A., '68; M.A., '69; M.A., '71) was the first president of the New American Colleges and Universities and is a member of the Maine Women's Hall of Fame. Her latest book is "Course-Based Undergraduate Research: Educational Equity and High Impact Practice."
David Nolley (B.A., '68) was named a fellow of the International Society for Philosophical Inquiry in 2022. He earned his Ph.D. in neuroscience from Syracuse University and the Upstate Medical Center of New York.
 
Linda Yelnick (B.A., '70) serves on the Board of the Bammies Music Foundation and manages Dan Ashley, the ABC-7 news anchor in San Francisco and a band leader performing a blend of Americana, country and rock.
Denise Larson (B.A., '70) published her memoir "Anarchy in High Heels" (She Writes Press) about her adventures in the feminist satirical theatre group Les Nickelettes. She founded and led the group for 13 years beginning in 1970.
Norman A. Stahl (B.A., '71; M.A., '76) is co-editor of "A 
Field Guide to Community Literacy: Case Studies and Tools for Praxis, Evaluation, and Research" (Routledge).
Albert Lord (B.A., '74) produced "Juneteenth: A Classical Music and Dance Festival" at the Lula Washington Dance Theater in the Crenshaw/Leimert Park area of Los Angeles. The all-day event featured dance, classical and jazz music, poetry and a drum performance.
Vincent Rios (B.A., '75; M.A., '79) now has a scholarship in his name. Alumni of his former Marines unit voted to establish the Seargent Vincent Rios A-1-5 Jr. ROTC Scholarship for students at Diamond Hills-Jarvis High School in Fort Worth, Texas.
Frances Mayes' (M.A., '75) new book is "A Place in the World: Finding the Meaning of Home" (Crown Publishing Group). It explores her obsessions with houses and the things that inhabit them — old books, rich food, beloved friends, transportive art. Mayes is a professor emerita of Creative Writing at SF State.
Barry Becker's (B.A., '76) second novel is "The Ryzhkov Vendetta." He is a retired marketing consultant in the biometrics security industry and consumer sector.
Jon Rose (B.S., '77; M.S., '82) has retired as a psychologist after 37 years at the Palo Alto Veterans Affairs office. He looks forward to time with friends and family, playing sax, learning woodworking, finishing an article on reversing cognitive impairment in Alzheimer's patients and lots of deferred home maintenance. 
Anyone interested in creating a scholarship fund for the SF State Master's in Clinical Psychology program can contact JonRose@yahoo.com.
Richard Bolanos (B.A., '77) is a partner at Liebert Cassidy and Whitmore. In 2022 he was selected for the Northern California Super Lawyers list for the 10th consecutive year and 13th overall. Bolanos provides labor relations services for public agencies, including serving as chief negotiator.
Tracy Santa (B.A., '78; M.A., '85) wrote "The Tompo of the Ringing: A Rock and Roll Memoir" (Rhyolite Press). The book answers a very specific question: If an eclectic band earning $3 a night split five ways explodes in an empty Tenderloin bar at 3 a.m., does it make a sound?
Scott Badler (B.A., '78) is the author of "JFK and the Muckers of Choate" (Bancroft Press), the first historical fiction work detailing John F. Kennedy's life as a teenager. is the author of "JFK and the Muckers of Choate" (Bancroft Press), the first historical fiction work detailing John F. Kennedy's life as a teenager.
Linda "BK" Wells (B.A., '81; M.A., '83; M.A., '99) won a 2022 Pinecone Book Award. Her novel "Funny Money" (Wavin' Raven) was selected as an Amazon Prime Read for Summer 2022.
Rebecca Solnit (B.A., '81), a bestselling author, has started a new project called "Not Too Late" to invite newcomers to the climate movement. It aims to guide people from despair to possibilities.
Vinnie Hansen (M.A., '82) is the author of the crime novel "One Gun" (misterio press).
Diana Tokaji (B.A., '85) is a yoga therapy leader for women survivors of assault and trauma. Her book "Six Women in a Cell: A Story of Sisterhood and Survival After Police Assault" (Root to Rise Productions) won the 2021 Best Indie Book Award for Nonfiction. "Surviving Assault: Words that Rock & Quiet & Tell the Truth" was a finalist for the 2020 Next Generation Indie Book Award. The poem "Post-Assault Prescription When I Fear My Spirit Dying" won the 2020 Sonia Sanchez-Langston Hughes Poetry Award.
Vincent Salyers (B.A., '89; M.S., '93) is dean of the Ruth S. Coleman College of Nursing and Health Sciences at Cardinal Stritch University in Milwaukee. While he began his career as an acute care nurse, through his various professional and academic roles he has continued to influence nursing and health care for more than 28 years.
Bruce Borowsky (MFA, '89) was recently appointed to the Boulder County (Colorado) Film Commission. He is an award-winning photographer, videographer and filmmaker specializing in corporate and documentary videos. He made two award-winning documentaries about his experience cruising to victory in a sailboat race across the Atlantic Ocean.
 
Jessie (Ungerleider) Nagel (B.A., '91) co-founded Green the Bid, a nonprofit aimed at shifting the entertainment industry to zero-waste, carbon neutral, sustainable and regenerative practices. It has grown to nearly 300 member companies and allied organizations worldwide, including agencies, brands and production companies.
Michael Wohl (B.A., '92) has written a memoir, In Herschel's Wake (Boyle & Dalton), about his efforts to reconcile with his family after the death of his eccentric father.
Cristina Azocar (B.A., '93; M.A., '96) is the author of "News Media and the Indigenous Fight for Federal Recognition" (Lexington Books, 2022). Her research focuses on the intersection of race and journalistic practice, particularly in news coverage of Indigenous people. She is a Journalism professor at SF State.
Carma Zisman (B.A., '92) is executive director of ODC/Dance in San Francisco. Previously, she was director of institutional advancement at the Walt Disney Family Museum, vice president of development for the World Affairs Forum and director of development for SF State.
Victoria Lynn Peterson (B.A., '92; M.A., '94) exhibited her watercolor painting "Glass Ceiling" at the Far Out Gallery (FOG) in San Francisco in July as part of the "Flowers" show.
Barbara McVeigh (M.A., '94) is producer of "The Man Behind the White Guitar," a documentary about Brazilian guitarist Jose Neto. It won Best BioPic at the 2020 Alwar International Film Festival and is available on Amazon.
Carolyn Dismuke (M.A., '95) chronicles her travels in "Drink Your Words: Discovering California's Other Wine Regions" (Traveling Star).
Jeremy Hight (B.A., '95) has written four books of fiction, including 2022's "easy and clear" (Gutter Snob Books). His prose and theory have been published internationally. A peer reviewer for the MIT Press, Hight fuses artificial intelligence, game functionality and structures in biology into new forms of narrative and typography. 
Torange Yeghiazarian (M.A., '97) cowrote the play "Isfahan Blues." It was published in the collection "New Iranian Plays," as was Yeghiazarian's translation of "A Moment of Silence" (Aurora Metro) by Mohammad Yaghoubi.
Amanda Mei Kim (MFA, '99; MPA, '07) is a 2022 – 2023 Steinbeck Fellow at San Jose State University. The fellowship awards $15,000 to emerging writers to finish a significant writing project. Kim is writing a memoir about growing up on a tenant farm in California.
Katherine Murphy (M.A., '99) performed her original solo show "Aunt Flo Is Dead and We're Not Sure How We Feel About That" at the 2022 San Francisco Fringe Festival. Her goal for the show: She wants you to "laugh until you're appalled at the information available about menopause."
Rinabeth Apostol (B.A., '02; B.A., '22) appears in stage plays across the U.S. and on the original cast recordings of "Imelda: The Musical" and "The Four Immigrants: An American Musical Manga." She recently starred in "Fun Home" for 42nd Street Moon and "Monument, Or Four Sisters (A Sloth Play)" for Magic Theatre.
Malik Ameer Crumpler (B.A., '04) is a poet, rapper, composer, curator, editor and professor involved in over 60 albums, several Glitch Art films, countless artbooks/literature anthologies and seven books. He is a co-editor of fiction for Paris Lit Up and editor-at-large for The Opiate.
Abram Jackson (M.A., '06) is the first director of interpretation for the Fine Arts Museums of San Francisco. He is charged with creating more inclusive interpretive frameworks, designing new processes for interpretation and supporting the development of the gallery guide program. He also teaches in the SF State College of Ethnic Studies.
Kyle Tobener (B.A., '07) presented research at Black Hat, the world's most prestigious cybersecurity conference, on incorporating harm reduction principles into the field of cybersecurity. The presentation garnered coverage in PC Magazine, InformationWeek, Dark Reading and more.
Allan E.S. Lumba (M.A., '07) is the author of "Monetary Authorities" (Duke University Press), exploring how the United States used monetary policy and banking systems to justify racial and class hierarchies, enforce capitalist exploitation and counter movements for decolonization in the Philippines. Lumba is an assistant professor of history at Virginia Tech. 
Jared Ledesma (B.A., '07; M.A., '10) was named curator of 20th century and contemporary art at the North Carolina Museum of Art in Raleigh.
 
Rachel Brockl (B.A., '10) is a 2022 On the Rise honoree from the American Bar Association. She is director of the Litigation Center at Golden Gate University. Previously, she was a prosecutor in Napa and Sacramento.
Amy Brandt (B.A., '10) is an associate at Liebert Cassidy and Whitmore and made her first Northern California Super Lawyers list in 2022. She provides advice and counsel in matters pertaining to education, labor and employment law.
Arnetta Smith (B.A., '12; M.A., '15) is chair and associate professor of Ethnic Studies at Fullerton College. She is a Black queer multimedia performance artist, producer, activist, DJ and podcast host.
Juliette Castelli-Kolev (B.S., '13) is ranked No. 21 by Forbes as best in California for financial security professionals. Castelli-Kolev is principal for Castelli Financial and Insurance Services in San Jose.
Liatile Mohale (M.A., '16) is founder of the Bahale School of Drama. It is the first school of its kind in Lesotho dedicated to drama, theatre and performing arts.
Chaz Volk (B.A., '17) is founder and CEO of Mr. Thrive Media, a multimedia startup that specializes in podcast production and networking events.
Madi Bolaños (B.A., '19) is co-host of "The California Report" on KQED-FM in San Francisco. The news program airs on National Public Radio stations statewide.
Karla Soto (B.A., '19) is athletic director at Vincent Memorial Catholic High School in Calexico. She was a pitcher for the Gators softball team, garnering conference All-Academic Honors in 2018 and 2019.
Jerusha Kamoji (B.A., '21) and Ryce Stoughtenborough (B.A., '20) are among several young Black journalists who contributed interviews to "Lift Every Voice: A Celebration of Black Lives" (Hearst Home). The coffee-table book highlights the work of trail-blazing Black Americans.
Nicole Shaffer (MFA, '22) and students Maryam Safanasab and AJ Serrano recently displayed their artwork in Assistant Professor Libby Black's exhibition "The Way Things Also Are" at 500 Capp St. in San Francisco. Shaffer is a graduate fellow at the Headlands Center for the Arts.