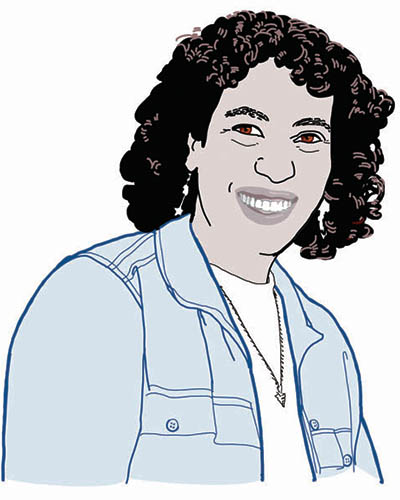 Nina S. Roberts has been teaching at SF State since 2005. She served as director of the Pacific Leadership Institute before becoming faculty director of the Institute for Civic and Community Engagement in 2017.
Learning Through Service
SF State doesn't just hope its students, staff and faculty will make a difference in their communities. Through the Institute for Civic and Community Engagement (ICCE), it shows them how to get started or continue their important work. ICCE connects the University community to volunteer opportunities, internships with service organizations and support for incorporating civic engagement activities into course work. We asked ICCE Faculty Director of Community Engaged Scholarship & Learning (and Professor of Recreation, Parks & Tourism) Nina S. Roberts to tell us more.
How did you get involved with ICCE?
Before being recruited to SF State, I spent over 20 years in the field with various organizations from nonprofits to the National Park Service. As an outdoor educator, when I started teaching here in 2005, I wanted to make sure my students got as much field experience as possible. After developing a national parks and protected areas class, I quickly learned about the work of ICCE. I was awarded an ICCE Call to Service grant, which supports service-learning opportunities and community-engaged research, for that class and got to know the great staff. When the position of faculty director was announced I applied with confidence and excitement.
How unique is ICCE?
There is no other institute on campus like what we do and offer! Our faculty and students have felt and acted on the need to give back to their communities through many available options. Amidst our nation's social, racial, environmental, economic and health challenges, students across disciplines have become more thoughtful, devoted and ready to take action. While these characteristics take on different practices, one thing is clear: SF State and its students are making a difference. ICCE supports these efforts from local and state-wide organizations to national and global initiatives.
How has ICCE responded to the challenges of the pandemic?
We worked with the CSU Center for Community Engagement and offered a multi-part webinar series for how to move CSL classes to online and ways students can engage virtually with community partners. Despite a reduction in staff, we also established virtual drop-in hours, set up a remote opportunities and resources page, are harnessing our resources with other CSU campuses including promoting student and faculty virtual events, created a webpage for managing internships and service learning during COVID-19 and celebrated six Call to Service grant recipients.
In a typical year — which we haven't had, of course — how many students get involved in community service through ICCE?
Yes, our numbers are lower since many Community Service Learning [CSL] classes were not offered or students were given alter- native assignments. One way to provide a more accurate depiction is to share information from the prior academic year [2019-20]. For instance, we tracked 56 service-learning courses in lower division classes and 168 in upper division. Out of these 224 CSL courses, nearly 4,000 students campuswide were enrolled reporting over 33,000 hours of service.
Why is something like ICCE important?
There are many reasons why ICCE is so essential. For example, volunteerism has a long and honored tradition at SF State since the 1960s protest movements as well as a valued level of activism that emerged through service. Given the diversity of our student body, our faculty have been a driving force getting students involved in service both on campus and around Bay Area neighborhoods where students could also earn academic credit for volunteer work. This started an essential evolution for the University whereby students involved in field-based projects, complementing their classroom learning, reflect an increase in self-reliance and community-centered spirit that has led to national recognition for SF State.