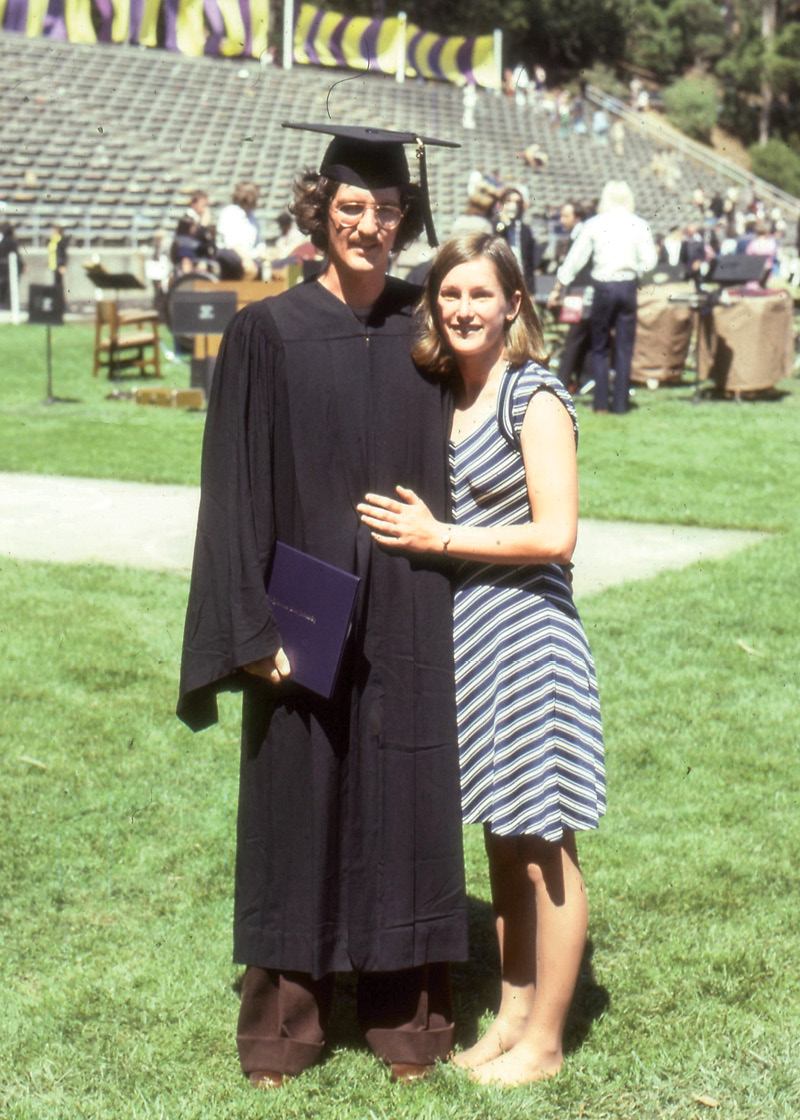 By Stan Bunger (B.A., '77) 
When you find the love of your life and the path to your life's work in the same place, you're truly fortunate. That's my story, and it all happened at San Francisco State.
I arrived on campus in the fall of 1975, a transfer student from West Valley College in Saratoga. Upon high school graduation, I thought I'd be pursuing a degree in marine biology. But, as will happen with young adults, things changed.
A series of required papers for a very wise English professor at West Valley caused me to reassess my future plans. A career in broadcasting seemed more appropriate, and what was then known as the Broadcast Communication Arts Department at SF State was the obvious choice.
That choice was made easier because there was a bit of a legacy. My father had found his way to SF State after military duty, leaving with a teaching credential and a newborn son in 1956. My maternal grandmother lived in San Francisco, and for a kid growing up in San Jose, trips to "The City" were always exciting.
Maybe you can recall your own moment of independence. I can still see Mom and Dad pulling away in the family station wagon after helping me move my typewriter, stereo system and a few items of clothing into Verducci Hall.
And a day or two later, I found my way into the bowels of the old Creative Arts complex in search of the campus radio station, KSFS. It mattered not a bit to me that KSFS could only be heard by a relative handful of people. I was going to become a broadcaster! Perhaps there was a moment of disappointment when I saw that the signup sheet for DJ slots was already full. But the news department needed people, and I joined on. I never looked back.
It was within a few weeks that I had the proverbial "love-at-first-sight" moment. A young woman who worked as a desk assistant in the dorms was beautiful and friendly in equal measures. Tharon and I have been together now for 46 years.
"The news department needed people, and I joined on. I never looked back."

—Stan Bunger (B.A., '77)
The path from 1600 Holloway Avenue to my 2021 retirement from the morning anchor position at KCBS Radio included a number of stops at small-market radio stations, a detour to Dallas and a meander into television. Along the way, I was fueled by what I learned at SF State and the experiences I gained there. I still have some of my textbooks and all of my memories.
For many years, the late, legendary John Madden was a part of our KCBS team. Coach Madden and I spoke many times about how lucky we were to have been educated in the California State University system (he graduated from Cal Poly in San Luis Obispo).
SF State set me on the path to career and life fulfillment. It was, and is, the place where stories like mine begin.