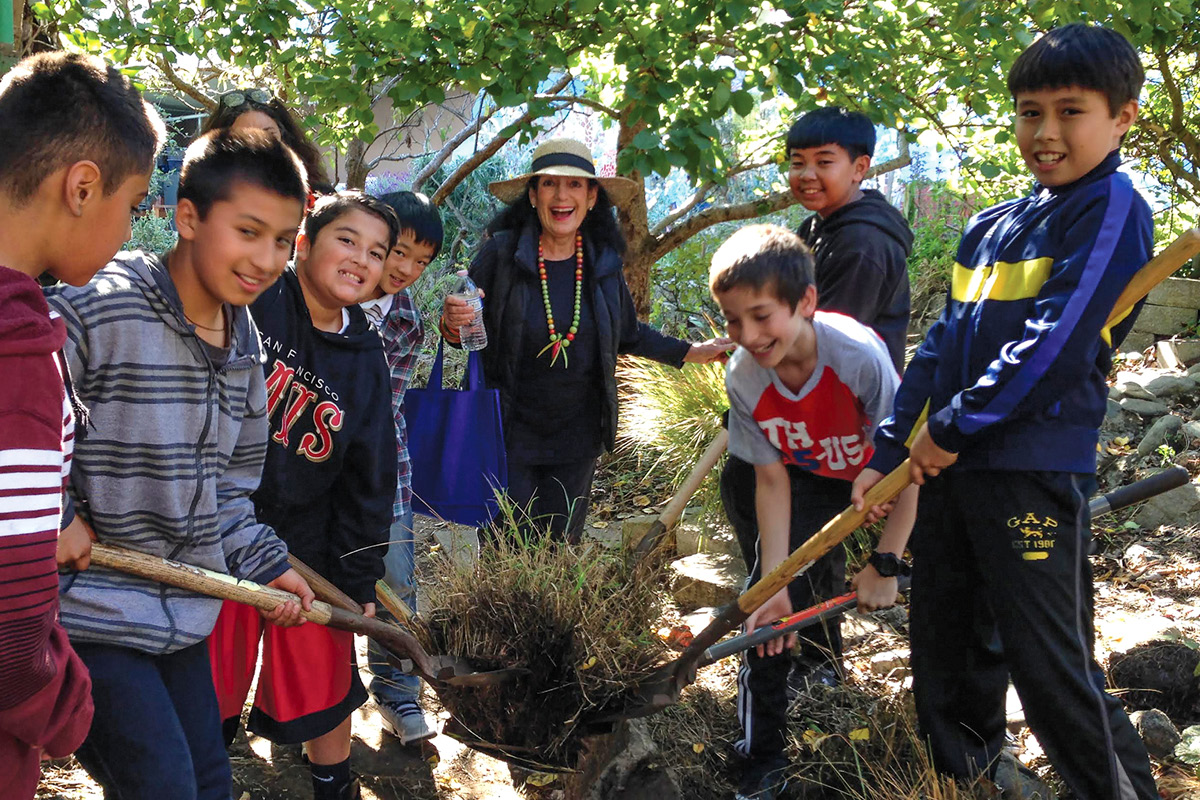 "Learning to be a farmer is sensitive, like learning to be an artist. The growth process in life is like the creative process in art."

—Bonnie Ora Sherk, speaking to the Associated Press in 1977
Bonnie Ora Sherk (M.A., '70) was a landscape architect and environmental educator known worldwide for her varied work exploring relationships between humans, animals and nature spanning five decades. In one of her most iconic performance pieces of the early 1970s, she consumed a meal while caged in the San Francisco Zoo's Lion House, with tigers and lions in adjacent cages being fed simultaneously. In 1974 she founded the Crossroads Community, near the I-280 and U.S. 101 interchange in San Francisco's Mission District. Known as "The Farm," it was a pioneering space for urban agriculture and community gatherings. Sherk's nonprofit organization, A Living Library, lives on in San Francisco and New York City, uniting youth and adults to restore native habitats, create educational gardens and plant trees. 
Best-selling novelist Anne Rice (B.A., '64; M.A., '72) arrived on campus as a Political Science undergraduate. "I loved it from the first moment I saw it," she told SF State Magazine in 2006. Inspired by her professors to read literature in the historical and social context of its time, Rice pivoted to Creative Writing for her master's degree. "It wasn't an accident that I would sit down and write about how a supernatural being viewed the ages," she added. Rice's more than 30 gothic novels included "Interview with the Vampire," which became a hit film in 1994 starring Tom Cruise and Brad Pitt. More than 100 million copies of her books have been sold. Her husband, SF State Creative Writing Professor and poet Stan Rice, passed away in 2002. "To fall into [Anne] Rice's world was to become besotted by the gruesomely wonderful act of transformation, lured out of dullness by a like-minded soul with a toothy grin, a black turtleneck and a brocade vest," The Washington Post wrote in December, following Rice's passing, "coming out for the wild night, and then retreating back to dullsville at dawn."
Ed Bullins (MFA, '94) wrote his first play while attending SF State in the 1960s and producing protest theatre for the Black Panther Party. He was a legend by the time he returned to campus as a graduate student in the 1990s. A strong voice of the Black Arts Movement, Bullins was active in the New Lafayette Players in Harlem and wrote more than 100 plays, including "The Fabulous Miss Marie" and "In New England Winter." His work earned him many honors, including an Obie, a New York Drama Critics Circle Award and the Vernon Rice Drama Desk Award. "He wrote not for white or middle-class audiences, but for the strivers, hustlers and quiet sufferers whose struggles he sought to capture in his searing works," a New York Times obituary stated.
The 1968 – 69 student strike for Ethnic Studies at SF State inspired Floyd Salas (B.A., '63; M.A., '65) to write a novel. "Lay My Body on the Line," published by Ishmael Reed's and Al Young's Y'Bird Press in 1978, is a fictional account of an all-American boy turned activist. Salas, who taught at SF State after graduating, wrote his first novel, "Tattoo the Wicked Cross," for his master's thesis. It would go on to win the Joseph Henry Jackson Award. Later, it was included in "Masterpieces of Latino Literature" (HarperCollins, 1994) and on the San Francisco Chronicle's Western 100 List of Best 20th Century Fiction. Salas was statewide coordinator for Poetry in the Schools from 1973 to 1976. His eight published books included novels, poetry and a memoir, "Buffalo Nickel."