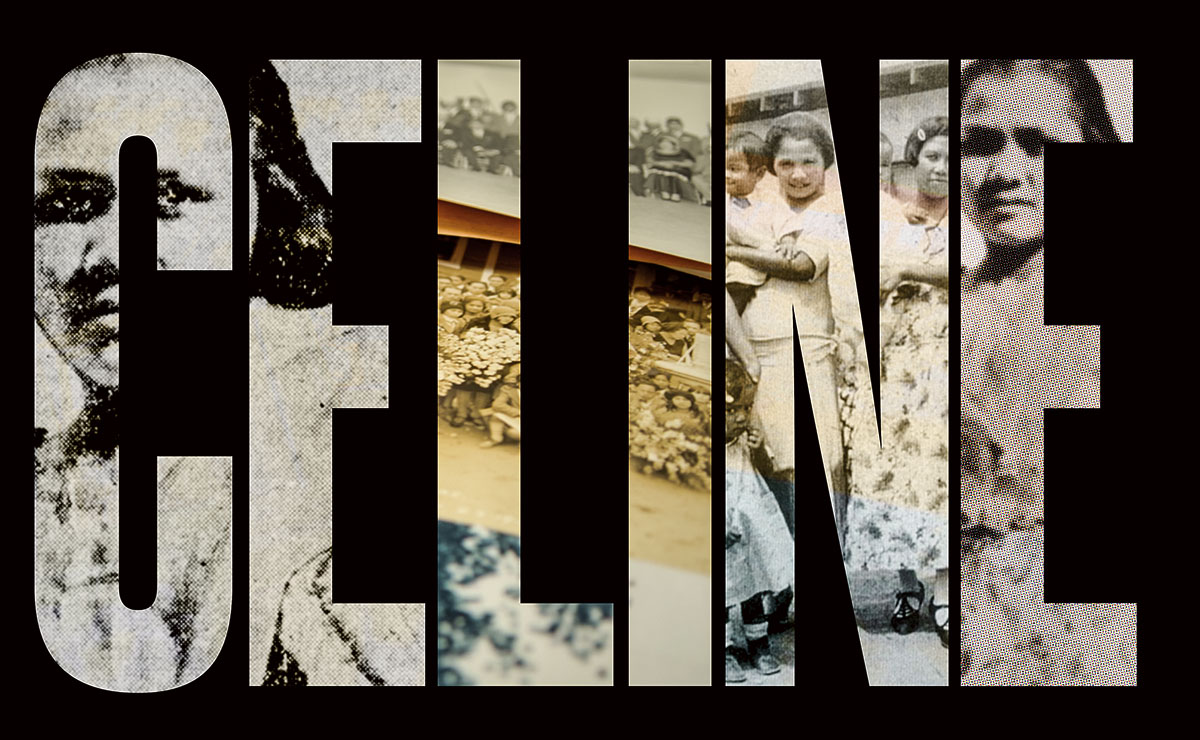 A documentary by School of Cinema Director Celine Parreñas Shimizu takes an unflinching look at a brutal crime and what it says about community, misogyny and grief

By Matt Itelson
For years, murder victim Cecilia "Celine" Navarro was remembered mostly as a ghost story — the inspiration for a gruesome campfire tale intended to frighten children. But San Francisco State University School of Cinema Director Celine Parreñas Shimizu saw a different kind of haunting in Navarro's tragic death: one in which the lingering phantoms from the past are guilt, betrayal and trauma.
Shimizu's award-winning documentary "The Celine Archive" explores the implications of Navarro's 1932 murder in the Sacramento Delta, using it to shed light on a Filipino community under siege during the Great Depression. "Along with the fascinating figure of Celine Navarro, this documentary paints a vivid portrait of the early Filipino migrant community struggling with widespread racism and their own poisonous misogyny," critic Ryan Wu wrote for the Los Angeles Asian Pacific Film Festival, where the documentary premiered last October. "It's a haunting and illuminating experience."
An emigré from the Philippines, Navarro settled in Stockton, California, in 1918 and got married in 1924. Though known as a shy, caring mother of four and a beloved babysitter, she also refused to let her voice be stifled, once testifying in court against four men she witnessed beating a woman. All four were convicted and sentenced to prison. Navarro faced torturous retaliation for her testimony in the following months. Members of the Caballeros, a local Filipino fraternal organization, kidnapped Navarro twice, accusing her of adultery and stealing from her husband. The third time, she was taken to the sloughs of Jersey Island in Contra Costa County, where seven people dug a grave and buried her alive. In a high-profile trial sensationalized by the media as involving a "secret Filipino cult," all were acquitted.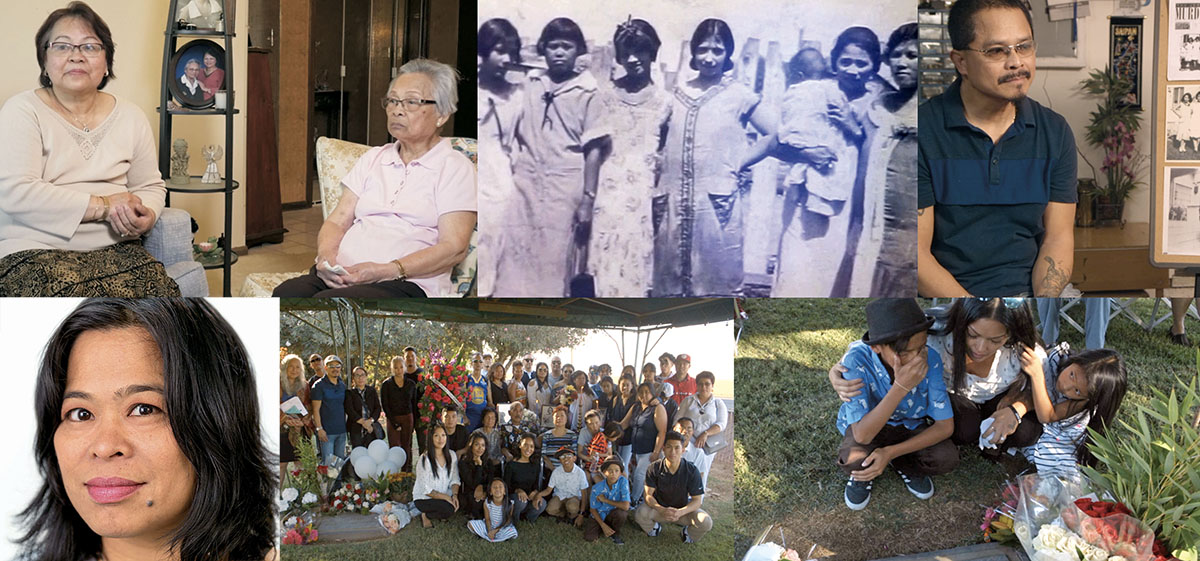 Clockwise from top left: (1) Celine Navarro's granddaughter, Tootsie Reyes, and daughter, Lucia Navarro. (2) Celine Navarro (second from right, holding a baby) and her family in Ventura, California, in a photo dated July 5, 1925. (3) Celine Navarro's grandson, Henie Navarro. (4) Grandchildren, great-grandchildren and great-great-grandchildren of Celine Navarro gather for a memorial at a cemetery in Brentwood, California, in 2018. (5) Descendants of Celine Navarro visit her gravesite. (6) Celine Parreñas Shimizu.
"The media really loved to use the terms 'ghastly' and 'voodoo ritual' and 'jungle justice' to make these sensational and lurid stories that would sell newspapers," late Associate Professor of History Dawn Bohulano Mabalon says in "The Celine Archive." "I really see it as a tragedy."
Shimizu says Navarro's family still lives with the legacy and memory of the murder. "Celine was not only killed by her own community, but the community organized the defense of her indicted killers," says Shimizu, who joined San Francisco State in 2015. "Think about what that did to her family. It tells a story of betrayal of that very community. It's a story of an undoing of your community."
Professor Shimizu's film tells Navarro's story through archival documents and news clippings, audio recordings and new interviews with surviving relatives, community historians and scholars.
"Filipino kids used to have this ghost story of a woman who got buried alive," former Asian American Studies Adjunct Professor Alex Fabros Jr. says in the film. Elders would tell the story to children at migrant labor camps at night, shining a flashlight through an old leather glove to startle them. Fabros assumed it was just a fictional tale until 1994, when one of his SF State students mentioned the case and showed him a historical document.
"My student said, 'No no, it's a real story.' I've got it right here,'" Fabros says. Between 1994 and 1996, about 200 of Fabros' SF State students would do further research into the Navarro case with him.
Making "The Celine Archive" has helped Shimizu cope with a loss in her own life: Her 8-year-old son Lakas died unexpectedly on Christmas Day in 2013.
"Since Lakas' death, the question of how a family who encounters the sudden death of a loved one continues to live, and even thrive, is something I think about every day," Shimizu says.
"While Celine's sisters were able to gather when grandson Henie Navarro replaced the gravestone marked 'unknown' with her name, Celine never got a funeral for her many descendants. By making this film, I realized that is something I can make happen," Shimizu adds. "Her story is a reckoning of the silences in our community, but also of making grief come to the surface so we can have a real connection across our families."
"Celine was not only killed by her own community, but the community organized the defense of her indicted killers. Think about what that did to her family."
—School of Cinema Director Celine Parreñas Shimizu

Numerous SF State students and alumni helped make "The Celine Archive." Dan Chein (B.A., Anthropology, '11; MFA, Cinema, '18) is director of photography, Jon Ayon Alonso (B.A., Cinema, '17) edited the film and David Sandwisch (B.A., '08) is sound designer. Ten undergraduates transcribed interviews, researched archives and participated in production and post-production.
"The film's focus on the traumatic events was less important than the grieving and the intergenerational trauma in the family," Ayon Alonso says. "In the post-production, Celine [Shimizu] and I focused less on the violence of the event. The film, as its thesis, is about how grief manifests across several generations."
Before Ayon Alonso and Shimizu worked together, his best friend was murdered in the Philippines. School became difficult, and he reached out to his instructors.
"Celine went the extra mile to check in and reach out to me," he says. "She was very kind and loving to me. And she was a stranger at the time. I was just a student in her class. We formed a new bond. She is very involved in my life and my family's life to this day."
"The Celine Archive" won the Grand Prize for Best Documentary Feature at the 2021 Culver City Film Festival and a Gold Remi Award for Historical Biography at last year's WorldFest Houston. The 69-minute film has also screened at CAAMFest, LA Femme and festivals in San Diego, Hollywood, Montreal, Chicago, Seattle and Switzerland. Women Make Movies has acquired "The Celine Archive" for educational distribution.
"By the end of documenting Celine Navarro's story, the journey has shown me that cycles of intergenerational trauma can be broken when the intention is made to confront it, do the work and follow through," Chein says. "Sometimes, it takes someone from outside that family, community or world to set those gears into motion."
With the exposure Shimizu's film provides, she hopes it contributes to creating more dialogue about misogyny, especially for women from marginalized communities.
"The #MeToo moment has allowed us to talk about this more openly," she said, "so young girls and women do not have to feel silenced and unable to tell stories of racial uplift at the expense of sharing their experiences of gendered hierarchy within their communities."
Navarro's grandson, Henie, says he is proud of the SF State students for their work. Her story should not be buried, he adds.
"In the new generation right now, they want history to stay in the public — to let them know we're here, we work hard and this is what happened," he says in the film. "This is the history that I won't forget, forever, from my grandchildren to their grandchildren to their kids."
Sadly, Mabalon's interview for "The Celine Archive" was one of her last. It took place just weeks before her untimely death in summer 2018 at age 45. In the film, she says the findings in Navarro's archives contribute to a better understanding of Filipino American identity, especially for women.
"I feel that Cecilia Navarro, Celine Navarro, she has been waiting for many decades for us to ask questions about her," Mabalon says. "As a historian, I tell my students what I do is have a conversation with the ancestors. And whatever they leave behind — their letters, their notes, their court records, their newspaper stories — that's how they talk to us. And it's really up to us to figure out what they've left behind for us. And I feel that we've scratched the surface of what has happened to her.
"Understanding more of that will help us to understand who we are as Filipino Americans."