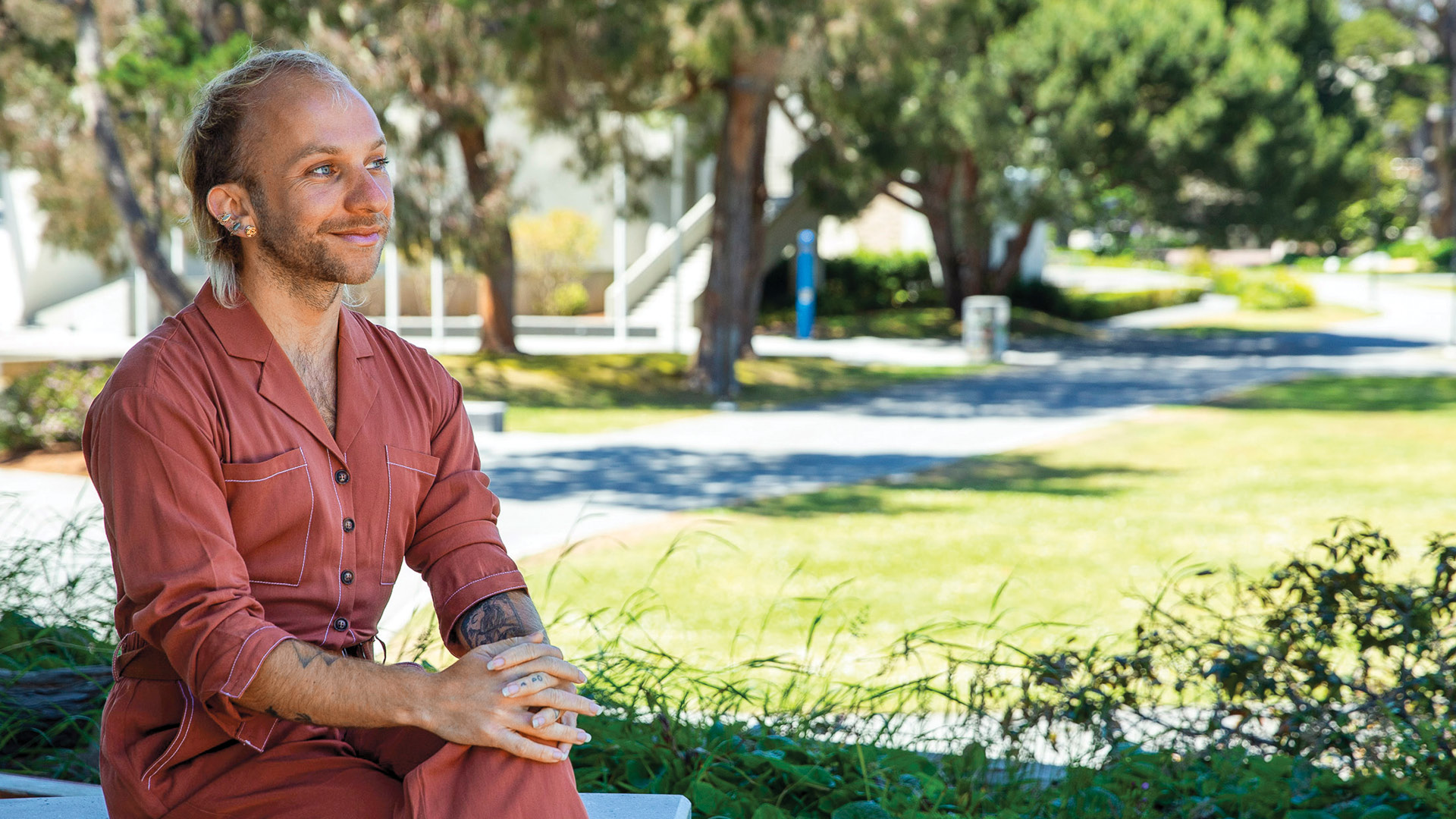 Photo by Paul Asper
Opening the doors to a dream
SF State graduate student J Patterson says that during her youth, she didn't think college was in her future. There were many obstacles — including her struggle to come to terms with her identity as a queer, transgender person — that led to mental health issues and addiction. Patterson eventually left the area where she grew up, Del Norte County in Northern California, but returned in 2013 with a goal. 
"I reconnected with my community to help build the support system I wished I had had as a young, queer trans person growing up," she says.
After founding Gender Talk, a youth-centered LGBTQ and gender justice community group, she discovered a passion for social work that inspired her to rethink her future.
Fast forward to today, and higher education is very much part of Patterson's life: Last semester she received the California State University Trustees' Award for Outstanding Achievement. The annual award is the CSU's highest recognition of student achievement, honoring superior academic performance and personal accomplishments.
"This award is so much more…because everything I've done is to give back to others in some way."
—J Patterson
"This award is so much more than just a lump sum of money. It means doors opening that I dreamed of," Patterson says. "The contributions don't stop here because everything I've done is to give back to others in some way. It is such a beautiful act to give."
Patterson, who has a bachelor's degree in Sociology from SF State and returned to the University last fall to earn a master's degree in Social Work, says one of those dreams is to become a Bay Area social worker and provide youth services. Drawing from her experience growing up, Patterson made it her mission to work on issues around intersectionality to improve the quality of life for young people.
Another dream she has is to continue advocating for prison abolition and liberation, specifically for trans and gender-nonconforming people in the school-to-prison pipeline. Patterson says the scholarship will help bring these dreams to life.
Every year the CSU honors 23 students, one from each CSU campus, with the Trustees' Awards. All winners have demonstrated inspirational resolve along the path to success, and many are the first in their families to attend college — just like Patterson.
"What I want to do at my deepest core is to take this award and help someone achieve the positive changes they wish to make in their life," Patterson says. "For that, I am very, very grateful to the CSU system and to the Trustees' Awards."