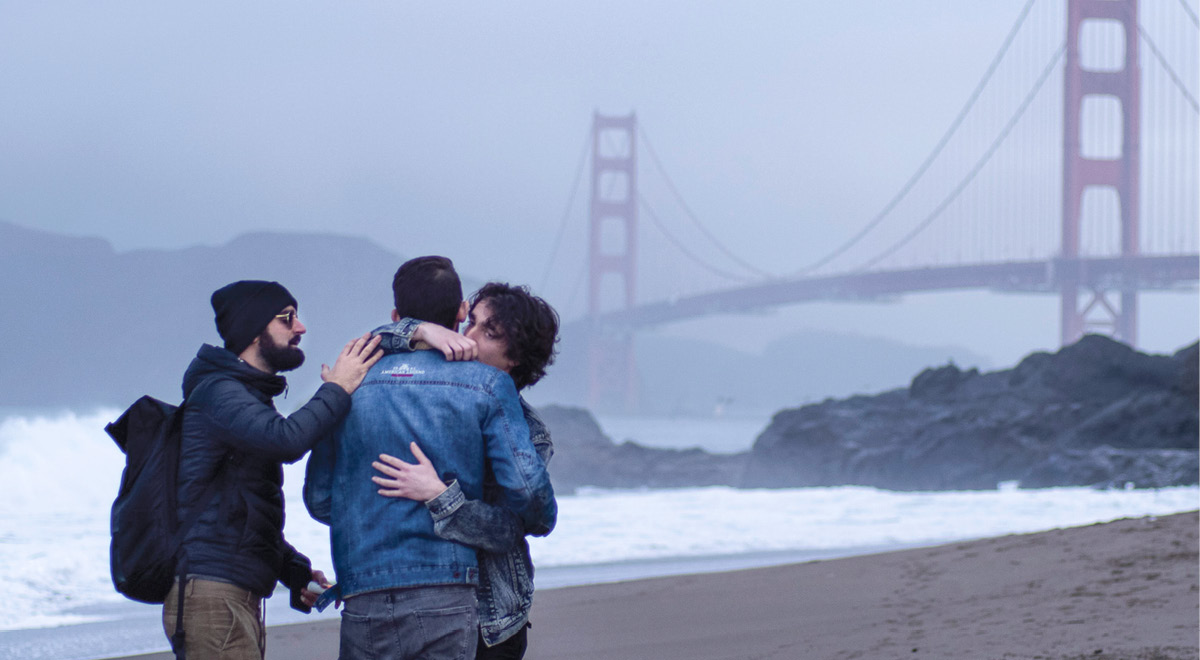 Photo Courtesy Pietro Pinto
"Golden" Opportunities
Film school in San Francisco provides some of the world's most breathtaking backdrops for a student short. A recent SF State graduate student from Italy discovered something even more desirable, boosting the filmmaker's burgeoning career and helping him land slots (and awards) at film festivals around the world.
"People are very open-minded. Every day can take you to a new story," says Pietro Pinto (MFA, '20), who won Best of Show and Best Narrative at the 2021 CSU Media Arts Festival for his 15-minute drama "The Golden Gate." "That's the beauty of San Francisco."
In "The Golden Gate," a young gay man (played by SF State student Franklin Racobs) finds the courage to stand up to his abusive and homophobic mother, a moment that would change forever his past and future. It is based on a true story of a friend Pinto met in San Francisco.
"Being an Italian student in San Francisco, for me the Golden Gate — all through my studies — was the place to go to get inspired or even to have time off," Pinto says. "I thought this would be a perfect celebration for the city I was living in, even if [the film] is a drama."
Pinto recruited more SF State School of Cinema students to participate in "The Golden Gate," including several from an introductory filmmaking class he taught. They shot one scene in class.
"The Golden Gate" went on to screen at 20 film festivals, spanning Italy, Argentina, China and Boston. Another of Pinto's short films, "Icarus," showcases San Francisco Ballet dancer Angelo Greco at the height of the pandemic. It won a Top 30 award at the 2020 CSU Media Arts Festival and was featured at the 2020 San Francisco Dance Film Festival. And Pinto's thesis project, a short thriller titled "Adam," premiered at the 2020 Venice International Critics Week.
"He is really one of a kind in my 15 years of teaching," says Professor of Cinema Weimin Zhang. "I especially admire him with his extraordinary creative drive and tremendous energy and determination under any circumstances."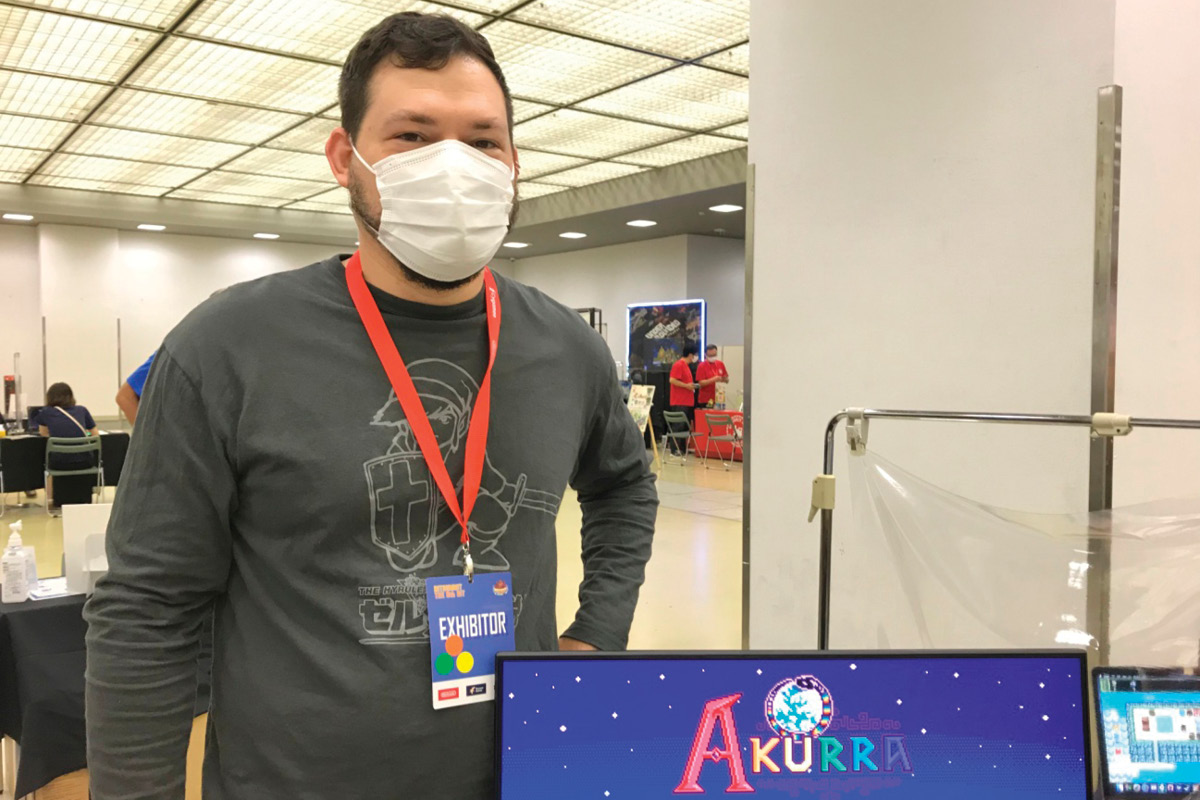 Game Changer
Jason Newman (B.S., '17) grew up making games for his friends. Now he's turning that hobby into a career — and his first indie game is already making waves. "Akurra," a puzzle-based game designed for multiple platforms, recently took home one of the top awards at a Japanese gaming convention.  
Newman never thought he'd make games for a living, especially given the competitive nature of the field. Initially, he was unsure about majoring in Computer Science because he found math so challenging.
"When I first went to SF State, I was actually studying Chinese, and that goes back to my interest in multiculturalism and things like that," he says. His interest, at least in part, was due to growing up in a diverse community in the Bay Area. "I have a deep interest in every culture, including my own."
But then a single math class changed everything. Instead of lectures, the course encouraged group work and more discussions. Seeing math in a new light ignited Newman's interest in STEM. He ended up graduating with a degree in Computer Science and a minor in Chinese. All of his training and interests are now channeled into his game.
The main character in "Akurra" is a castaway with no memories who travels through puzzle-filled islands to uncover a larger story. Newman wanted the game to be accessible to a wide audience, so the entire story is revealed visually through exploration; there is no text in the game. 
Slated for release in late 2022, "Akurra" already has a loyal following. After a successful Kickstarter campaign, Newman released a two-hour demo that helped him grow a community around the game. In 2021, he attended BitSummit — the largest indie games convention in Kyoto — where he received IGN Japan's Media Highlight Award for "Akurra." He also won an Astra Fund grant to support his project and was awarded a second year of funding.
"I can't believe how into the game people are and how excited they are," Newman says. "It just feels amazing."
Jason Newman is a self-employed graphics, video and web consultant. Learn more about him and his game at akkura-game.com.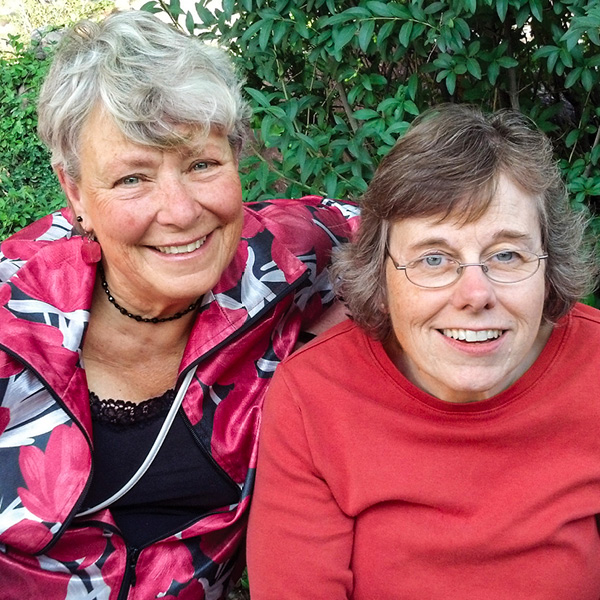 A Legacy of Caring
Though Marie Louise Moore (M.S., '85) passed away last year, her lifelong commitment to helping others continues: In her will she left $10,000 to SF State to support disability programming. Her sister, Ellen Moore (teaching certificate, '79), says that reflects both Marie's professional dedication and her personal tenacity.
Marie had cerebral palsy, and movement was extremely challenging for her. That didn't stop her from a long career in her chosen field. After earning her master's in Rehabilitation Counseling from SF State, she went on to work for the Virginia School for the Blind and Visually Impaired in Richmond, Virginia, for 30 years, first as a teacher and later as a work evaluator. 
"She felt a kinship with people with disabilities but had no self-pity," Ellen says.
After retiring in 2017, Marie continued to help others as a tutor for public schools and an English instructor for refugee children through Commonwealth Catholic Charities. Ellen says that gave her sister first-hand knowledge of how programs for people with disabilities have to make the most of every penny of support.
"She knew disability programs can use money well," Ellen says. "She created all her own learning tools and materials and sent them home with her students in hopes parents and family members would carry on reading games and stories with their students." 
Ronald Light (B.A., '71) is the author of "Pedal Culture: Guitar Effects Pedals as Cultural Artifacts" (Backbeat Books), based on a 2017 exhibition of guitar pedals that he curated for the SF State School of Design. The book is partly ethnographic observation and partly semiotic analysis while remaining a whimsical romp through the wacky world of pedal enclosure design.
Richard Sharp (B.A., '71) received his Industrial Arts degree with the help of the G.I. Bill. Now 85, he has been retired for 30 years.
Norman A. Stahl (B.A., '71; M.A., '76) is president of the Reading Hall of Fame. He has also been president of the Literacy Research Association, College Reading and Learning Association and Association of Literacy Researchers and Educators and chair of the American Reading Forum.
Albert Lord (B.A., '75) curated an exhibition, "Blacks in Cinema," at Community Build, a nonprofit organization in Los Angeles where he is a vice president. The outdoor exhibition featured over 100 photographs, posters, newspaper articles and documents.
Vincent Rios (B.A., '75; M.A., '79) could soon be the recipient of a special honor: Residents in Fort Worth, Texas, have launched a petition to name the JROTC facility at Diamond Hill-Jarvis Hill High School after him. Rios served in the U.S. Marine Corps in the Vietnam War, losing both legs at the hip, his right arm and parts of his left arm. He later enjoyed a long career as assistant regional administrator for the U.S. Department of Labor's employment and training service. 
William Catling's (B.A., '77; M.A., '85) sculptures were featured in a retrospective of the Riverside Art Museum from Jan. 15 to May 15. "Catling's wonderfully down-to-earth works expand our capacity to understand that our bodies are vehicles for understanding," art critic David Pagel wrote. Catling is chair of the art department at Azusa Pacific University in Southern California.  
Kim Marvel (M.A., '79) wrote "Natural Facilitators: A Key to Successful Organizations" (Bowker Identifier Services). The book describes the talented but often underestimated people who enable others to do their jobs better. Marvel has a Ph.D. in Clinical Psychology and retired in 2018 as executive director of the Colorado Commission on Family Medicine.
Carolyn Lee Arnold (B.A., '79) is the author of the memoir "Fifty First Dates After 50" (She Writes Press), which chronicles her real-life dating experiment. BookLife called it a refreshing read that "will inspire even skeptical readers to evaluate their love lives."
Leslie Kirk Campbell (M.A., '79) won the 2020 Mary McCarthy Prize for Short Fiction for the short-story collection "The Man with Eight Pairs of Legs" (Sarabande Books, 2022). Ploughshares published the title story in its fall 2021 issue.
Peggy Landsman (attended '79) is a poet whose chapbook "Our Words, Our Worlds" has been published by Kelsay Books. Landsman's poem "A Woman Was," published by Bright Flash Literary Review last July, received a Pushcart Prize nomination.
 
Tom Lehner (B.A., '83; M.A., '86) has been appointed to the Mt. Vernon Board of Visitors. Lehner is vice president of government affairs for Bridgestone Americas Inc. in Washington, D.C. He has previously worked for Toyota and the Business Roundtable and served as a chief of staff in the U.S. Senate. 
JoAnna Ciccolini-Mankiewicz (M.A., '84) resides in Surprise, Arizona, and is a caretaker for her elderly father. For others seeking a senior care facility, she advises: "Be a tireless advocate for your loved one and you will eventually find the right solution."
John Aiello's (attended '85 – '87) latest book is "Hymns to the Night Road: Poems for Dead Parents" (Electric Review Press). Aiello describes it as a tribute to his parents filled with poems dedicated to them.
Jay Rosenblatt (M.A., '88) was nominated for a 2022 Academy Award for Best Documentary Short. He is the producer, director, writer and editor of "When We Were Bullies." The 36-minute film begins with a mind-boggling coincidence, leading Rosenblatt to track down his fifth-grade class (and teacher) to share memories of a bullying incident from 50 years ago. In a playful yet poignant way, he begins to understand his complicity and the bully in all of us.
Lawrence A. Souza holds five degrees from SF State, including a B.A. in Economics ('88), a B.S. in Finance ('89) and master's degrees in Applied Economics ('95), Public Administration ('02) and Political Science ('10). He is an adjunct professor of finance at St. Mary's College of California and University of San Francisco. He and four students recently wrote a book, "U.S. Housing Policy, Politics, and Economics Bias and Outcomes" (Routledge Focus). 
Martina Clark (B.A., '89) has received a Pushcart Prize nomination for "My Unexpected Life: An International Memoir of Two Pandemics, HIV and COVID-19" (Northampton House Press). POZ Magazine gave it the 2021 Best in Literature Award. The book covers Clark's personal 30-year adventure of living with HIV and surviving COVID-19 as well as her unexpected career with the United Nations.
 
Cal Orey (M.A., '90) has co-written a novel, "The Caged Bird Sings: A Young Man's Untold War Chronicles" (AuthorHouse), with James Channing Shaw. Set in 1940 in Nazi-occupied France, the coming-of-age story explores love, duty and family dynamics in a world turned upside down by war.
Norman Gee (B.A., '91) acted in the San Jose Stage Company production of "Great Expectations" in November and December 2021. Gee is the principal of the Oakland Public Theater and an associate producer for PlayGround-SF.
Cauleen Smith (B.A., '91), a filmmaker, participated in the UCLA event "Mass of Images: Experimental Music Videos" March 3. She and other panelists discussed the influence of experimental music videos on contemporary culture. 
Peter Van Court (M.Ed., '92; M.Ed., '01) won Principal of the Year awards from the Association of California School Administrators and from school districts representing San Francisco and San Mateo counties. He is the principal of Clarendon Elementary School in San Francisco and has worked in the city's public schools for nearly 25 years.
Cristina Azocar (B.A., '93; M.A., '96), a professor of Journalism at SF State, won the Distinguished Service to Journalism Award from the Society of Professional Journalists, Northern California chapter. She shares the award with Assistant Professor of Journalism Lourdes Cárdenas. They were honored for creating the University's new bachelor's degree program in Bilingual Spanish Journalism, the first of its kind at a public institution of higher education.
Theo Gonzalves (M.A., '93) released two new works in 2021. "Gossip, Sex and the End of the World: Collected Works of tongue in A mood" (Arkipelago Books) is an anthology of play scripts. Gonzalves also co-produced "Kulintang Kultura: Gong Music of the Philippine Diaspora" (Smithsonian Folkways Recordings), a double album of traditional Philippine music paying homage to former SF State artist-in-residence Danongan "Danny" Kalanduyan.
Barbara McVeigh's (B.A., '94) photography exhibition showcasing Guatemalan art and spirit, "Redemption," was on display at Dominican University of California from March to May. McVeigh visited Guatemala's mountain region of Quetzaltenango in 2018 following unrest at the U.S./Mexico border in order to understand first-hand the plight of immigrants.
Toni Mirosevich (M.A., '92; MFA, '94) has retired as an SF State Creative Writing professor but continues to chronicle the denizens of a Northern California seaside pier. Her latest book, "Spell Heaven and Other Stories" (Counterpoint Press), profiles eclectic locals like an ex-FBI agent, a drug-addicted mother and a kite-flying drug dealer.
 
Gregory Schell (MFA, '01) has produced his first feature film, "Mayberry Man," a comedy about an arrogant actor forced to spend a week at an "Andy Griffith Show" fan festival. It is available on Amazon Prime. 
Carly Heath (B.A., '02) is the author of "The Reckless Kind," a young adult novel published in late 2021 by Soho Teen. "Found family vibes abound in this historical adventure starring three queer, disabled teens who set out to make a home of their own," Buzzfeed reported.
Audrey Asistio (B.A., '08) was recently named co-anchor for weekend newscasts on KNTV-TV, the Bay Area's NBC affiliate. She was emcee of the San Francisco Chamber of Commerce's CityBeat 2022 event. At her previous anchor position at NBC10 in Boston, her major coverage included the 2018 Winter Olympics, 2020 Summer Olympics and protests following the murder of George Floyd.
François Vigneault (attended '08 – '10) provided the artwork for the new sci-fi/fantasy graphic novel "Orcs in Space Vol. 2" (Oni Press). 
Jerome Dees (B.A., '09), vice president of sales for Wise Sons Jewish Delicatessen, has been named "One of the Most Influential Executives in the Country" by Nation's Restaurant News for two years in a row. He's completed his second book, "Leadership Can Be Simple."
Shruti Swamy (MFA, '11) won a 2022 National Endowment for the Arts grant. Swamy is the author of the story collection "A House Is a Body" and the novel "The Archer," both from Algonquin Books. She has also won two O. Henry Awards and is a Kundiman Fiction Fellow. Her stories have appeared in the Paris Review, McSweeny's and elsewhere.
Alicia Connor (B.S., '12; M.A., '15) is a registered dietitian nutritionist and chef who lives in San Francisco. Her YouTube cooking series, "Quick and Delish by Alicia Connor," features easy recipes with minimal steps for flavorful, balanced meals. She is writing an e-meal planning guide and gives virtual meal-planning workshops year-round. She works with clients one-on-one to build healthy habits and create actionable plans to meet their goals. 
Adam Copeland (B.A., '13) is the co-host of "Tolbert and Copes," the new afternoon drive-time sports-talk show on KNBR radio in San Francisco. In 2018 Copeland was named one of the Sportscasters Talent Agency of America's Top 30 Sportscasters Under 30." 
Natasha Dennerstein (MFA, '16) is the author of "Broken: A Life of Aileen Wournos in 33 Poems," a chapbook published by Be About It Press. 
Lisa Lin (Paralegal Studies certificate, '16) recently joined Alto Litigation as a paralegal. She is an experienced legal professional in a wide range of complex litigation matters, including securities. 
Sarahbeth Maney (B.A., '19), who'd recently landed a prestigious New York Times photojournalism fellowship. Mere months later, while on assignment for The Times, she snapped a soon-to-be-viral photo of Leila Jackson gazing admiringly at her mother, Supreme Court nominee (now Justice) Ketanji Brown Jackson.
Kohar Scott (M.A., '19) is an assistant professor of industrial design at San Jose State University. Her client list includes industry leaders in consumer electronics, pro-audio, toy manufacturing, personal care and soft goods. Her research revolves around the use of materials, artificial intelligence, virtual reality and augmented reality to solve problems in the design process.