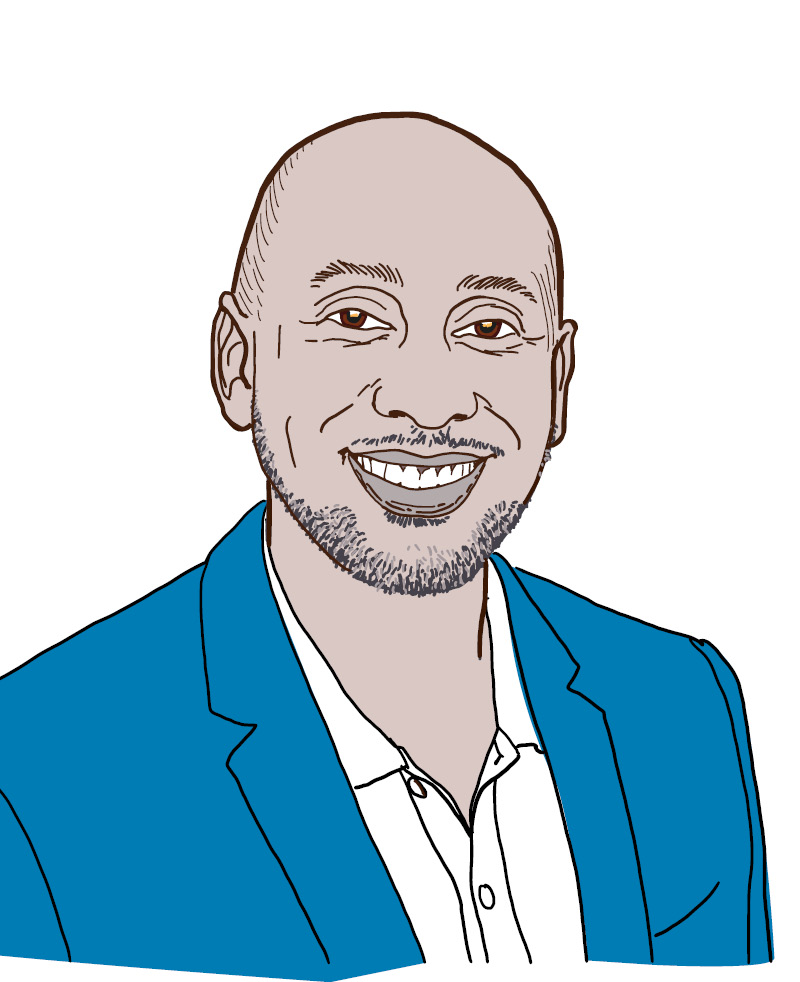 Illustration by Karen Q Kemp
SF State's Division of Equity and Community Inclusion was launched in 2017 after months of surveys and public meetings exploring the University's "campus climate" — the attitudes and behaviors concerning respect for individual needs, abilities and potential. The division's mission: facilitate intercultural dialogue, promote equity, advance social justice and improve the campus experience for all. That's a tall order. But Frederick Smith — who heads the division as its associate vice president and the University's chief diversity officer — says his team (and SF State) are up for the challenge.
What was your first step when you came to SF State?
The first thing I needed to do was look at the campus climate survey. Listening to the people who had been part of the work prior to my arrival was priority No. 1. These conversations have led to numerous projects, targeted campus climate initiatives and programs to address campus climate issues. There is still work to be done, but our team at Equity and Community Inclusion is passionate about helping students, staff, faculty and administrators feel included, like they belong and that their voices matter.
The Men of Color Mentorship Program, which offers resources to male students of color, launched last summer. How's it going? 
Men of Color is a joy for me and other staff who have connected and led this work. In addition to the mentorship program, we do a Black men's roundtable via the Black Unity Center, a "Step Outside the Box" series via Health Promotion and Wellness and research on authority figures and men of color via Associated Students. The response has been positive from the campus and from participants, who share they have benefited from learning from each other and meeting men of color staff and faculty. 
How do you go about fulfilling the division's mission? 
Being active and visible with the SF State community is part of fulfilling our mission. We listen. We offer trainings and workshops. We consult with academic and co-curri–cular departments on issues in their areas. We collaborate. 
Your undergraduate degree is in journalism. Why the switch to higher education? 
After doing some student and professional work in radio and television news, I felt it wasn't quite the right professional fit for me. I'd always been a highly involved student leader as an undergraduate. Much of the work came naturally to me — helping, public speaking, advising, mentoring, etc. After a talk with the person who supervised me when I was an RA [Resident Adviser] in the residence halls, I knew what path felt right — pursuing a graduate degree in Higher Education and Student Affairs at Loyola University Chicago, and eventually pursuing and earning a doctorate in Educational Leadership for Social Justice at Loyola Marymount University. This profession aligns with my purpose.
You're also a published novelist. Does your fiction reflect the issues you deal with as an educator? 
My novelist life — I write general fiction and LGBTQ romance — is my wellness, relaxation, purpose and escape from higher education life. It connects, though, with my passion for writing, seeking and sharing truths, and the art of storytelling. Many of my main and secondary characters are deeply connected and passionate about social justice issues. At the same time, the characters are looking for that special connection with the right person — something many of us can identify with. I'm always happy to share my writing life with classes, podcasts and writing groups. 
Learn more at the Division of Equity and Community Inclusion website.