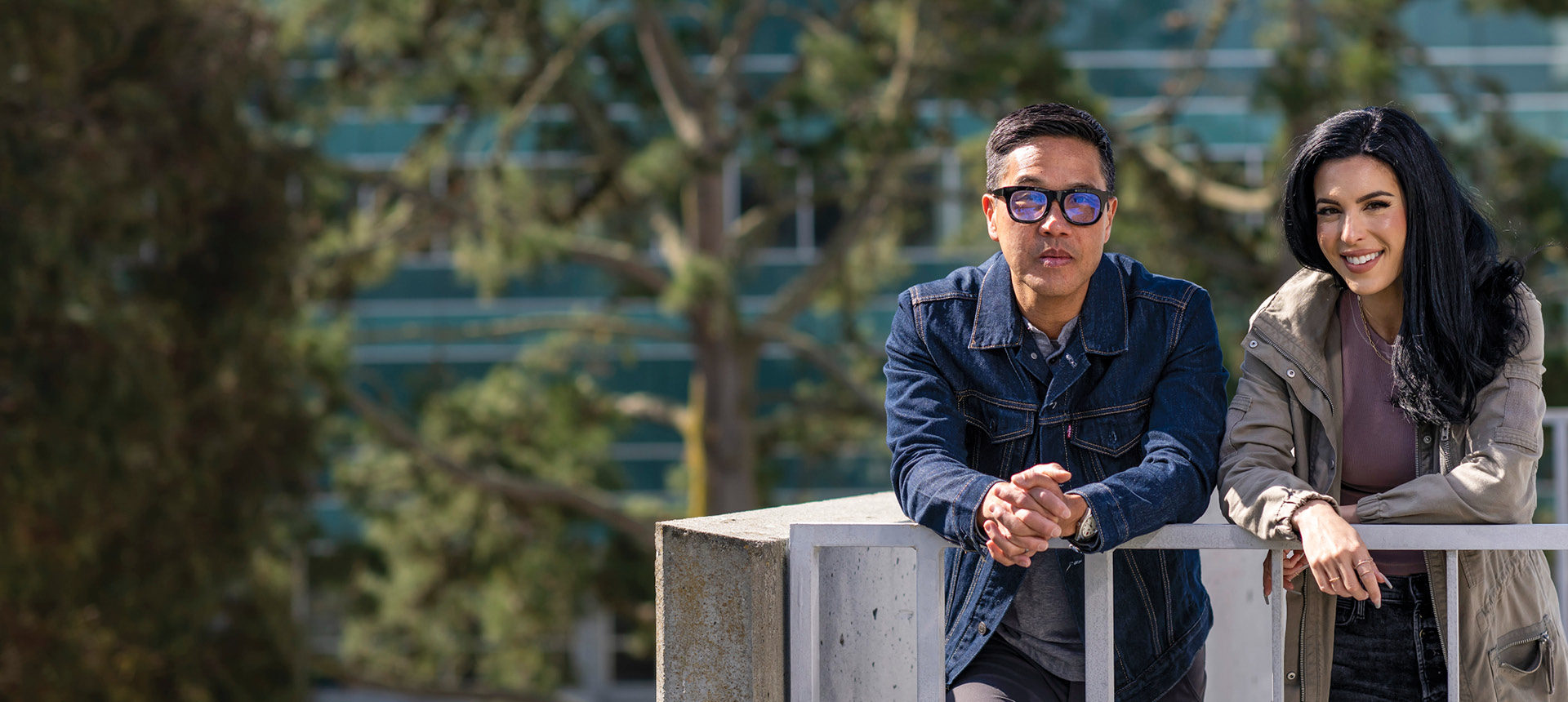 By Matt Itelson and Jamie Oppenheim
Photo by Deanne Fitzmaurice
Ryan Yamamoto (B.A., '94) is quick to correct anyone who says he or Sara Donchey (B.A., '12) are stepping into the shoes of former KPIX 5 anchor Ken Bastida (B.A., '80). Alumni Hall-of-Famer Bastida announced his retirement from the San Francisco station in October of 2021 after a 30-plus year career with the TV station. He's a titan of Bay Area news, Yamamoto says, and you don't replace someone like that.
Tune in to KPIX for the nightly news and you'll find two Gators — Sara Donchey and Ryan Yamamoto — side by side behind the anchor desk.
"You have to forge your own path because if I tried to walk in [Ken's] footsteps — those are big footsteps," he explains. "I don't think it would be fair to put that kind of pressure on myself."
Still, someone had to follow in Bastida's footsteps — at least as far as the KPIX anchor desk. And it turned out to be two more SF State alums.
Changing Minds by Doing the Job
Before coming home to the Bay Area, Yamamoto was the weekday morning anchor for KOMO in Seattle for more than five years. He's now the 5, 7 and 11 p.m. weeknight anchor at CBS-affiliate KPIX, filling Bastida's old time slots. He shares the spotlight at 5 p.m. with co-anchor Donchey, who is also new to the station. Though Yamamoto's only been at the station for less than a year, he's already blazing a trail. There are only a handful of full-time Asian male TV news anchors in California. "I don't wear that on my sleeve, but it is a reality," he says.
Yamamoto knows how powerful it is to see someone who looks like him on camera. Growing up in Pinole, he watched Asian American TV reporters like Lloyd LaCuesta, Vic Lee and David Louie deliver the news, and that left an impression. "You start processing that as a kid and think, maybe I can do that," he says.
To the dismay of his parents, who hoped he'd become a doctor or lawyer, he decided to follow in the footsteps of LaCuesta, Lee and Louie. He got his start early, writing for the Spartan Spectrum, the Pinole Valley High School newspaper, and serving as an announcer at his high school football and basketball games. When it came time to apply to college, his decision was simple — SF State had the best broadcast program in Northern California, he says.
At SF State, he dabbled in sports and news broadcasting, learning the most from his news production and sports broadcasting classes. He got firsthand experience in front of the camera, behind the camera and in the production booth.
After college, Yamamoto did what most TV journalists do: He headed for smaller markets and worked his way up. Or, in his case, back home. He worked at stations in Columbia, Missouri; Pocatello, Idaho; San Diego; Sacramento; and Seattle before returning home.
He landed in places where the culture was worlds apart from the Bay Area, especially when it came to people's attitudes toward race. "There's a whole different world out there that has a different worldview, and you can either fight that and look down on it or you can accept it and learn from it," he says. "And maybe you help change minds just by doing your job."
Not only have his parents embraced his career now, his dad was in a commercial that aired on Channel 5 promoting his son's Bay Area return. "All of his friends are calling him up. He's getting his 15 minutes [of fame]," Yamamoto says.
From Xpress to the Anchor Desk
Sara Donchey's most pivotal moments at SF State occurred after midnight. On deadline for the Golden Gate Xpress student newspaper, she launched a career that has taken her to television news jobs in Texas, Los Angeles and now back to San Francisco. But just 10 years ago she was drawing editorial cartoons in the Humanities building and learning about what she describes as a special camaraderie that can only be formed in a newsroom. 
"The night before we went to print, we were there super late," says Donchey, who was an opinion editor at the paper. "You become friends with those people for life. I'm still friends with all of them, including my teachers. … State was just the coolest place. I'll always love it."
Donchey helms the 3 and 5 p.m. weekday newscasts, side by side with Yamamoto for the latter. Although the two attended SF State in distinctly different eras, she says she felt an immediate bond with him, like every Gator alum she meets. 
"When I meet other people from State, I know that we had the same college experience, which was really a community," she says. "The city was our backyard and our playground. And it was an exposure to one of the best cities in the world." 
The entire Bay Area is an SF State classroom within itself, providing valuable lessons for life and career. 
"When you live in a city like San Francisco, you are forced to experience life through someone else's eyes," says Donchey, who was raised in Los Angeles County. "It just gives you this exposure to culture. … We would learn about these things in the classroom and then we would go out and experience them in our lives outside of school. It's hard to imagine another college atmosphere like that." 
While Donchey describes the Xpress as her first "living and breathing journalism experience," broadcast news also intrigued her. She connected on Twitter with a KPIX reporter, leading to a production assistant position at the station after graduating.  
Not all of Donchey's time on campus was in the Xpress newsroom. Ethnic Studies classes from Lecturer Larry Salomon inspired her with new perspectives, and she and Salomon have remained in touch. She also never missed a class taught by Lecturer of English Language and Literature George Evans. 
"He made me enjoy reading again," she said. "I have vivid, crystal-clear memories of sitting down in that class. And it was late at night! I went to that class every Friday because it was so good. I think about it all the time. If I ever went back there [to visit campus], I'd want to tell him in person how much I loved his class."