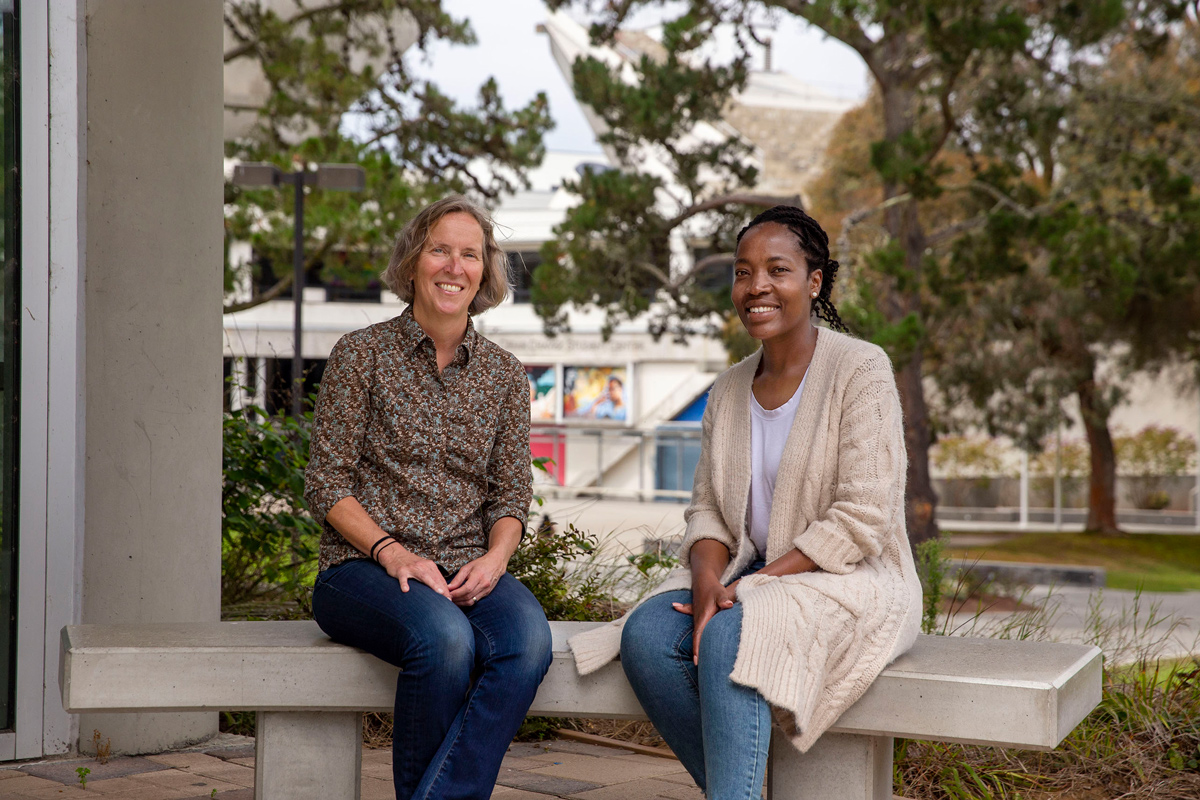 Reaching Out Beyond Campus — and Beyond Borders
When Sedzani Musundwa's Ph.D. was approved by the University of South Africa in the fall, making her one of the few Black chartered accountants in South Africa with a Ph.D., she had a lot of people to thank. High on the list was the faculty member who supervised her dissertation … who actually wasn't at the University of South Africa at all. Because of her dissertation's provocative subject matter — critical accounting, which examines the way race, gender and class impact key accounting decisions — Musundwa (above, right) had to look beyond her university and even beyond her nation for help. Fortunately, she eventually found a dissertation supervisor who was an expert on the topic: SF State Professor of Accounting Theresa Hammond.
"With South Africa having very few Ph.D.s, and even fewer Ph.D.s in critical accounting, I found that there were very few professors who were willing to undertake the journey with me," says Musundwa, who teaches at the University of South Africa as senior lecturer in accounting and former chair of the Department of Financial Accounting. "Those who expressed interest appeared to want to steer the study as close to mainstream accounting as possible and away from its main objective."
Hammond, on the other hand, has been exploring the effect of race on accounting from her earliest days in the field.
"I interned in public accounting in the 1980s and was shocked by how homogeneous it was," Hammond says. "So I joined the National Association of Black Accountants while I was in graduate school in order to learn more about how I could help shape a more inclusive future for the profession."
Around the same time, Hammond began working on a dissertation exploring the experiences of underrepresented minorities in accounting. She traveled across the country to interview the few Black men and women who were then Certified Public Accountants (CPAs). That research later became the basis for her book "A White-Collar Profession: African American Certified Public Accountants Since 1921."
Years later, Musundwa became aware of Hammond's work while doing her own research. It didn't occur to her that the American professor might be willing to serve as her dissertation supervisor, though. Then a stroke of good luck changed everything.
"I presented my Ph.D. proposal at a colloquium where an international moderator formed part of a panel," Musundwa says. "That moderator turned out to be a close friend and colleague of Theresa Hammond. The main feedback she gave me: 'Get in touch with Theresa Hammond. She is best suited for this study.' And as they say the rest is history."
Of course, there was a lot of hard work for Musundwa to put in before she could make that history. Hammond helped her by pointing out prior research in the field, introducing her to leading scholars, consulting on methodology and providing lots of encouragement.
All of this was accomplished via Zoom, with the two not meeting face to face until Musundwa traveled to the U.S. last summer. Not long afterward, Musundwa got word that her dissertation had been approved. Now she's the first Black female faculty member in the University of South Africa's College of Accounting Sciences to earn a Ph.D.
Photo by Paul Asper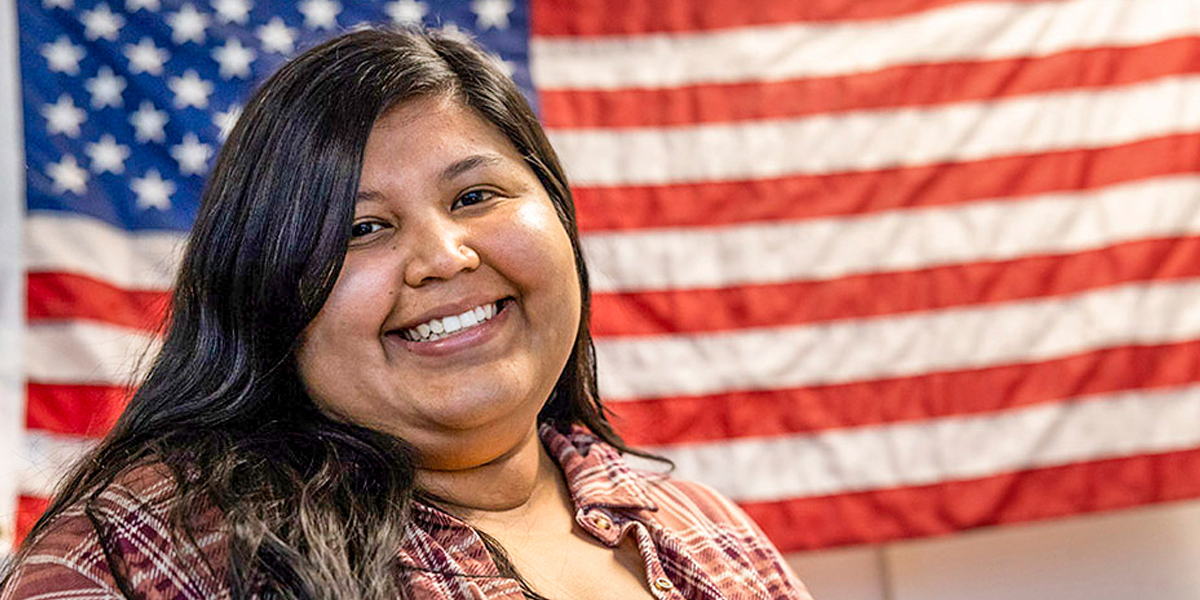 Serving Those Who've Served
Walk into room 153 of Burk Hall — also known as Veterans Corner — and you're likely to find Briana Torres sitting behind her desk with a big smile on her face. For Torres, a work-study student for the Veteran Services department at SF State, her work is more than just a school job. She's the daughter of a Vietnam veteran.
Her experience with military life drove her to become an advocate, ally and resource for veterans across campus.
"My dad served in the U.S. Marine Corps for 21 years, so I'm passionate about this," she says.
Veterans Corner is a place for veterans, dependents and active-duty military members in the SF State community to hang out, meet new people, get support and maybe even do a little homework. It's a collaboration between Veteran Services and VETS at SFSU, a student organization dedicated to supporting SF State's veteran, dependent and active-duty military community.
"I served in the U.S. Marine Corps for approximately eight years," says Mike Young, president of VETS at SFSU. "I love hanging out here. I recently met a woman in her 70s whose husband served. She's coming back to school. I learned a lot about life from her."
The vets coming to Veterans Corner can also get help with job opportunities, financial aid and mental health resources. But above all, Young and Torres say they hope students from military backgrounds can connect there and find pride in community.
"This is a fun space," Torres says emphatically. "A safe space for us."
Photo by Paul Asper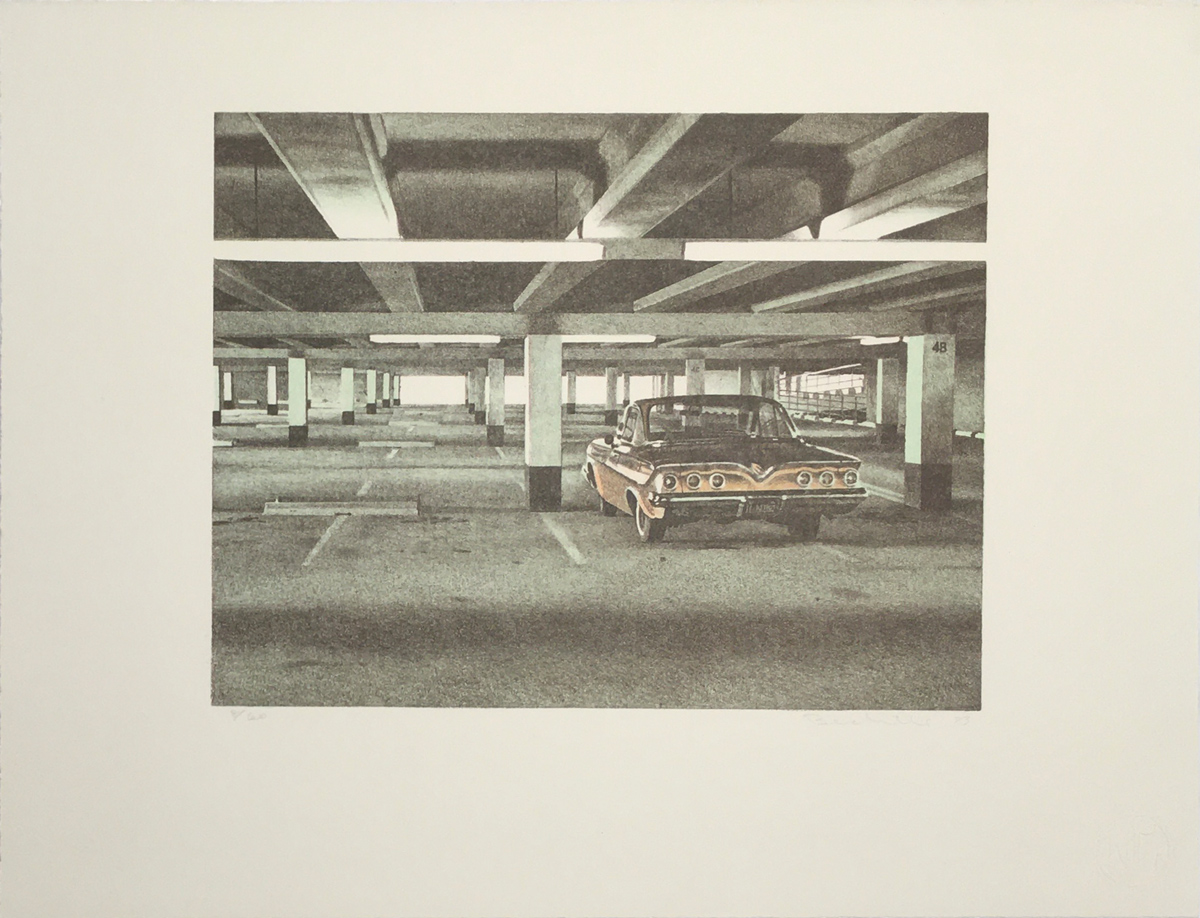 An Artist's Masterworks Get a Home on Campus
One of the world's preeminent realist painters, the late Robert Bechtle inspired hundreds of SF State students over his three decades on the faculty. Now, students for decades to come will still be able to draw inspiration from him thanks to a generous gift of five original works from the Robert Bechtle and Whitney Chadwick Trust.
Bechtle (1932 – 2020), a professor emeritus of Art, is a giant of American realist painting known for his tightly detailed renderings of everyday suburban landscapes and vintage cars. He is so precise and detailed that his pieces look incredibly similar to photographs. The Alameda native's work is represented in the collections of the Whitney Museum and Guggenheim Museum in New York, the SF Museum of Modern Art and the de Young in San Francisco, and other revered institutions. He was married to Professor Emerita of Art Whitney Chadwick (born in 1943), an art historian and author of the widely cited book "Women, Art and Society."
The donated works will live in the School of Art's Graphic Art Collection to be used as teaching resources in printmaking, painting, art history and beyond.
One of the donated watercolors is a 1987 study of the ventilation chimneys in front of the Fine Arts building, while a donated lithograph ("'61 Impala") shows a Chevrolet parked alone inside the vast SF State parking garage.
Bechtle Art Photo by Takahiro Okubo