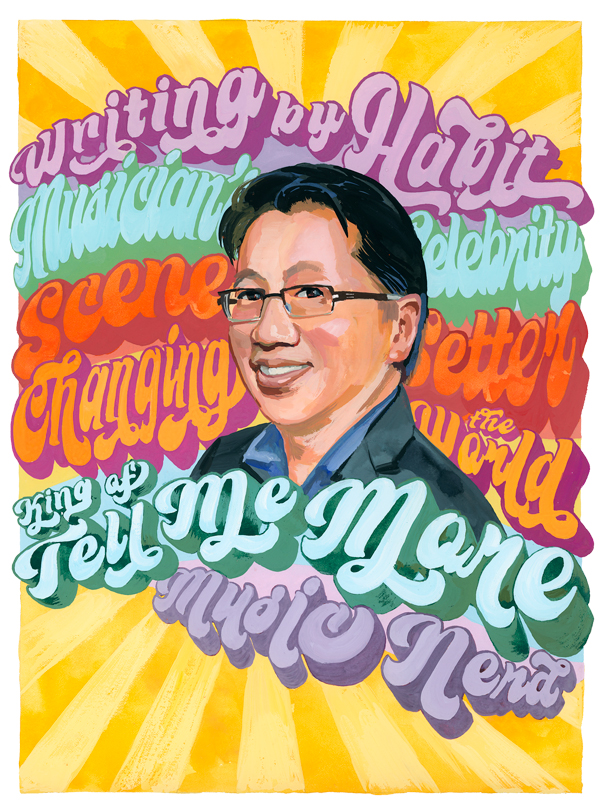 The King of "Tell Me More"
By Ben Fong-Torres
When the SF State Magazine team decided to create a new "In Conversation" department — a forum for a notable alum to have meetings of the minds with fellow Gators — the first question was "Who?" Who could we turn to for insightful interviews highlighting the breadth and depth of the alumni community?
It wasn't a question long. Not only did a natural candidate leap to mind, it had just been announced that he'd be receiving an honorary Doctorate of Fine Arts at SF State's 2023 Commencement ceremony May 26. So the call went out to Ben Fong-Torres (B.A., '66) — groundbreaking journalist and Rolling Stone senior editor, radio DJ and talk show host, TV personality, author, movie character (he's played by actor Terry Chen in "Almost Famous") and documentary subject on Netflix ("Like a Rolling Stone: The Life and Times of Ben Fong-Torres"). In fact, in that documentary about Fong-Torres, former Rolling Stone Managing Editor and SF State Journalism Chair John Burks (B.A., '62) gave the master interviewer a fitting title: "The King of 'Tell Me More.'"
Fortunately for us, "the King" agreed to take on the column. Which brought up "Who?" again. Who should he talk to first? Given the timing — with Fong-Torres being honored at Commencement for his many accomplishments — why not start with himself?
Ben Fong-Torres: What's your strongest memory of your time at SF State?
Ben Fong-Torres: There are many, but I don't remember them all. But being on the staff of the campus paper, The Daily Gater, led to many adventures. I joined just in time for the explosion of the Sixties. I covered Vietnam and civil rights rallies, visitors to the Speakers Platform on the Quad (while Cal was fighting for free speech, we had it), including proponents of legalizing marijuana. A few yards away was an art gallery, where, one summer day, I ran into Big Brother & the Holding Company rehearsing with their new lead singer, a Texas blues shouter, Janis Joplin.
At one point, I had a beat consisting of one person, Jefferson Poland of the Sexual Freedom League. He adopted "F***" as his middle name and seemed to be leading a different protest every week. And we covered homecoming queen competitions, including the campaign for Jane Dornacker, a freshman drama student who called herself "Earth Mother" and was transported around campus in a bird cage. She didn't win, but went on to perform as the lead singer of Leila & the Snakes, who played clubs and worked with the Tubes. And she was a comic traffic reporter on KFRC here and WNBC in New York, where she worked with Howard Stern until she died in a helicopter accident.
But those homecoming stories also led to my meeting my wife. Dianne Sweet, a Sociology major who'd been a queen candidate, was in charge of homecoming activities and would bring publicity materials to my office. After a year as a reporter, I had become city editor, meaning I assigned stories. I happily accepted her photos of lovely coeds, but we would not meet again until maybe six years later.  
At the Gater, I wrote a weekly three-dot column in the style of the Chronicle's legendary Herb Caen, so I scooted around campus eavesdropping on people and gathering items. There was never a shortage.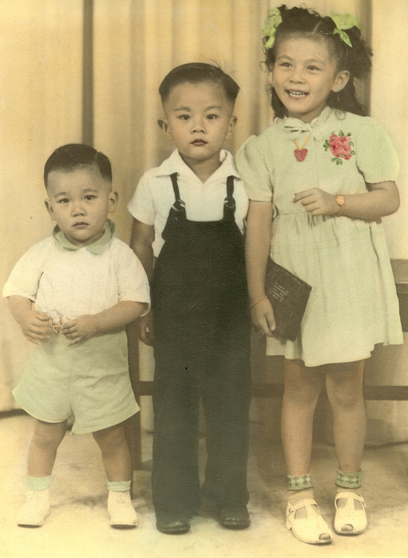 How did you become an editor, which meant supervising people?
Well, the incoming editor, Dave Swanston, appointed me. Reporters took turns on the copy desk, proofreading and copy-editing articles. I guess he liked my work, and how I dealt with classmates. Whatever traits he picked up on, I'd attribute to my upbringing.
People who know me or have read my memoir ("The Rice Room") or seen the documentary about me know I'm an Oakland Chinatown kid who was raised in family restaurants. [Pictured left to right: a young Ben Fong-Torres with brother Barry and sister Sarah.] As soon as we were able, we did chores, and juggled them with homework and, for too many years, Chinese school after American school. In hindsight, I think all of this — and the fact that I somehow jammed in some school activities at Oakland High (I was commissioner of assemblies and produced monthly programs) — added up to a sense of discipline, responsibility and a grudging respect for deadlines.
As kids, we had next to no social lives, and I wound up, at the very occasional party, mainly asking people about themselves. That may have been why I felt more comfortable as an interviewer than as a subject.
How did you get to Rolling Stone?
You can credit SF State, to a great extent. In spring of '68, maybe four months after the then-newspaper started, I got a brief item into the "Flashes" column of news tidbits, then began freelancing. Less than a year later, I was recommended for a job there by John Burks, who'd become the managing editor. John was a Gater editor a few years before me and suggested to Jann Wenner, the founder and editor, that he talk with me. We met, and that was that.
I always felt a link between SF State and Rolling Stone. [Below: Fong-Torres works the phone in his Rolling Stone office.] On campus we had freedom to experiment with the paper, as we rolled with the times. We were on an oasis … and Rolling Stone was another one. We were the only ones doing what we were doing, chronicling music and the counterculture with professional journalism, some great writers and a sense of humor.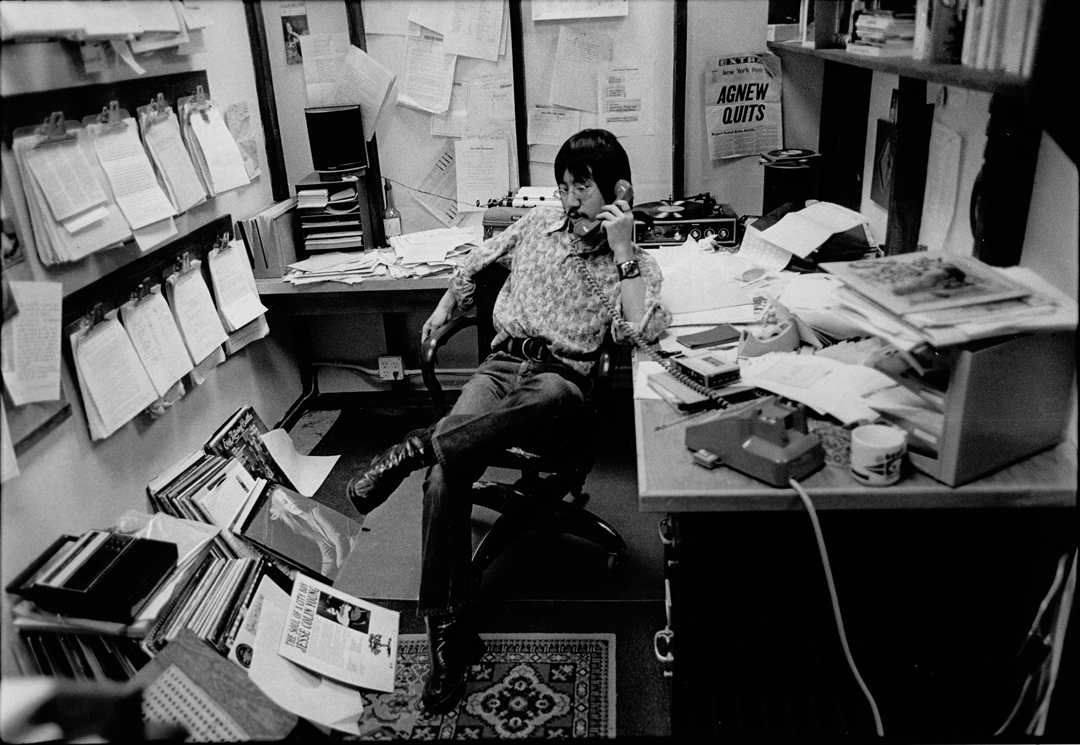 What were some highlights of your decade or so at Rolling Stone? 
Oh, man, too many. In fact, I've published two anthologies worth of my adventures there. I'll just say that I often had flashes when I visited musicians. There I was with Ray Charles, or Marvin Gaye, or Paul McCartney, or Bob Dylan, or Jackie DeShannon, or Darlene Love, and I'd think, "I listened to them on the radio at the Bamboo Hut, our restaurant, while I was peeling snow peas and prawns! Quite the jump!"
Yes, quite a jump. But can't you give us at least a couple of stories?
(Slightly irritated) Oh, all right. Let's see. Bob Dylan was on tour with The Band in 1974, on the road for the first time since his famous motorcycle accident. At the beginning of our interview in a hotel room in Toronto, he glared at my tape recorder and said: "No tape." He was having trouble with bootleggers and with people sifting through his garbage. So I had to scribble furiously while he talked. He spoke about the unending need for protest songs. "There's still a message," he said. "The same electric spark that went off back then could still go off again. Our kids will probably protest, too. ... There's always a need for protest songs. You just gotta tap it."
I remember wanting to hug Linda Ronstadt [pictured with Fong-Torres below] on Valentine's night in 1975. She was riding high on "Heart Like a Wheel." She was on tour, in Honolulu, and her boyfriend was in Los Angeles. After her concert, I escorted her to her hotel. While waiting for the elevator, she saw a couple holding hands. "Oh, I don't have anybody to kiss me," she said with a pout. And it just didn't seem fair.
George Harrison, in 1974, was off to a poor start of a major tour, due to health issues and taxation of his vocal cords. And he had an attitude about not playing Beatles music. The critics — and some of his own people — were all over him. When I brought that up, backstage at The Forum, he responded with defiance — and a chorus from Monty Python's "Lumberjack Song," to show that he was just another working man. Only he wasn't.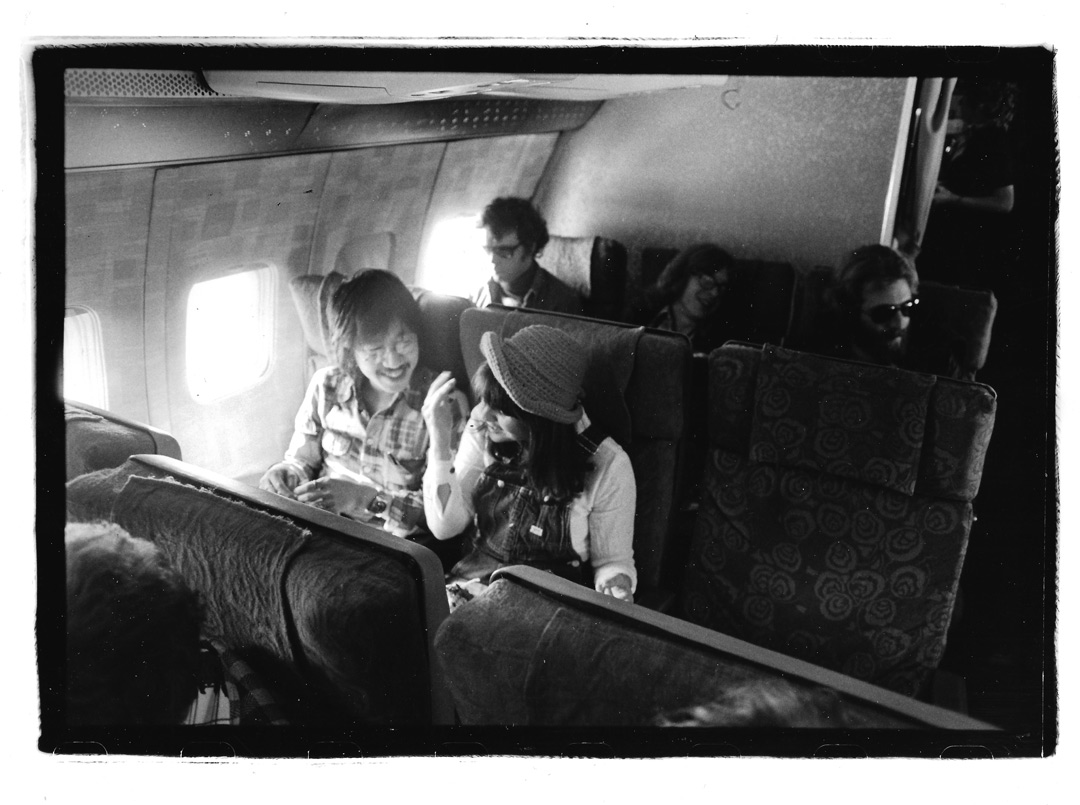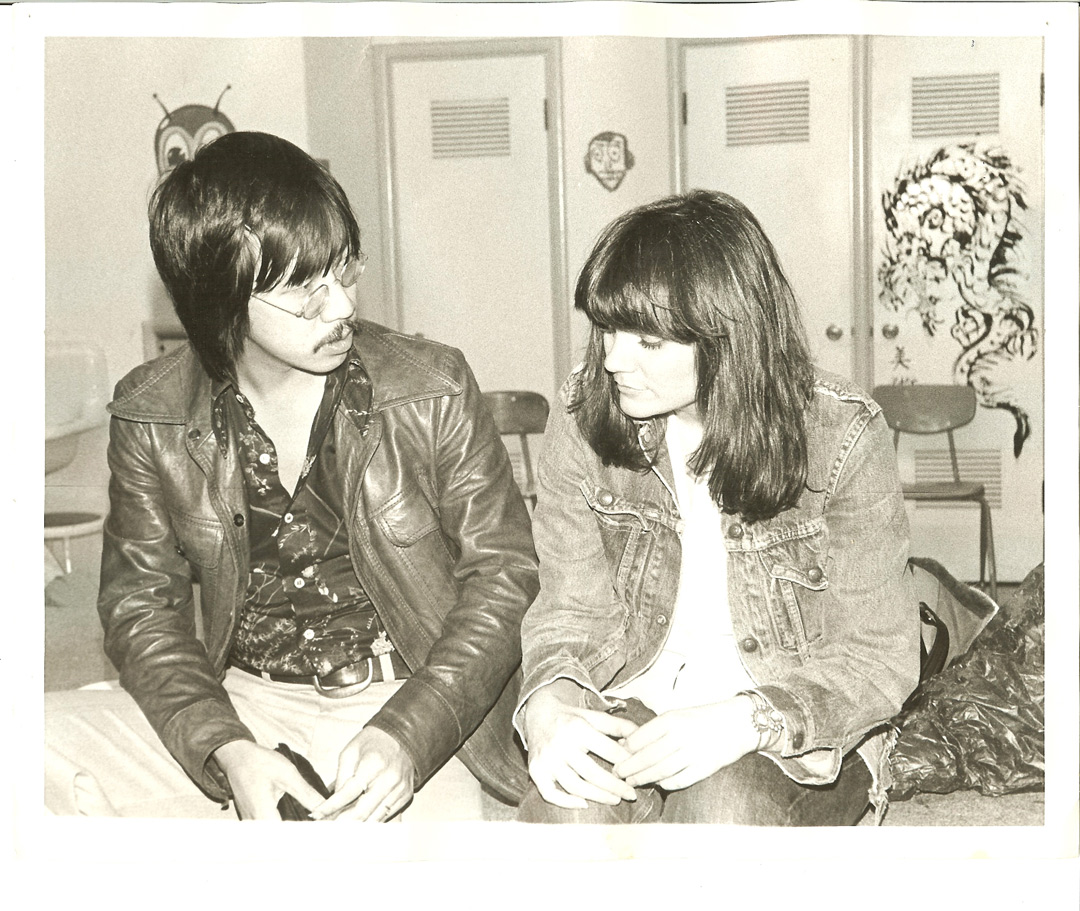 "I always felt a link between SF State and Rolling Stone. On campus we had freedom to experiment with the paper as we rolled with the times."
You were a real-life character as a Rolling Stone editor in Cameron Crowe's "Almost Famous." And now you're the subject of a documentary. Which do you prefer?
They're entirely different animals. Cameron did a great job capturing a teenager's love of rock music and the people who make and support it. I was a plot device in a loud shirt, giving the kid his first assignment, then chasing after him by phone to get the story submitted. The documentary, a 10-year project by Suzanne Joe Kai, the director, is factual and so thorough that I was surprised by a lot of it — especially what fellow journalists and musicians said about me. I like what the novelist Herb Gold said after seeing a screening. He said, "It's four different streams. It's an evocation of the Sixties and protest; of rock 'n' roll, of journalism and of a Chinese immigrant family and one son who became an editor at Rolling Stone."
Now, you majored in what is now Broadcast and Electronic Communication Arts. What did you do as a broadcaster?
Enough. SF State had antiquated equipment, like huge 78-rpm turntables and no color television cameras. But the department had excellent instructors and was well-connected to several major stations, and we got to try out to be on KSFO, KYA and KFOG, mainly for weekly weekend overnight shows. But hey, it was a start.
In my time, I did the all-night shift on KFOG in its "beautiful music" days — and this was during the Summer of Love! While at Rolling Stone, I was invited to fill in on the free-form pioneer KSAN ("The Jive 95"), and what was supposed to be a month turned out to be a decade of Sunday shows. On TV, I did profiles on Paul McCartney [seen here hanging with Fong-Torres], Steve Martin, Grace Slick and others for a syndicated magazine show, "Evening." And in 1997 I began a 24-year run as co-anchor of the Chinese New Year parade broadcast on KTVU and won five Emmys, mainly due to my co-host, Julie Haener. And I'm programming an online station, Moonalice Radio, and do a wildly eclectic show from 9 to 12, day and night. Free-form forever!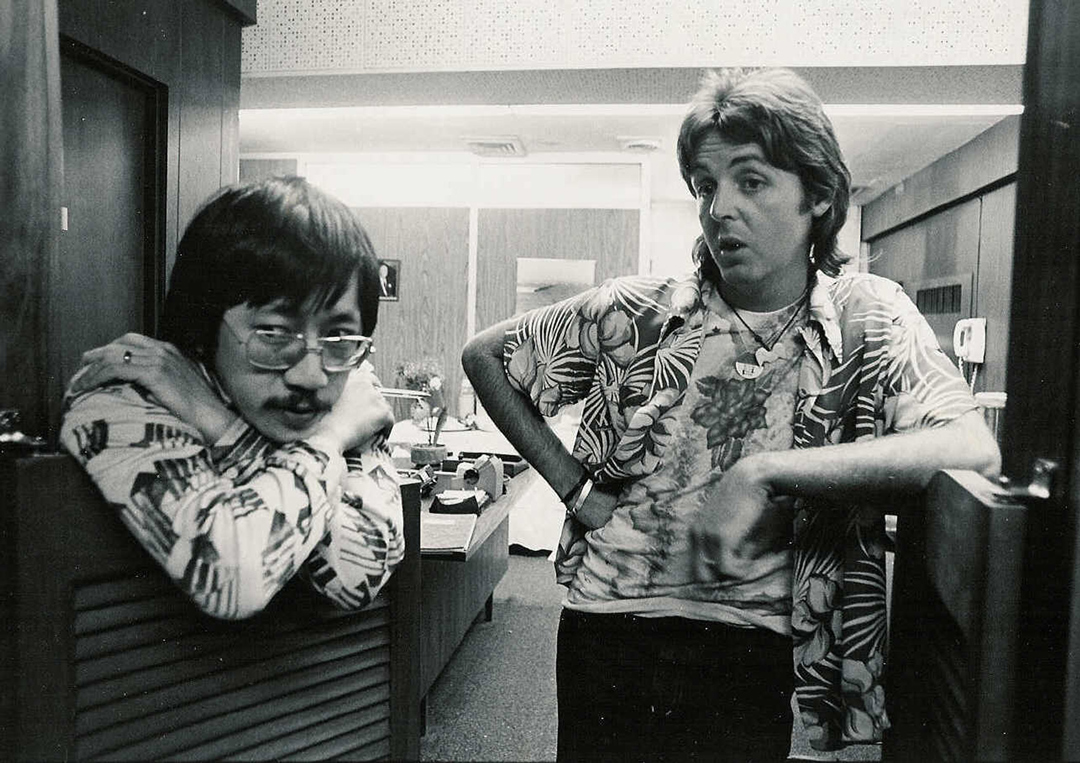 What does receiving an honorary Doctorate of Fine Arts (DFA) mean to you?
Well, it's about time! Just joshing. But over my many years, I've been surrounded by people who either earned doctorates or gave themselves the honorific. Dr. Hunter S. Thompson. Doctor Don. Dr. John. Dr. Rock. And I used to love Dr Pepper while reading Dr. Seuss. But actual DFAs honored by the California State University Board of Trustees — and SF State — include Lawrence Ferlinghetti, Johnny Mathis, Annette Bening, Danny Glover, Maxine Hong Kingston, Isabelle Allende, Kent Nagano and Willie Mays. Those are some Giants, and I'm humbled to join them.
Illustration by Karen Q Kemp
Photos courtesy Ben Fong-Torres