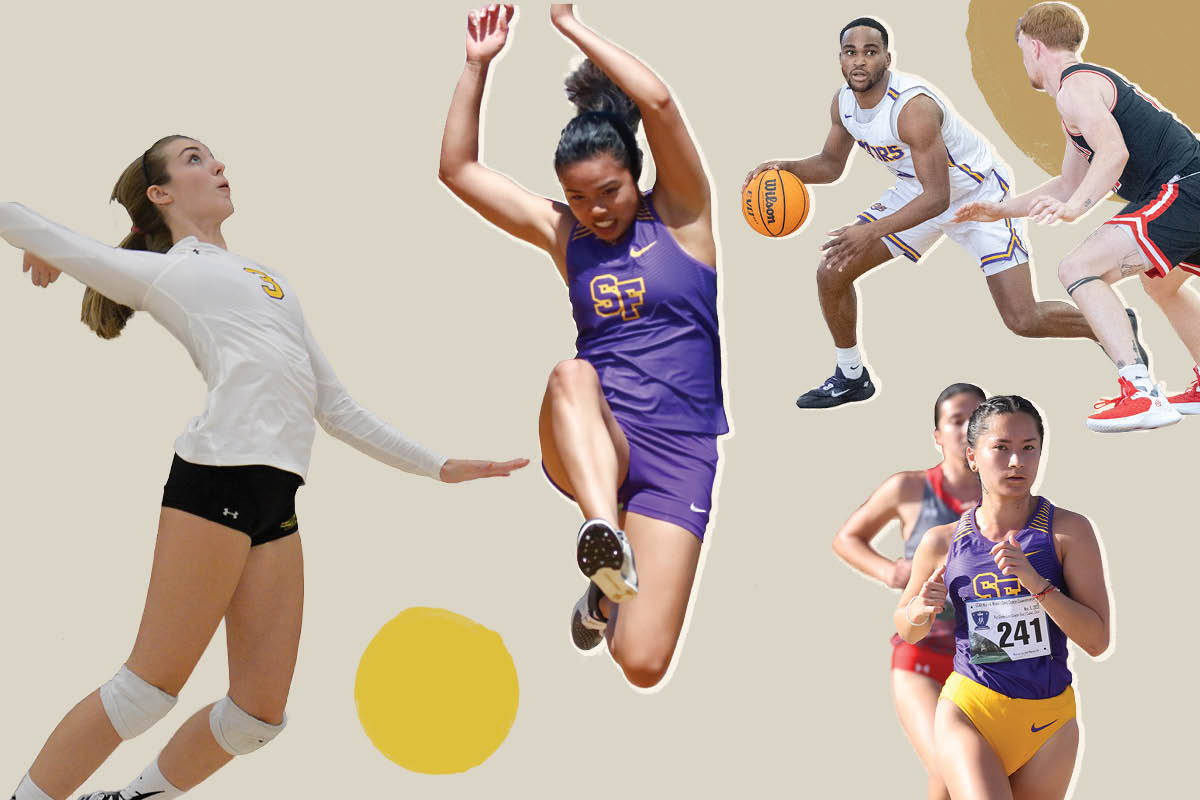 Today's SF State Athletics program creates winners both on the field and off
By Gail Mallimson
Not having enough chairs at a Student Athlete Advisory Committee (SAAC) meeting has never been an issue that adviser Paula Hsieh had to contend with. But, two years ago, things began to change. Each of the 12 teams in Gator Athletics had always been required to send representatives to SAAC, but many more students began to come to the biweekly meetings voluntarily, packing the room. While Hsieh suspects that the food she provides at meetings might have something to do with it, she says the energy and leadership of the committee's president, volleyball player Kimberly DeBoer, is the real draw.
"Since Kim became president, the students have taken ownership of SAAC," says Hsieh. "The executive board has been getting out and talking to other students, and they are working on issues that are important to them."
DeBoer, a sophomore volleyball player, doesn't see her leadership role in SAAC as separate from her leadership on the court. Both are part of what it means to be a Gator. "Being part of SAAC has shaped my experience [as an SF State athlete]," she says.
The culture change in SAAC is representative of a wider shift that has redefined the ethos of Gator sports. Stephanie Shrieve- Hawkins, director of SF State Athletics since 2018, has devoted herself to creating a "culture of belonging" in the department, with a focus on inclusiveness and achievement rather than competitiveness. While Shrieve- Hawkins values winning, her leadership is defined by a desire for student-athletes to feel positive holistically. "I want students to feel like winners even when they lose on the court, the track or the field," she says. "I want them to go to bed feeling good about themselves and about what they've done and how they're developing as a person."
Achieving this goal with students who have been competing since they were children is challenging. According to Shrieve-Hawkins, it is rare that students involved with competition will come forward and ask for help, and it takes caring vigilance to support their mental health. "It's human nature to be self-critical, to compare ourselves to each other," says Shrieve-Hawkins. "And we have to recognize it when there's an issue, and talk to that person and say, 'Looks like there's something going on. How can we help?'"
"I feel so happy and content where I'm at here."
—Sabryn Knight, sophomore sprinter
For many student-athletes, the stress level is high. In addition to a full academic workload and regular workouts, practices and competitions, many SF State student-athletes have jobs, families and other financial constraints. While athletes at SF State do not receive full scholarships (like at many other schools), many do receive partial scholarships, which are often funded by private donors. The impact of these funds can be huge, both for individual athletes who struggle to make ends meet and for the teams, which compete with other colleges to retain athletes. For many students, receiving a scholarship also validates their belonging at SF State. "You know that the [coaches and donors] care," says Sabryn Knight, a sophomore sprinter on SF State's cross country team. "They want you to succeed."
According to Hsieh, who serves as Gator Athletics' academics coordinator, that success carries over from the playing field to academics. Student-athletes at SF State boast high-grade point averages and among the highest graduation rates in the California Collegiate Athletics Association.
The inclusive culture and support for academic success at SF State is a draw for many students. Knight knew Gator Athletics would be a good fit for her after speaking to the team's coach. Last semester, she decided to transfer from Gonzaga University, a high-profile Division I college where she ran track with one of her sisters. Although she had misgivings about leaving her sister and Gonzaga's elite program, she has no doubt she made the right choice.
"I feel so happy and content where I'm at here," says Knight. "I look forward to going running, and that's something I haven't felt in a long time. ... It's been such an amazing feeling to feel motivated to feel good, to feel happy, with where I'm at."