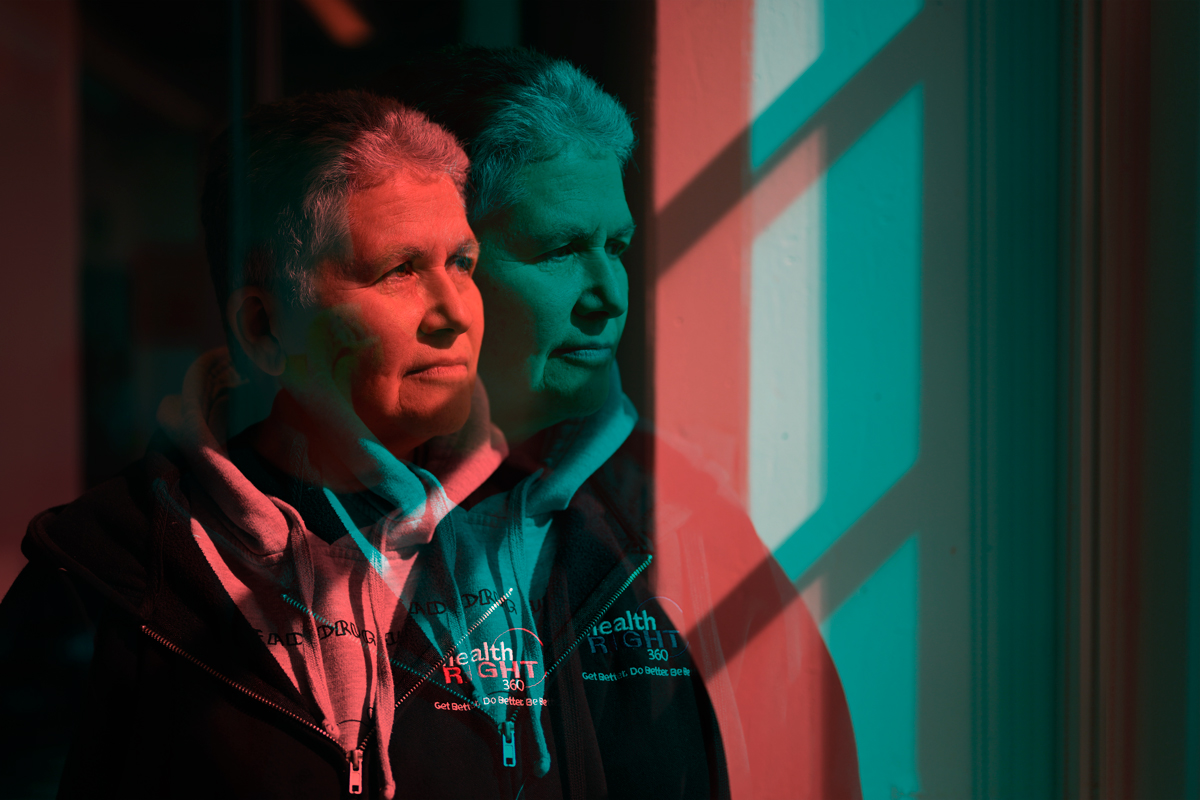 Once a heroin user, Vitka Eisen (MSW, '93) now leads the organization that saved her life
By Jamie Oppenheim
Vitka Eisen (MSW, '93) began adulthood with a determination to change the world. But she would have to change herself first: Eisen ended up in a five-year battle with heroin addiction. Fast forward more than 30 years, and she's leading an organization known for giving people addicted to drugs a new shot at life through compassionate care — the same organization where she found salvation.
When the Bronx native enrolled in Purchase College, State University of New York, she planned to study film. Photographers Dorothea Lange and Margaret Bourke-White were her inspirations. She hoped to follow in their footsteps showing the realities of income inequality and other social issues through documentary film. But her path quickly veered away from film when she found a queer community in college. "It was the 1970s, a different time to be a lesbian. I went to college and made friends with other lesbians and gay people," Eisen says. "That became way more important than making film."
She dropped out of college and began traveling the country, making a home for herself in any community that welcomed lesbians, eventually wending her way to San Francisco.
Meanwhile, returning to college was always in the back of her mind. Unfortunately, her mind was also becoming increasingly clouded by drug use. At first, she experimented with drugs socially. It was the '70s after all, she says. She didn't notice her relationship to drugs was becoming problematic ... until she tried heroin.
"I was hooked fairly quickly," she says. "It's so physical. I just ended up using more and spiraling."
She tried getting sober but nothing stuck — she'd succeed for a stint then use again. "I didn't like that I was so tied to something. It controlled my existence," she says. "I felt too young to be married and have a child, because that's what it is."
"She respects people regardless of race or age or spirituality or gender or any of that. She just has a heart for people."
—Jojo Godinez
Finally, she had had enough. In 1985, she entered a two-year in-patient treatment program at Walden House, a San Francisco nonprofit serving the community since 1969. "The program didn't try to change you," she says. "They were just trying to make you the best version of you."
Not only did the program stick, it gave her a new path forward in behavioral health. Newly sober, she completed her undergraduate degree at Antioch College in San Francisco. She wanted to teach, so she started working in public schools and, later, for Walden House in the adolescent program. The combination of education and social work clicked for her. Realizing she needed a master's in social work to advance in her career, she applied to SF State's School of Social Work. She was accepted and fell in love with the program.
"The professors were really tied to community work. They were activists. ... They weren't ivory tower, this kind of 'the academy is separate from what happens in the community,'" she says. Making a tangible difference in people's lives was really important to Eisen.
On the advice of an SF State professor, Eisen applied to doctoral programs in education. To her surprise, she was accepted to Harvard University.
After Harvard she was beckoned back to California to manage a Walden House drug and alcohol program at Corcoran State Prison. It was one of the biggest programs of its kind in the country. In 2010, she became CEO of Walden House, which in 2012 merged with the Haight Ashbury Free Clinic and was renamed HealthRIGHT 360.
Under her leadership, the organization expanded to serve 40,000 vulnerable people across 13 counties, with programs sensitive to their languages, ethnicities, genders, sexual identities and cultures. What's stayed the same is the organization's ethos. "We are still just trying to make people the best versions of themselves," she adds.
Jojo Godinez, a former gang member, is a perfect example. He met Eisen in 2000 while serving out a life sentence at Corcoran State Prison. She encouraged him to join Walden House's mentorship program, which trained him to be a drug and alcohol counselor. A few years later, he was paroled and working for Walden House, eventually becoming a supervisor. He has since left the counseling field to start his own business.
"She taught me how to be a man of integrity and accountability, and she just opened up my mind to see the world in a better place," he said. "She respects people regardless of race or age or spirituality or gender or any of that. She just has a heart for people."
As a former graduate and now president and CEO of HealthRIGHT 360, Eisen says what fuels her are the relationships she's cultivated.
"It's those human relationships that help people grow and change," she says. "They happen because the relationships are authentic and based in love. I learned that, and I took that to my work."
But the best part of all for Eisen is having a front seat to incredible transformation.
"We get to see people get healthy and live independent lives," says Eisen, who was inducted into SF State's Hall of Fame in 2012. "I'm incredibly fortunate."
Photo by Deanne Fitzmaurice