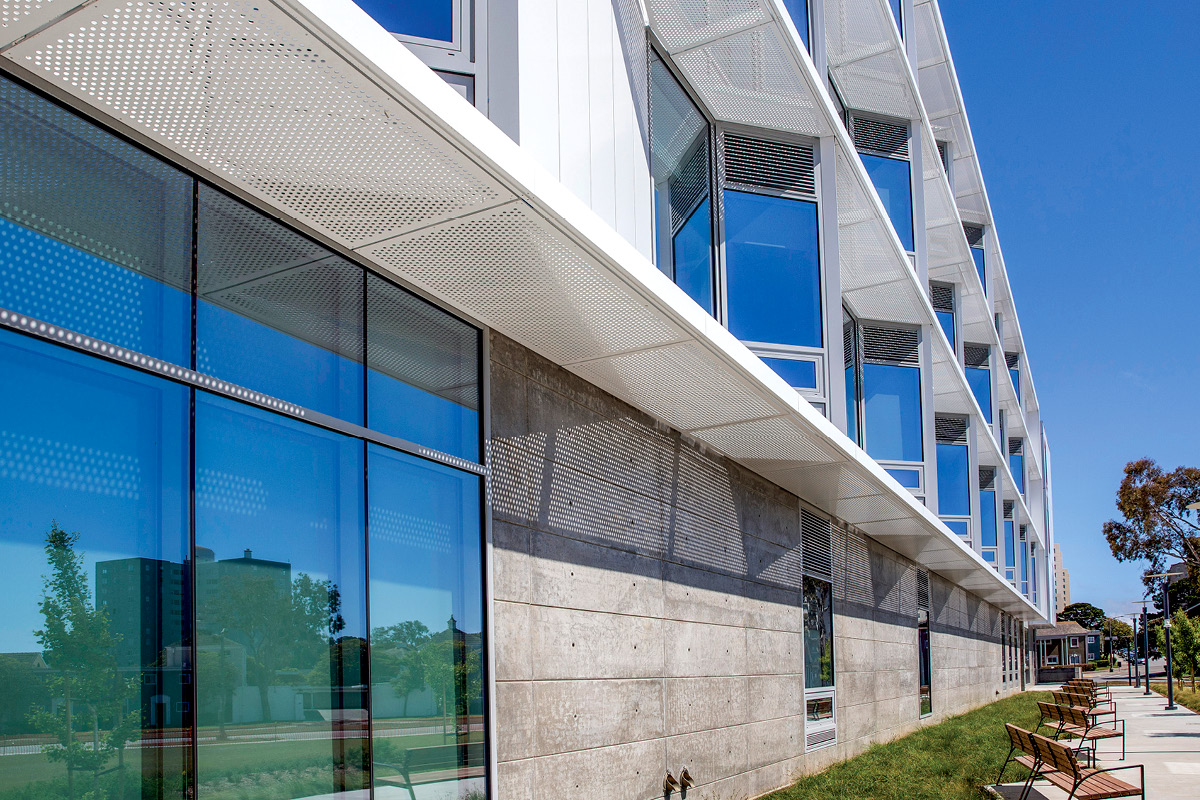 By Matt Itelson
The campus reopening this fall brought with it a unique view in a new location for Broadcast and Electronic Communication Arts (BECA) media students. Floor-to-ceiling windows surround the anchor desk for the "State of Events" television newscast, looking outside to Holloway Avenue and Tapia Drive. It's SF State's equivalent to the public set of "The Today Show" in Rockefeller Center.
The studio is a centerpiece of the George and Judy Marcus Hall for the Liberal and Creative Arts, the University's first new academic building in 25 years. Designed by Mark Cavagnero — the award-winning architect behind the SFJazz Center — the four-floor facility is a major upgrade for media labs and classes. It is the new headquarters for BECA, which serves more than 500 students. With large windows taking advantage of natural light, the building — winner of a 2021 Citation Award from the American Institute of Architects San Francisco — stands between the Humanities and Creative Arts buildings. 
"Our new state-of-the-art production facilities are a game-changing upgrade for our mission to foster creative storytelling and promote social justice," BECA Chair and Professor Sami Reist says. "Marcus Hall will enhance BECA's ability to collaborate with students and faculty across the University, promoting more interactivity and cross-pollination of projects, ideas and experiences."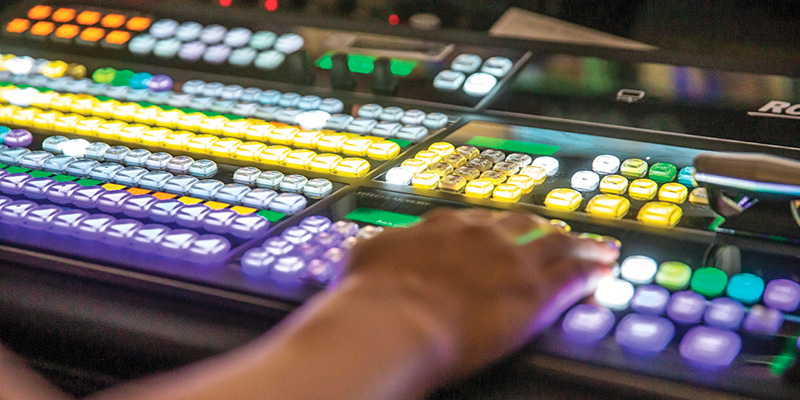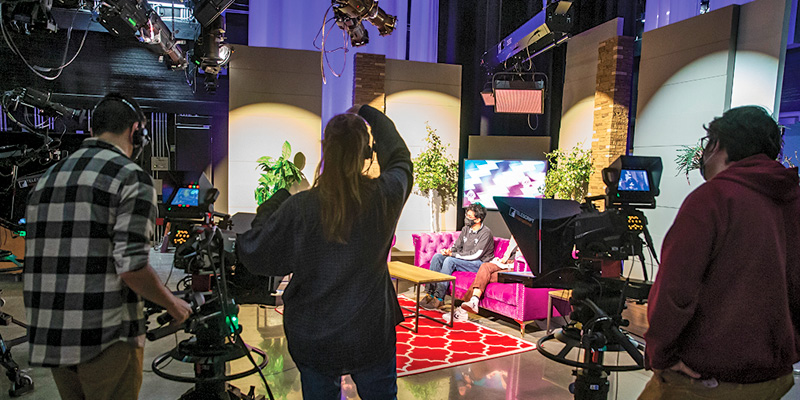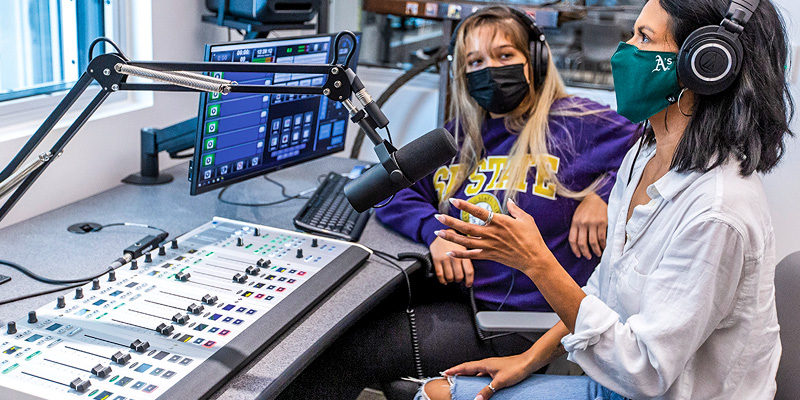 Marcus Hall strengthens San Francisco State's role as a leader in broadcast journalism and the media arts.
—President Lynn Mahoney

BECA is recognized as one of the top broadcasting programs in the U.S., as stated in the Governors' Award it received at the 2019 Northern California Emmys. Alumni include "Saturday Night Live" legend Dana Carvey, NBC News' Miguel Almaguer, Emmy-winning "Frasier" co-creator Peter Casey, former HBO executive Dottie Simmons, KPIX Sports Director Dennis O'Donnell, the E! Network's Nina Parker, Academy Award-nominated sound editor Chris Scarabosio and The Game 95.7-FM host Bonta Hill.
While Hill at times reminisces on air about the cramped studio from which he aired his sports-talk show at the University's KSFS-FM, students now have more breathing room. The student-run radio station operates on the second floor, directly above the TV news set. DJs spin and chat in a window-side booth. The station also has a dedicated room for livestreaming performances, a newsroom, production control rooms, a music library and a 50-seat classroom. 
Marcus Hall is certified LEED Gold, the second-highest level of sustainability. The concrete-steel construction supports acoustics and limits vibration. While the building was in the design phase, faculty members were consulted on the plan for the 75,000-square-foot building, resulting in a building which emphasizes collaboration, creativity, discourse and discovery.
"There is a rhythm in learning, and a great leaning space requires this rhythm," BECA Professor Hamid Khani says. "In our new facility, students and faculty are offered a range of settings and the choice and control to select the best environment for their needs."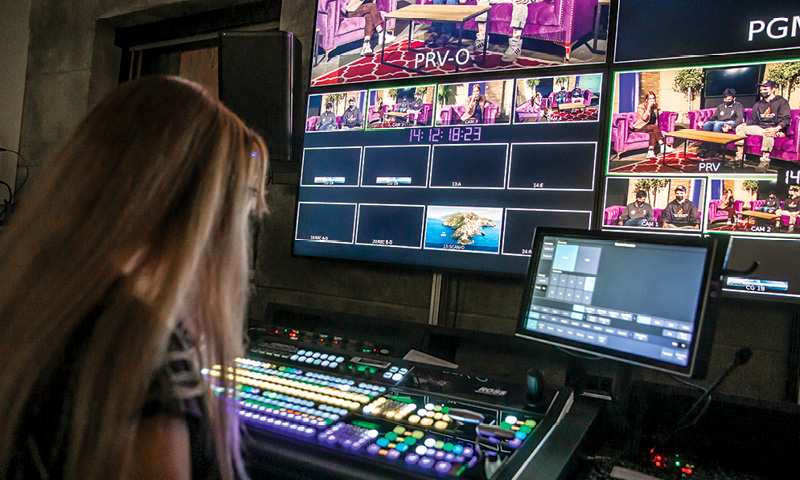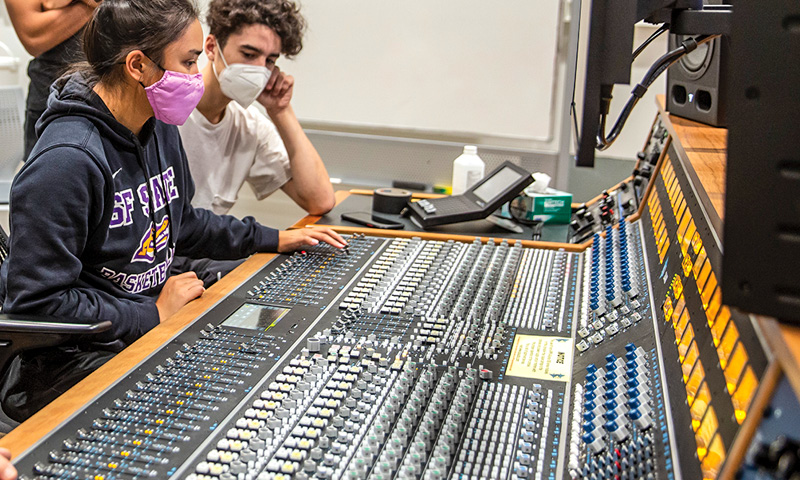 Other highlights of Marcus Hall include two multistory television studios, an audio recording studio, video editing classrooms, a media presentation room and The Herbst Foundation Entrance Hall. Students will use leading-edge technology with fast digital connections, enabling them to collaborate instantaneously and replicate the hurried, 24/7 cycle of a professional environment. 
"The setup combining the music studio and sound design studio is just incredible," says Alex Borges, a senior in Professor John Barsotti's audio production lab. "The new Yamaha boards for sound design are top-of-the-line and quick."
The building is named for Bay Area civic and business leaders George Marcus (B.A., '65) and Judy Otten Marcus (B.A., '62), who donated $25 million to San Francisco State's College of Liberal & Creative Arts in 2018. Funding for Marcus Hall came from a mix of public funding and private donations, including a large grant from The Herbst Foundation.
"Marcus Hall strengthens San Francisco State's role as a leader in broadcast journalism and the media arts and allows us to be an even stronger, more pertinent and supportive place for our students," says SF State President Lynn Mahoney. "The support from generous alumni and donors and from public funding provides the tools to ensure Gator graduates remain the best in the business."
The television studios in Marcus Hall include extensive control rooms, green screen capability and motorized LED lighting, while a sound design studio can accommodate recording, mixing and mastering in surround sound.