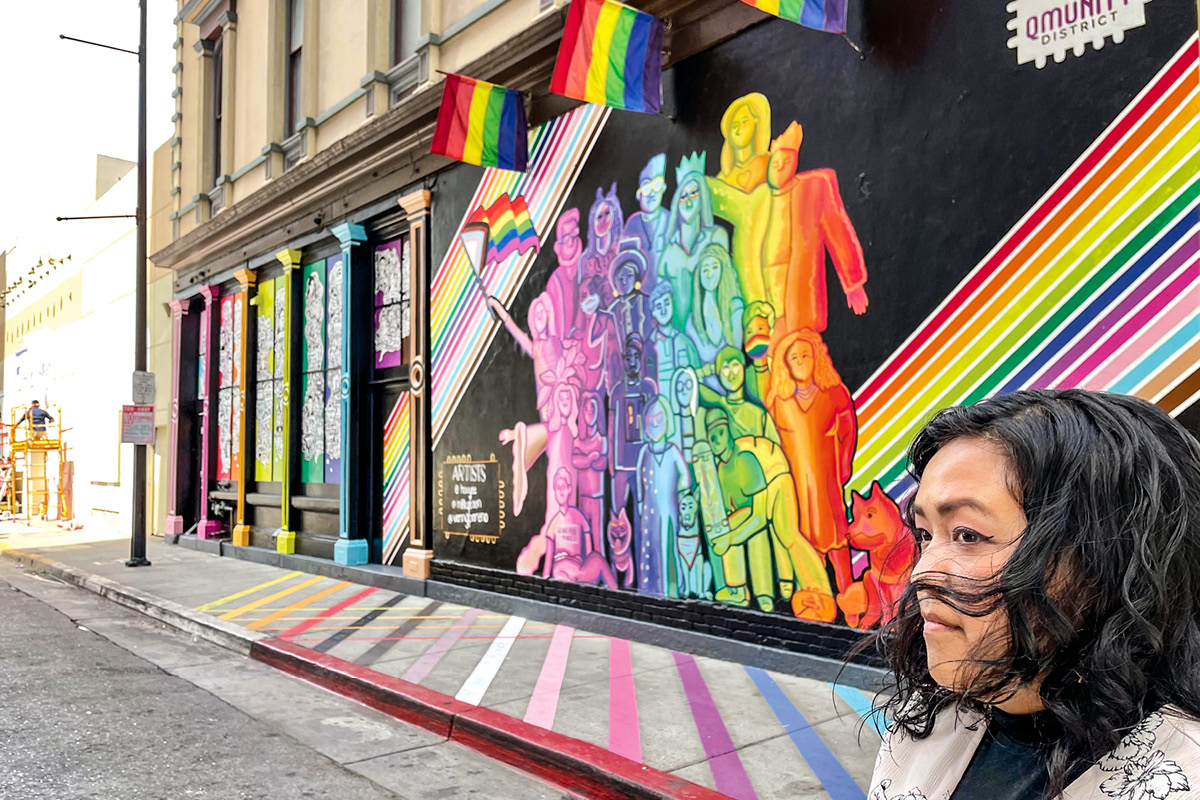 By Jamie Oppenheim
As a first-generation, biracial, queer woman, Houyee Chow (B.A., '18) knows firsthand the power of representation. So when the Mexican and Chinese American artist was selected to design and paint a mural celebrating the city's LGBTQ culture, she knew just what to do. She put a call out to the South Bay queer community asking for selfies. Everyone who submitted photos was represented in her mural. She wanted to depict actual members of the community, but painted them in rainbow colors, her way of saying there's no mold for queerness, she adds. 
The mural is one of two completed this spring in downtown San Jose's newly established LGBTQ district, the QMunity District. The district, concentrated on Post Street between South 1st and South Market streets, is home to restaurants, nightlife and now public art. Last year, San Jose City Councilman Raul Peralez, the nonprofit LGBTQ advocacy group Project MORE, the Santa Clara County Office of LGBTQ Affairs and the San Jose Downtown Association announced the new district and put a call out to queer artists to submit their proposals for the mural project. Chow was one of two queer artists chosen for the project. 
A native of San Jose, Chow says the project was personal. "Being a queer person of color in San Jose, when I was little, I thought we didn't exist.  … I never really saw any representation," she says. "It was a magical experience to create a beautiful space for the queer community so we can feel welcomed, heard and seen."
Activism is interwoven into her art, mostly because the art world has traditionally been dominated by white men, she says. Telling a different story about identity automatically gives her work a political angle. She studied Art at SF State, where she learned to embrace her identity. "I realized how important it was to share my story, because there are people out there who want to see more people of color and more queerness in art," she says.
One of the things she took away from her professors was to be unapologetically queer. Assistant Professor of Art Libby Black taught her not to be afraid to take up space and to make a mark no matter what. 
"It's a man's world," Chow says, "but we're coming in regardless."
Since college, Chow has gained a footing in the San Jose art scene. She's a resident artist at KALEID Gallery and had a featured show there in March. When she's not creating art, she's teaching youth to make art in an after-school program.
But art almost wasn't her career path. She discovered her love of painting at 5. She told her mother she wanted to be an artist, but her mom didn't think art was a career, she says. So she turned her attention to medicine — until an unfortunate incident confirmed her true passion.
Her mother was a victim of gun violence. Chow, who was 16 at the time of the attack, was with her mom when a person they didn't know opened fire. Her mother suffered injuries that left her wheelchair-bound for almost a year. She eventually recovered, but the incident made Chow realize that life is too short. "I said, 'Screw it. I'm going to do what I love.'" With the support of her older sister, she began to pursue art more seriously.
Her family has since come full circle and embraced her career. They even came out and helped her to paint the mural — a moment that filled her with gratitude and joy. "I was so scared to come out to them, and now they're out here painting huge rainbows with me," she says. "It was a magical moment."