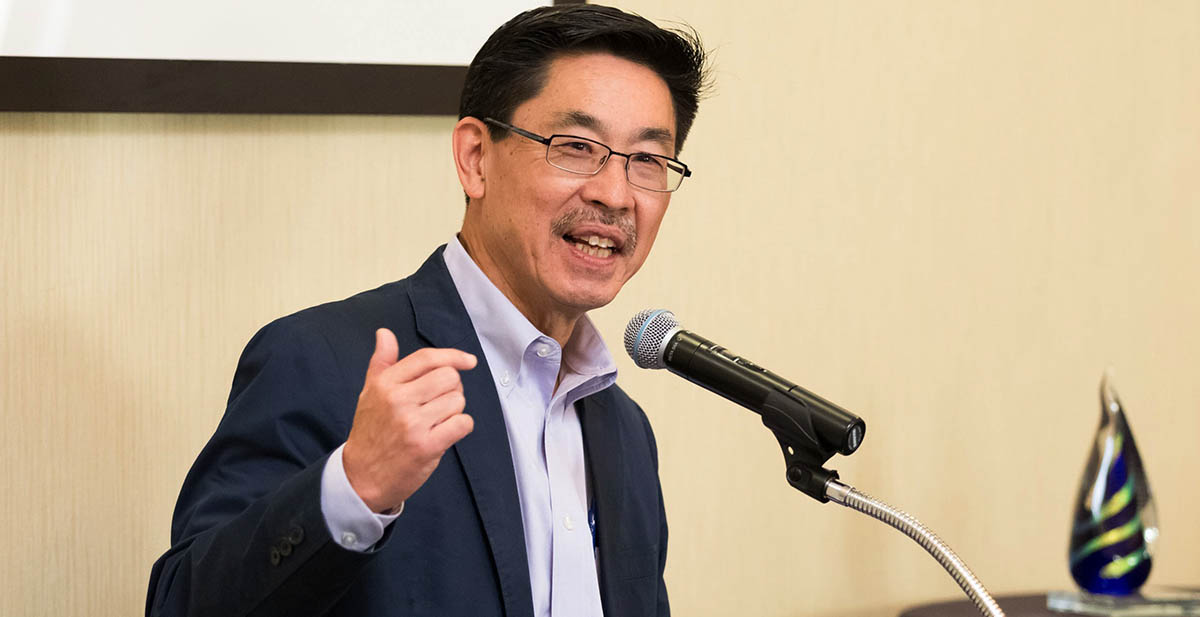 Good News for a Gator Newshound
For five decades, SF State Professor Jon Funabiki ('72) has defended journalists and their work. To offer thanks and appreciation, the Northern California chapter of the Society of Professional Journalists recently gave him its Distinguished Service to Journalism Award.
Funabiki was honored for his dedication to diversity and equity in the media as part of the 35th annual Excellence in Journalism Awards. Other winners included alumni Ericka Cruz Guevarra (B.A., International Relations, '17), a producer at KQED, and Pulitzer Prize recipient David Debolt (B.A., Journalism, '09), a senior breaking news reporter for the San Jose Mercury News and the East Bay Times.
"I never had Jon as a professor, but we met through the Raul Ramirez Diversity Fund Internship he helped with at SF State," Guevarra says. "It's not surprising he had his hands in this project — Jon knew Raul, a journalist himself who cared about diversifying newsrooms — and Jon has spent so much of his career committed to making journalism better and more reflective of our world. His service to the internship fund is one of the ways he's show this. That internship fund was the origin of my jour- nalism career, full stop."
As editor of SF State's student newspaper (then named Phoenix) in 1971, Funabiki supported peers' coverage of the Vietnam War, race rela- tions and other controversial topics. He joined SF State's Journalism faculty in 1990 and founded the Center for Integration and Improvement of Journalism. After an 11-year hiatus at the Ford Foundation awarding grants for media diversity projects, Funabiki returned to SF State in 2006. Later he founded the Renaissance Journalism and Storytelling Center, which partners with media out- lets to produce social justice-driven stories.
Though he retired from SF State and Renaissance Journalism last fall, Funabiki keeps in touch with reporters. He knows from experience they have a tough job — and he says it's gotten tougher.
"Facts don't matter. People will believe what they want to believe," Funabiki says. "Journalists must figure out how to understand how the brain works, how people develop their beliefs and how culture affects how they consume their information."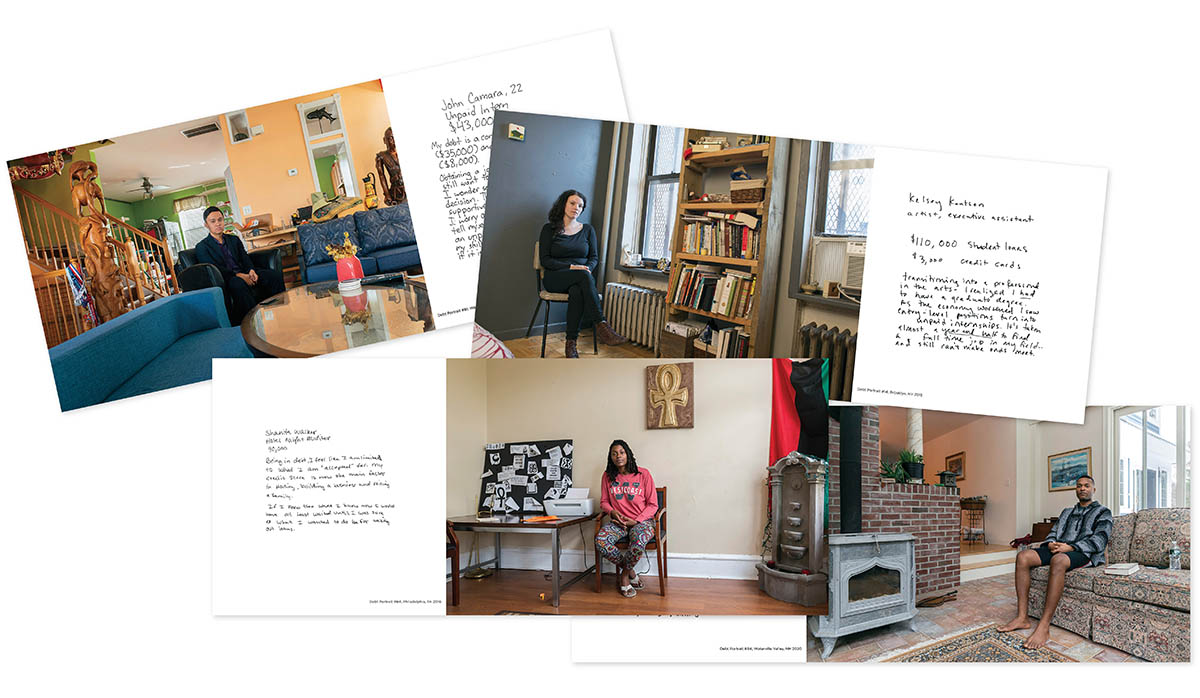 Moving Images
A photograph inside alumna Brittany M. Powell's (M.F.A., '15) recent book shows a young woman surrounded by the stereotypical trappings of millennial life: mid-century modern furniture, a handful of books with artistic covers and colorful framed prints. At first glance, the photo could be pulled from an interior design website about urban living. But the caption — a handwritten note by the subject — tells a different story. 
"Debt Portrait #17, Portland, OR 2014," it says. "Wynde Dyer, artist and cab driver. $150,000 +/-."
The photo of Dyer is just one of the 99 portraits Powell captured in her book "The Debt Project: 99 Portraits Across America." It's a project she began in 2013 as a graduate student in photography at SF State. Her work is both personal — Powell is one of the 99 portraits — and political. She hopes her work advances conversations around income inequality and the widening wealth gap.
Powell composed the portraits in the style of Flemish paintings, which depicted their subjects surrounded by personal possessions. Accompanying the photos are handwritten explanations that detail the origin and amount of their debt load. The most common culprit: student loans and credit card debt.
Powell's financial problems began when a career as a freelance photographer wasn't panning out. "I struggled to make ends meet living in San Francisco, especially after the economic collapse in 2008," she says. After deciding to switch to a new career — teaching — she filed for bankruptcy and applied to graduate school at SF State. 
The faculty at the University intimately shaped the project. "I had some grueling critiques with professors who pushed me to create new meaningful work, which led me to start this project about my experience with debt," she says. 
When she graduated in 2015, she had 35 subjects, which she posted on her website The Debt Project. Over the years, the collection of photos grew.
"Most everybody participated because they felt like they had something to say about the subject," Powell added. "They felt like they'd had an experience that they wanted to share and that it would be cathartic in some way to do that."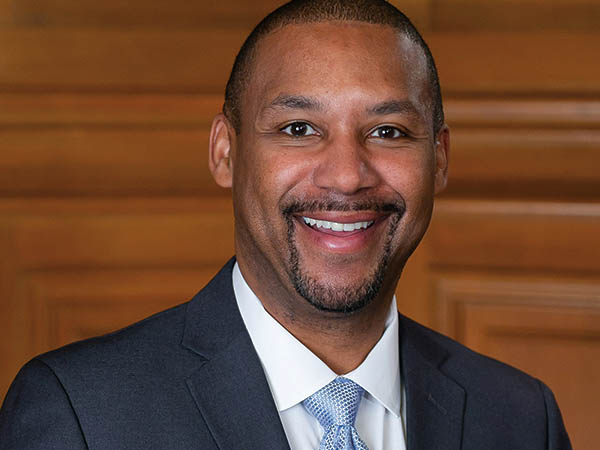 A Precedent-Setting President
Hanging in San Francisco Supervisor Shamman Walton's (MPA, '10) office is a photograph of his mentor Philmore Graham, founder of the Omega Boys Club in Vallejo — a club that he says saved his life. Its mission was to create a college pipeline for Black male youth. Walton got into trouble at school and spent time in juvenile hall, but the club set him on a different path — one that began with a four-year degree from Morris Brown College in Atlanta and later a Master's in Public Administration (MPA) from SF State. Now, as the county and city's first Black man elected president of the Board of Supervisors, he's carving out similar pathways for the Black community through public policy.
Walton grew up in public housing in Potrero Hill and Bayview and started his career working in nonprofits and education serving those same communities. In 2018, he began serving them in a different way when he was elected supervisor of District 10. He credits SF State with preparing him for that leap to government.
"The MPA program taught me how government works, how resources flow from all levels of government — federal, state to local," he says. "The program is second to none in preparing you for a life in government."
He was drawn to SF State for its historic commitment to social justice, equity and inclusion. Now he's a frequent guest lecturer in the University's public administration program. He tells students considering careers in government that a good place to start is volunteering and reaching out to local officials, professors and educators.
"You're not always going to start off in leadership roles. You have to work through all the steps," he says. "I've had a paper route. I've worked at a Boys and Girls Club, I've taught in a classroom, I've worked in public housing. I've had all kinds of jobs that have led to give me to the experience and opportunities I have today. You never know what opportunities are going to lead to next."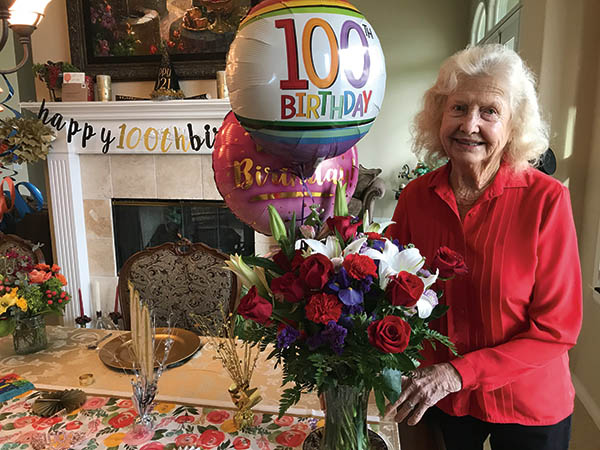 We Love Lucille
Some people can pinpoint the exact moment their life changed. For some, it was a cross-country move, for others a new job. For Lucille Wendling ('44), it was stepping onto the SF State campus in 1939. It's where she met Aubrey Wendling ('44), her husband of 71 years, and where she launched her decades-long career as an elementary school educator. Aubrey, who became a professor of sociology at San Diego State, passed away at the age of 94 in 2012. Although it's been many years since he and Lucille attended SF State together, the school looms large in her heart. "It couldn't have been a better place for me at that time," she said. She gives a contribution of $50 to the University annually, but this year's gift was extra special: It was in honor of her 100th birthday in January.
Rick Gilbert (B.A., '62; M.A., '73) created two $5,000 endowed scholarships in Humanistic Psychology in honor of two professors who had helped him during his student days: Robert Dreher and Robert Suczek. One of the first recipients is currently finishing her master's degree at the University. Gilbert met his wife, Mary McGlynn (M.A., '83), when she was a student in the "Psychology of Human Sexuality" course he was teaching as a lecturer in 1978. "To bring things full circle, my 29-year-old daughter is now in her senior year, majoring in — you guessed it — Psychology," Gilbert writes. Despite the pandemic, he and his daughter, Katy McGlynn-Gilbert, returned to campus in December for what Gilbert calls "a Nostalgia Tour."
Esther Wright (Weiser) (M.A., '63) was named "one of the top 100 influential game changers in Orange County" by the Orange County Register. Wright was honored for her grassroots efforts to eliminate use of the herbicide RoundUp in her community in Laguna Woods, California.
Tom Brennan (M.A., '64) has retired after teaching for 32 years, mainly at the University of South Alabama. He lives on Dauphin Island, Alabama, with his wife Lei Hu, a specialist in information management. He has three children: one living in Encinitas, California, two in Half Moon Bay.
Katharine Harer (B.A., '73; M.A., '78) has published seven small-press collections of poetry. The most recent is "Deconfliction" (fmsbw press). U.S. Poet Laureate Emeritus Juan Felipe Herrera called it "a beautiful book." Harer teaches writing at Skyline Community College and the San Francisco Writing Salon. Her poetry and nonfiction have been published widely in literary journals, newspapers, magazines and anthologies.
Edmund S. Wong (B.S., '73; B.A., '77) has published three books since retiring as head of languages at Jefferson Community College in Louisville, Kentucky: "The Sea Tales No Prisoners," "Growing Up in San Francisco's Chinatown" and "More Memories of Growing Up in San Franciscos Chinatown." He will soon release a memoir about his travels through Mexico, "In the Shadow of Balam."
Elizabeth Boatwright (M.A., '75) is the author of "The Last Things We Talk About: Your Guide to End of Life Transitions" (Bull Publishing Company). Boatwright is a relief chaplain in Oncology Outpatient Palliative Care Medicine at Stanford Health Care. She has over 25 years in ministry experience serving diverse cultures along with extensive work in the arts and financial planning.
Jeanne-Marie Osterman (Lonza) (M.A., '78) has written a book of poems that reflect on her relationship with her father, a World War II combat veteran. "Shellback" was released in February by San Mateo's Paloma Press. Osterman is also the poetry editor for the literary website Cagibi (cagibilit.com). Learn mor about her writing and editing at ostermanpoetry.com.
Marcia Raggio (B.A., '78; M.S., '80) has been appointed to the American Academy of Audiology board of directors. A professor and audiology clinic coordinator in the Department of Speech, Language and Hearing Sciences at SF State, Raggio currently serves as chair-elect of the California Speech-Language Pathology and Audiology and Hearing Aid Dispensers Board, having been appointed to this board by three California governors.
Leslie Brody (B.A., '81) is the author of "Sometimes You Have to Lie: The Life and Times of Louise Fitzhugh, Renegade Author of 'Harriet the Spy'" (Seal Press). The book was called "expansive and revealing" by the New York Times and "highly enjoyable" by the Wall Street Journal.
Lori Piccone-Mazzaferro (B.A., '82) has been selected to have her work appear in the de Young Open at the M.H. de Young Museum in San Francisco. The de Young Open is a juried community art exhibition of submissions by Bay Area artists. More than 11,000 artworks were submitted by artists from across the nine Bay Area counties. Piccone-Mazzaferro's work "Pondering on the Edge" was one of 877 chosen for the exhibition by the selection committee.
Vince Matthews (B.A., '85; M.A., '89) recently announced his retirement as superintendent of the San Francisco Unified School District. 
Jacqueline "Jackie Ononuju" Brickley (B.A., '86) is living in Antioch, California, where she says she's "always trying to make a way and a bright new beginning." She held many different positions after graduation and credits the University with paving the way for her career. Celia Stahr (B.A., '86; M.A., '89), an art history teacher at the University of San Francisco, is the author of a critically praised book about Frida Kahlo. "Frida in America: The Creative Awakening of a Great Artist" (St. Martin's Press) was named by Booklist as one of the top arts books of 2020, and Publishers Weekly lauded it for its "meticulous research and elegant turns of phrase."
Michael R. Bütz (B.A., '87; M.S., '89) is the author of "Parental Alienation and Factitious Disorder by Proxy Beyond DSM-5: Interrelated Multidimensional Disorders" (Routledge). Bütz and his book were featured on a podcast that can be found on the Buzzsprout website.
Gary Young (MBA, '87) recently received a Medal for Volunteerism from the Los Angeles Branch of the Federal Executive Board. Young was honored for an array of community service work, including support of the Defense Contract Management Agency Mentoring Program, refereeing and coaching for the American Youth Soccer Organization, acting as a reverend with the Universal Life Church and helping over 35 high school students with their college applications over the past seven years.
Jane Rosenthal (B.A., '92) is the author of the recently released thriller "Del Rio" (She Writes Press). Kirkus Reviews called the novel "a thought-provoking look at heinous crimes and their effects on larger society."
Paul Lee Cannon (B.A., '93) served as managing editor of the recently published book "Together at Last: Stories of Adoption and Reunion in the Age of DNA." "Together at Last" is a first of its kind — a collection of first-person narratives by Korean adoptees who found their birth family through DNA. The book is available for purchase at 325KAMRA.org and as an Amazon Kindle eBook. All book sales support 325KAMRA, a nonprofit organization dedicated to reuniting families through DNA.
Diana Tenes (B.A., '94) was recently featured in two profiles — one in Native Paths Journal (NPJ) and the other on the website of the Fashion Institute of Design & Merchandising — about her long career as a Hollywood costume designer. She also wrote a guest column for NPJ about her experiences creating costumes for actress Cicely Tyson.
Kirby Michael Wright (MFA, '94) has a new book out. "SORROW TOWN: Selected Stories" (Lemon Shark Press) includes gonzo journalism, flash fiction, creative nonfiction, horror, erotica and "slipstream" fiction.
Jim Provenzano (M.A., '97) has been promoted to Arts & Nightlife editor at the Bay Area Reporter. In the fall his seventh novel, "Finding Tulsa," about a 1990s gay film director, was released by Palm Drive Publishing. "Art & Understanding" called the novel "a unique and satisfying read that gives much perspective on the AIDS pandemic and living through it as a modern gay man."
Aja Couchois Duncan (MFA, '98) wrote the libretto for "Sweet Land," which sfopera.com called "one of the biggest opera success of 2020." The experimental opera explores the insidious nature of colonialism and the myths underpinning the American dream. Duncan worked on the opera with co-librettist Douglas Kearney and composers Raven Chacon and Du Yun.
Stacy D. Flood (M.A., '98; MFA, '00) is a playwright currently residing in Seattle. His dark and poignant debut novella "The Salt Fields" was recently published by Lanternfish Press. He has also been an artist-in-residence at the Millay Colony of the Arts in Austerlitz, New York, the recipient of a Getty Fellowship to the Squaw Valley Community of Writers and a scholar in Lisbon with the international literary program DISQUIET.
Eli Daughdrill (B.A., '00) wrote and directed a feature film shot in Central California. "Faith," a drama about a man struggling with his religious beliefs after a personal tragedy, took nearly a decade to complete and was recently released on most streaming services, including Amazon Prime.
Susannah Israel (MFA, '00) received a U.S. Artists Grant in 2020 that enabled her to continue working in her studio throughout the pandemic. While quarantined, she created a series of life-size terracotta figures about the pandemic titled "ASOLAS." One of the figures, "ASOLAS: Reading," is showing as part of the WORLD 1.0 exhibition in Zurich, Switzerland, through June. Learn more about Israel's art at susannahisrael.com.
Burak Çakmak (MBA, '00) has been appointed CEO of Saudi Arabia's Fashion Commission. Part of the nation's Ministry of Culture, the commission is tasked with developing Saudi Arabia's quickly growing fashion sector.
Brian Charest (M.A., '01) is an assistant professor in the School of Education at the University of the Redlands. His new book "Civic Literacy in Schools and Communities: Teaching and Organizing for a Revitalized Democracy" (Teachers College Press) was released in April.
Olton Rensch (B.A., '04) is the owner of Tallio's Coffee, a new coffee shop in the Bayview neighborhood.
John Sakkis (B.A., '04) made the Small Press Distribution's poetry bestseller list in November with this new collection "Mirror Magic" (Roof Books).
Fardad Zabetian (M.S., '05) is the founder and CEO of KUDO, a cloud-based conference platform specializing in scheduling and translating multilingual meetings. KUDO offers translation services in dozens of languages and has been used by such clients as the United Nations, World Bank, Facebook and the International Monetary Fund.
Kim Munson (B.A., '06; M.A., '08), editor of the groundbreaking anthology "Comic Art in Museums" (University Press of Mississippi), is curating Women in Comics, an exhibit of art by women cartoonists from 1970 to the present in conjunction with the ARF! Comics Festival, sponsored by the U.S. embassy in Rome, from May 31 to July 11. She also coordinated a series of public events and gave a curator talk as part of the embassy's "Transatlantic Thursdays" series.
Jeff Boyette (B.A., '07) edited the recently completed documentary "Amy Tan: Unintended Memoir." He also edited the 2020 documentary "Playing for Keeps," which explores the role of play in maintaining a healthy, happy life.
Jenny Pritchett (M.F.A., '08), a.k.a. Jenny True, has a new book out from Running Press: "You Look Tired: An Excruciatingly Honest Guide to New Parenthood." Based on her popular blog, "Jenny True: An Excruciatingly Honest Mommy Blog," "You Look Tired" is an inclusive primer for new moms/nonbinary parents/trans dads who don't want any more advice. Pritchett is the pregnancy and parenting columnist for the website Romper and the longtime copy editor for San Francisco-based nonprofit Common Sense.
 
Hilary Kaplan (MFA, '10) received a $12,500 National Endowment for the Arts Literature Fellowship award for a translation project in the Literary Arts category. The award will support the translation of Marília Garcia's poetry collection "Slow Motion" from Brazilian Portuguese. Kaplan is a member of the English faculty at the Bishop's School, a private college-preparatory school in La Jolla, California. In 2016, she won the National Translation Award and Best Translated Book Award in poetry for her translation of "Rilke Shake" by Angélica Freitas.
Shruti Swamy (MFA, '11) was nominated for the PEN Robert W. Binham Award for Debut Short Story Collection for her book "A House Is a Body" (Algonquin). A starred review in Kirkus Reviews praised Swamy for her "pulsating prose" and "riveting narratives."
Sarah A. Garrett (B.A., '12) is now an associate attorney at Gress, Clark, Young & Schoepper in Oregon. Her practice focuses on workers' compensation defense and employment law.
Brant Ozanich (B.A., '13) and Gabriella Terracciano (B.S., '16) have opened a wine and flower shop, Dogwood, in Portland, Oregon. The couple tied the knot in April. 
Dacia A. Martinez (B.A., '14) is the author of "Ella Fue con Amor — She Went with Love," a collection of poems, reflections and personal essays all pertaining to the theme of love. The book is available for purchase at lulu.com.
Nguyen Pham (MBA, '15) has been named a trustee of the Mensa Education and Research Foundation board. A marketing and communications manager at the community outreach consulting firm Circlepoint, Pham joined American Mensa in 2010 and almost immediately began working with the Mensa Foundation on one of its annual fundraising events, later hosting it for eight years.
Leticia Hernández-Linares (MFA, '20), a lecturer in SF State's College of Ethnic Studies, was named one of the Yerba Buena Center for the Arts' 2020 YBCA 100. The list honors 100 individuals "who are the provocateurs and innovators who are boldly making a difference in the health and well-being of their communities, working tirelessly in pursuit of racial equity, and using art and activism to heal and bring us together in spirit when we need it most." Hernández-Linares was singled out for her work as a writer, artist and racial justice educator.
MORE NEWS TO INCLUDE?
You can send us a Class Notes update by going to magazine.sfsu.edu/submit or by sending us an email at sfsumag@sfsu.edu. You can also mail a letter to SF State Magazine, Strategic Marketing and Communications, 1600 Holloway Ave., San Francisco, CA 94132. Please include your name, degree information, address and phone number.