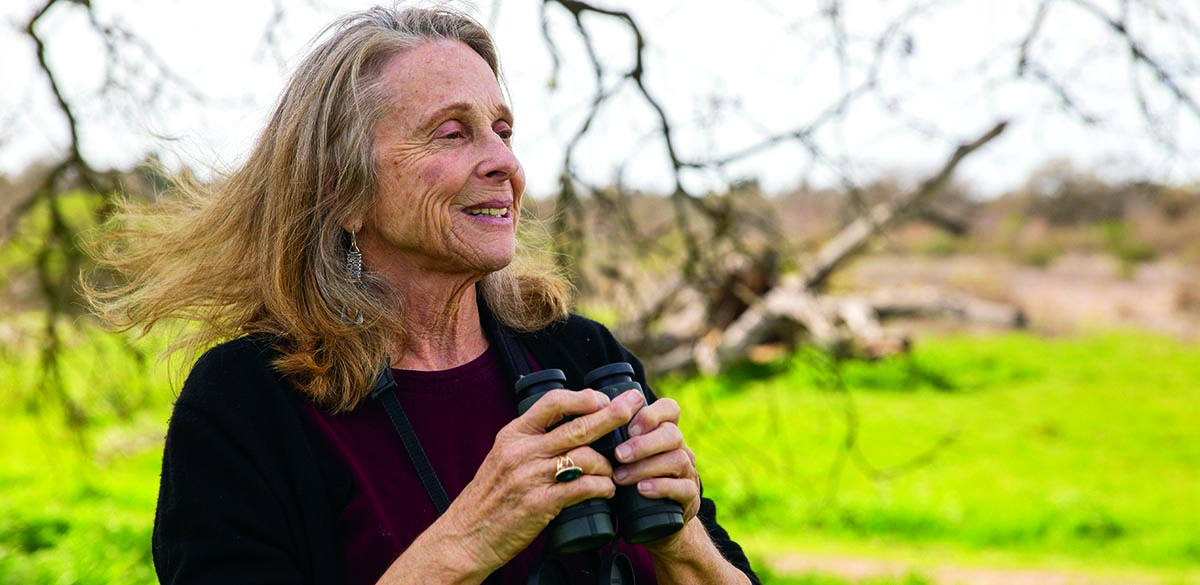 A pioneering professor's gift will ensure that young female biologists have more support than she did
By Patrick Monahan
The year was 1972, and Jan Randall wanted a credit card. But when she went to the bank, she was told it had to be in her husband's name.
"So I called the president of the bank," she says. "And I got a credit card."
Throughout her career, Randall, a professor emerita of Biology at San Francisco State University, accumulated a laundry list of similar stories. She went from being one of only five women graduate students in her department while earning her Ph.D. to being the only female professor in the sciences at Central Missouri State University. Told by male advisors she'd never make it and ignored or discouraged by multiple male potential mentors, Randall persisted through obstacle after obstacle over more than three decades in the field.
Now Randall wants to make sure that today's female scientists don't have to endure the same treatment. That mission led her to include a gift of $1 million to SF State in her will to endow a professorship in the Department of Biology for faculty members who are dedicated to mentoring women.

"Since I didn't have a mentor, I'd like to make sure young women get the mentoring they need, to keep women in the area of biology going," Randall says.
Despite a lack of guidance, Randall enjoyed a long and successful career as a behavioral ecologist, a fact she attributes to both her curiosity and her stubbornness. Her research focus on animal communication brought her from the deserts of Arizona to Uzbekistan, armed with specialized microphones she used to eavesdrop on the underground conversations of rodents. Among other breakthroughs, she discovered that kangaroo rats use "foot-drumming" rhythms that are unique to individual rats — and that the rodents, once assumed by scientists to be solitary, have a rich social life with their neighbors.
Along with garnering recognition from her peers, her research was featured in several nature documentaries, including David Attenborough's "The Life of Mammals." (Though when the time came to film with the esteemed naturalist, she sent a student in her stead. After all, she was busy with her field season.)
When Randall came to San Francisco State in 1987, ecology was still emerging from its days as an old boys' club. Craving female companionship, Randall helped reestablish the Women in Science and Engineering program, or WISE, a group whose seminar series and student scholarships she still supports as a donor. 
Laura Burrus, the current chair of the Department of Biology, started at SF State when Randall was one of the very few senior women in the department. "Just having her there was important," Burrus says. "She was a strong voice for hiring women, supporting women and making sure that women were part of the conversation."
Jump to the present, and the department is almost at gender parity. But that brings a different challenge: supporting women throughout their careers.
"Women in the science pipeline drop off at every step," Burrus says. "After we recruit women, we have to retain them. I think this gift, by supporting dedicated mentors, is going to be hugely important for retaining the amazing women we have in our department."
Although Randall gets her nature fix on walks and hikes these days, she still misses field research: the data, the discoveries, the kangaroo rats ("very nice little animals," she says). But she feels energized when she gets to talk with the students she's helped support through scholarships, or those she herself mentored.
"I've met some of the young women that have gotten the scholarships, and they're so cool, they're so talented" she says. "That's thrilling to me. It makes me feel so happy to know I'm helping people."