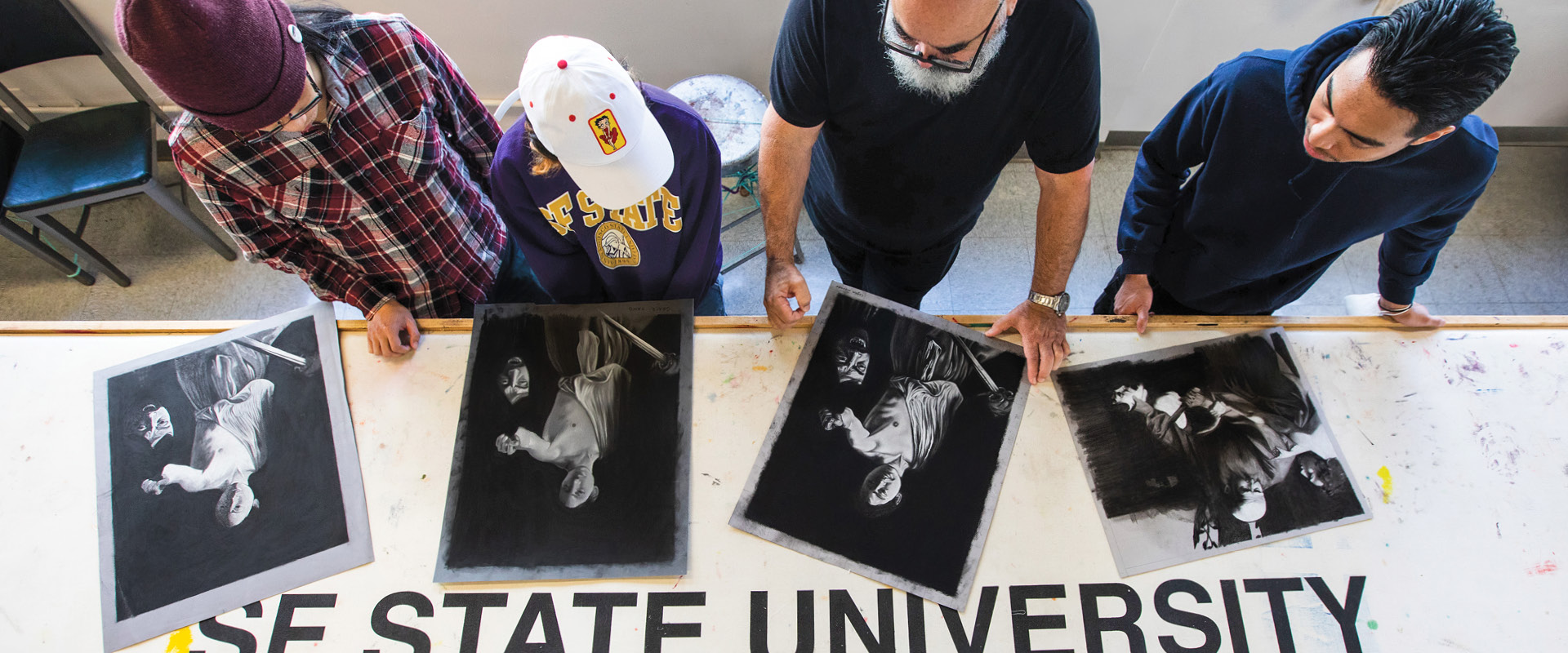 By Matt Itelson
Photos by Benjamin Fanjoy
When Victor De La Rosa was an Art major at SF State in the 1990s, he longed for a Latinx faculty mentor. Then he became one. Now, as the director of his alma mater's School of Art, he is seizing the opportunity to make a wide impact of his own.
"I have a personal goal, which is to start to assemble a faculty that reflects the students that we serve," says De La Rosa, who joined the SF State faculty in 2006. "Now I'm able to respond directly and immediately. I don't have to wait."
SF State and many other art schools have committed to new diversity initiatives in direct response to the murder of George Floyd in 2020. New classes at SF State include Mexican American art history, muralism, "Art as Social Function: Chicanismo, Latinismo y California" and "Studio X," a public art course taught by a different Bay Area artist each semester focusing on BIPOC student challenges. The School of Art also established a stipend award for first-generation undergraduates and tripled the amount for its Sher-Right scholarship, and De La Rosa has participated in a College of Liberal & Creative Arts leadership development program based in equity and social justice.
"The art world, too, hasn't created equal opportunity in this country," he says. "It hasn't always responded, even though artists are incredible social changemakers [and] incredible mirrors for our society. The field of art has really been an exclusive club, and it doesn't fully mirror the population of this country."
De La Rosa, who has exhibited widely in the Bay Area and internationally, is outspoken on issues of representation on and off campus.  Several of his textile pieces manipulate the American flag to address issues of gentrification, immigration and culture in California, with a focus on San Francisco's Mission District. In 2015, the American Civil Liberties Union came to his defense after BART rejected his commissioned work for the 16th Street and Mission station. In 2018, De La Rosa made T-shirts with the hashtag #SFStateArtDeptSoWhite as a way to push the University to further diversify its faculty.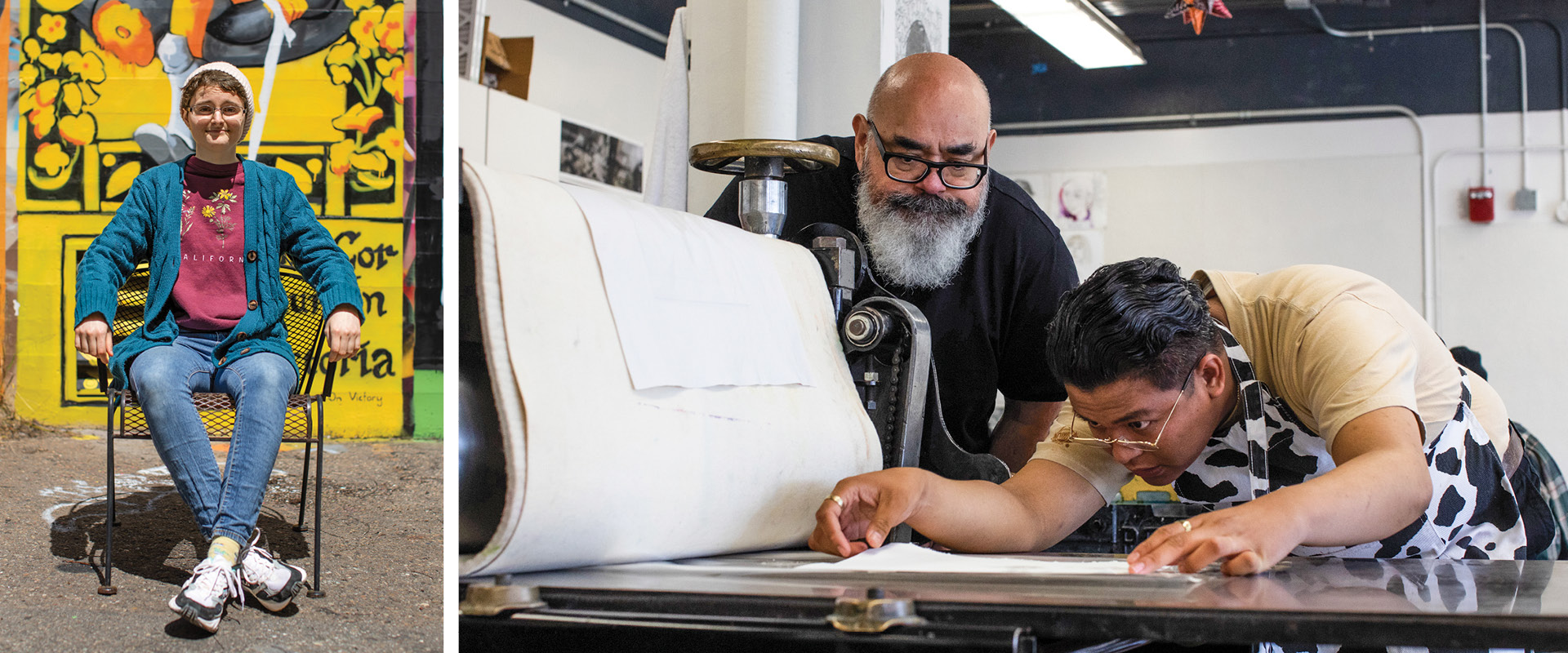 "The field of art has really been an exclusive club, and it doesn't mirror the population of this country."
—Victor De La Rosa (B.A., '99), Director, School of Art
"When Vic was elected as director of the School of Art, I knew this was going to show our students of color — and especially Latinx students — that they, too, can start imagining themselves as professors and leaders in the University," says Art Professor Santhi Kavuri-Bauer. "He understands the significance of his position and what it means to students who have similar backgrounds as himself: the first in their family to attend college."
De La Rosa was born in Oakland and raised in San Leandro as the son of a Mexican immigrant mother and Mexican American father from Texas. He took semesters off from SF State to pursue career opportunities in apparel design, but would always save money so he could eventually find his way back to the Fine Arts Building — with the support of faculty such as Candace Crockett.
"I realized that education was the way to disrupt the cycle," De La Rosa says, "and I want to do that for other students."
De La Rosa (B.A., '99) earned MFAs from UC Davis and the Rhode Island School of Design, where he was a President's Scholar and won an award of excellence. In January, KTVU-TV featured De La Rosa on its "Voices for Change" segment.
"I meet students today who are from similar backgrounds to me when I was growing up: first-generation, parents from another country," he adds. "To me, it's exciting because I know the potential. I know the possibility if you apply yourself, work hard and hang in there. The students are hungry for it because they also did not get that type of role modeling in the arts in high school or junior high school. It's so refreshing to them."
Victor Saucedo, a senior and founding member of the School of Art Student Union, had stopped making art until he took "Chicanismo, Latinismo y California" with De La Rosa. The class was inspirational for Saucedo, as he appreciates De La Rosa's command of the room.
"He opens up the floor to everyone to start speaking where they're coming from and their truth," Saucedo says. "He allows people to be as vulnerable as they want to be or don't want to be. He told us to challenge the system a bit. … He is one of the most open professors I've ever had."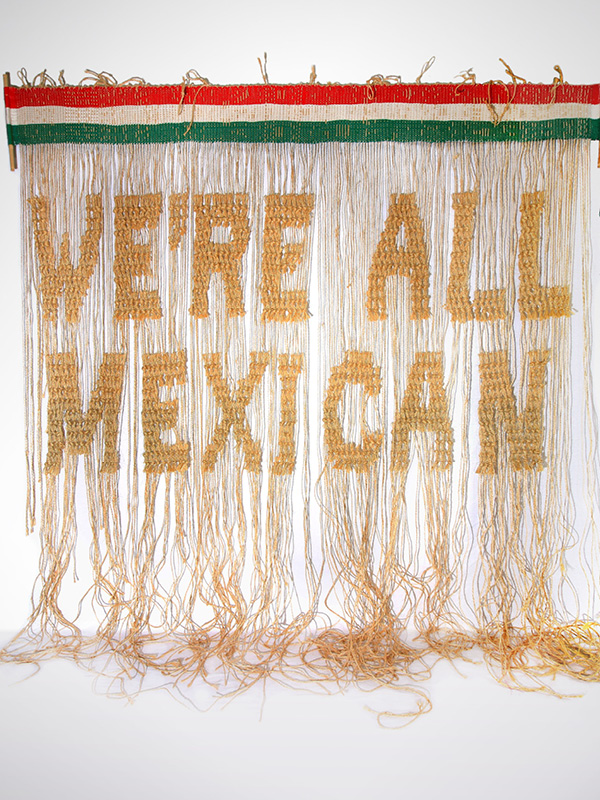 De La Rosa's 2020 piece "We're All Mexican" is a response to racist statements made by Donald Trump when announcing his candidacy for president.
Photo by Ilja Sarro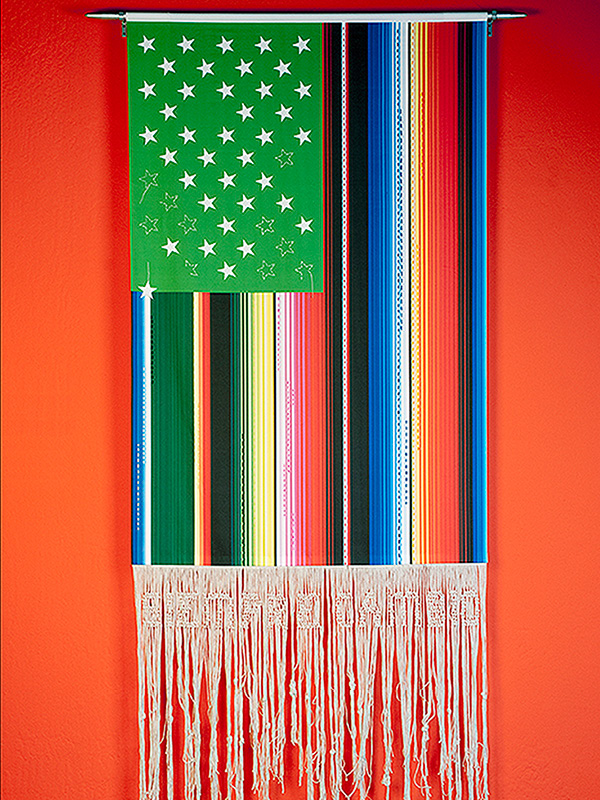 "Inspired by and utilizing U.S. Census and other demographic information, I propose this study for a flag that may represent the future of our nation as it changes in population," he says in his artist statement for "Future Flags of America: Study for 2050 US Flag" (2012).
Photo by Dan Freeman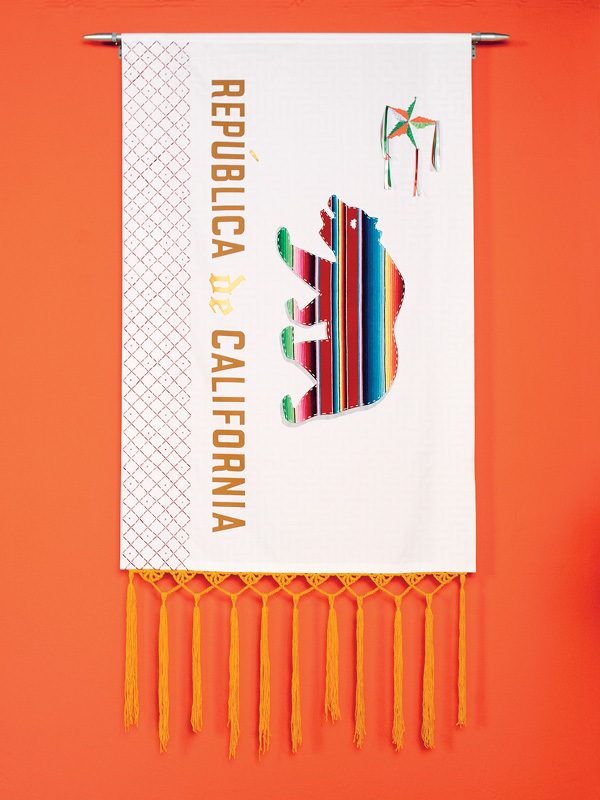 De La Rosa's "Future Flags of America: Study for 2035 CA Flag" brings Latinx influence into the Californias.
Photo by Aimee Santos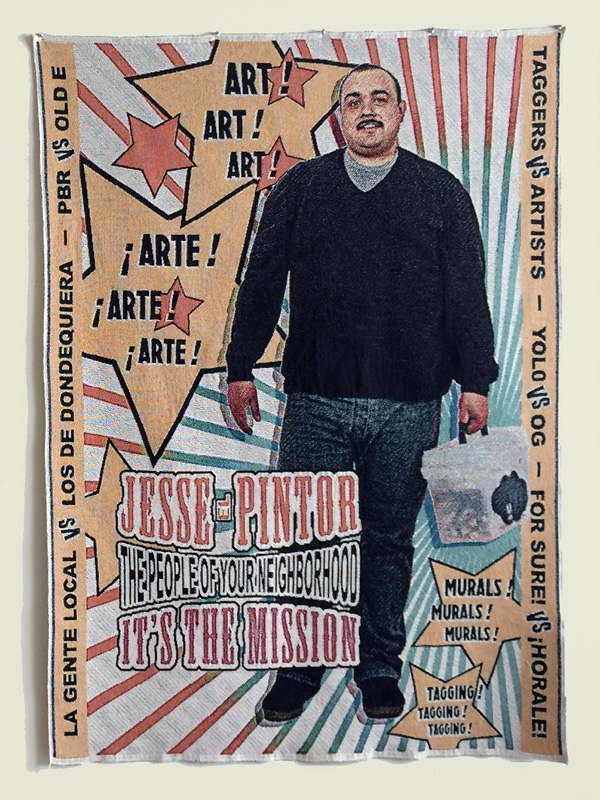 "Le Gente de tuBarrio/The People of Your Neighborhood [The Mission Suite]," is De La Rosa's installation for a BART station. The jacquard woven tapestries form Lucha Libre-inspired posters.
Photo by Victor De La Rosa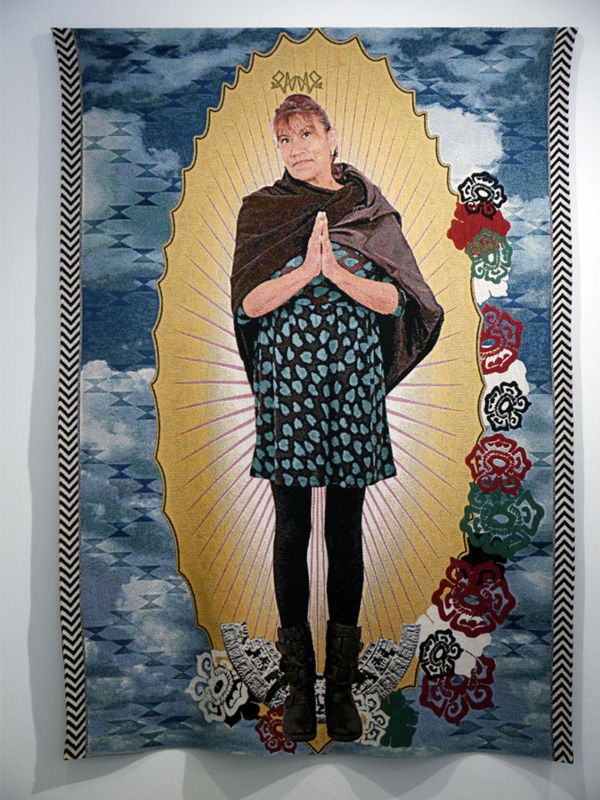 "Patricia," from De La Rosa's "Mi Barrio Es Tu Barrio" series depicting Mission District residents, is in the permanent collection at Galería de la Raza.
Photo by Victor De La Rosa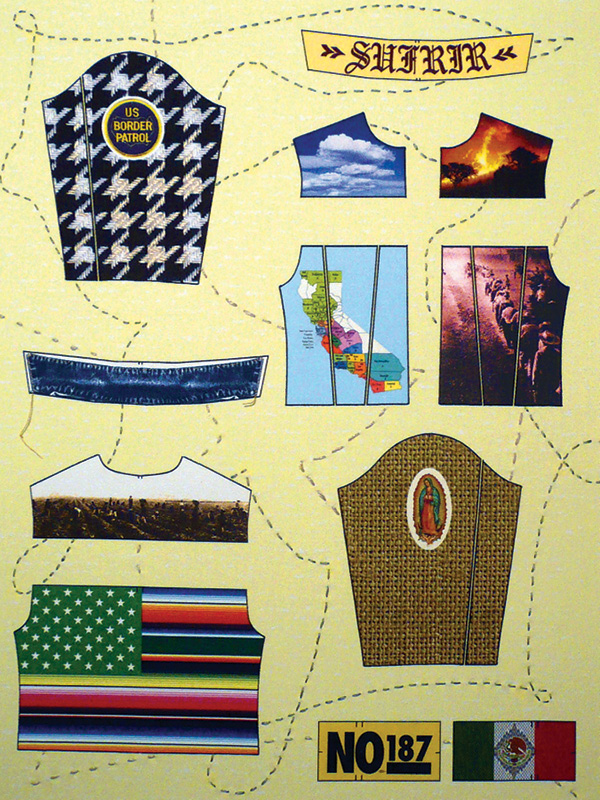 "Farm Worker Jacket Siguiente" (2010) is an exploration of the migrant past of De La Rosa's family. It captures the travel and struggle De La Rosa observed when he would visit relatives in his youth.
Photo by Victor De La Rosa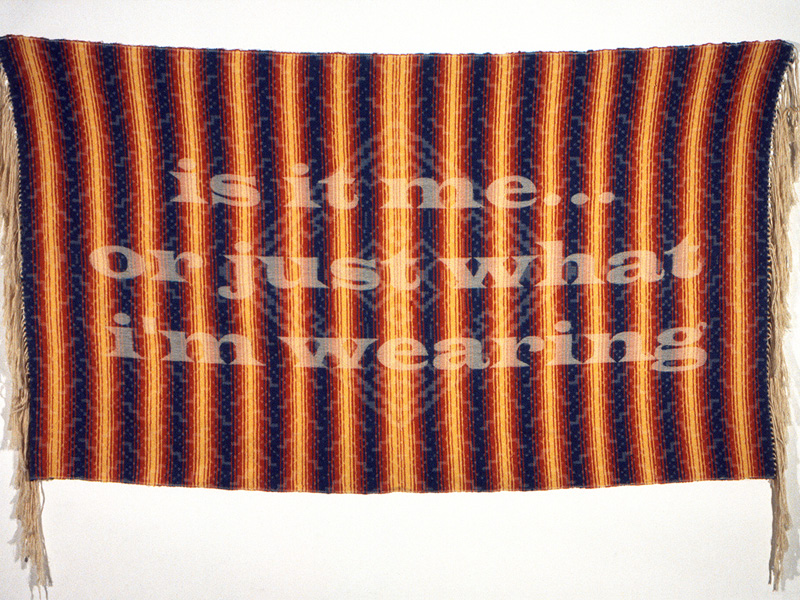 Like many of De La Rosa's works, "Nueve" (2013) utilizes the traditional Mexican sarape textile with digital technology to reflect the multicultural experience in the U.S.
Photo by Victor De La Rosa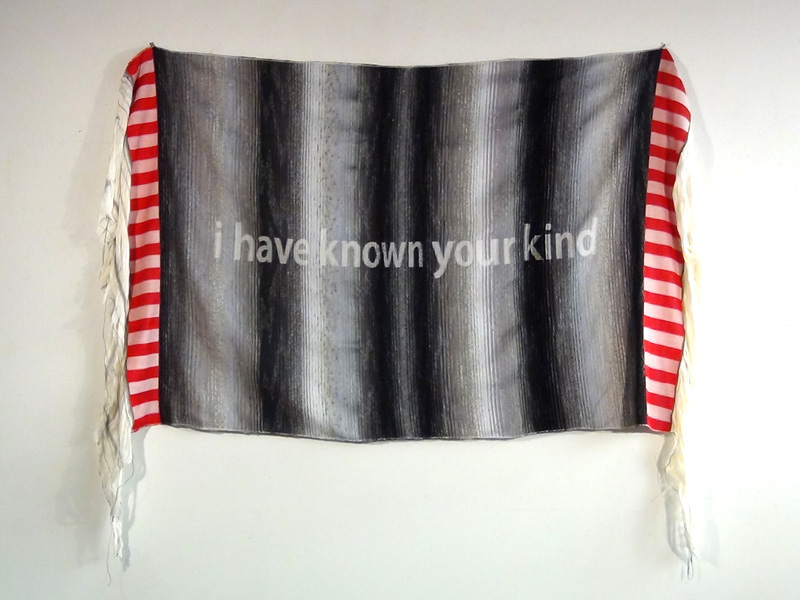 "Seis" capturing a quote from De La Rosa's interviews with Mission residents, merchants and visitors in early 2013.
Photo by Victor De La Rosa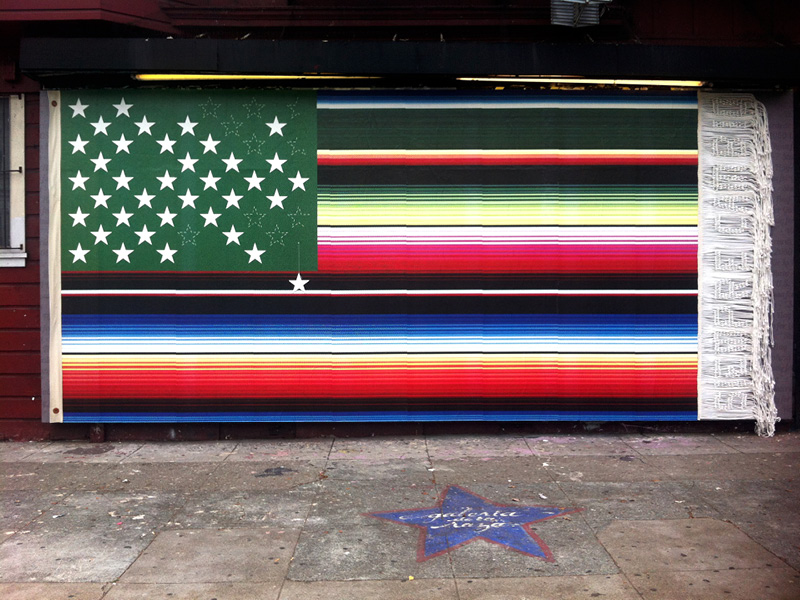 In 2013, De La Rosa's "Future Flags of America: Study for 2050 US Flag" was displayed in front of the Galería de la Raza on Valencia Street.
Photo by Victor De La Rosa