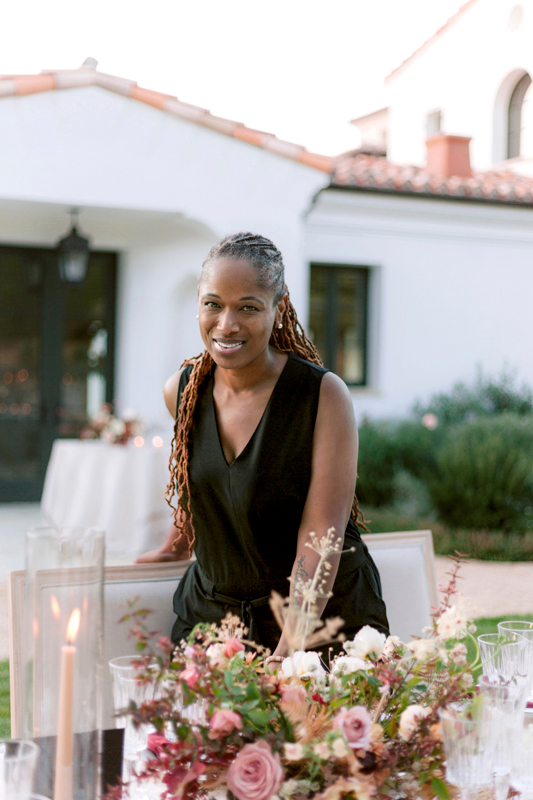 A Career That's a Real Labor of Love 
No couple's love story is the same, says alumna Chanda Daniels. And she'd know. She's been in the wedding and event planning business for more than 25 years and founded two companies, A Monique Affair and Chanda Daniels Planning and Design. Both companies cater to diverse couples, so she's constantly learning about the different ways people love and the different people they love. Her favorite part of her job is weaving these love stories through every detail of the wedding so that on their special day family and friends are immersed in that story. 
Unfortunately, weddings aren't all wine and roses. They can come with a lot of baggage, especially for LGBTQ+ and BIPOC couples. These couples can sometimes clash with an industry that doesn't have a strong history of diversity and inclusion. Daniels (B.A., '14) has made it her mission to ensure her clients' celebrations are memorable for all the right reasons. 
Just last year, one of her brides was looking at an expensive venue that didn't have a history of hosting a lot of weddings for BIPOC couples. "They were giving this bride the hardest time. ... She called me in tears," she says. 
Fortunately, Daniels and her team stepped in and were able to diffuse the situation, and the woman's wedding turned out beautifully. 
"That this venue had the nerve to discriminate against her or treat her in some [disrespectful] kind of way — it was so unreal," Daniels says. 
"There have been so many times I have just cried with my clients. I get so connected to them because that's a very personal thing that they may not have talked to anyone else about."
Daniels, who identifies as a lesbian of color, specializes in planning weddings for LGBTQ+ couples, which comes with a unique set of considerations, she says.  
"When you go to a [wedding] creative, it feels as though you're coming out to them again to see if they approve of you, and I didn't want any of my couples to feel that way," Daniels says. "That's why I decided to be that person."
Some of the LGBTQ+ couples she's worked with have never kissed in front of their family, she says, so that's often a topic they discuss. And then there are the couples whose parents don't approve of their lifestyle.
"There have been so many times I have just cried with my clients. I get so connected to them because that's a very personal thing that they may not have talked to anyone else about," she says. "But here they are, on this most important day, wondering if the people who brought them into this world are going to come and celebrate them."
As a wedding creative, Daniels has to wear many hats. Some days she's a counselor, on others she's a financial adviser. In many ways, she was destined for this kind of work. When she was younger her mother told her she was in control and always had a plan. "This is going to sound bad, but I was always telling people what to do," she adds.
The Oakland native started working at Andronico's market and was promoted to a position in IT. Meanwhile, she started her event planning company A Monique Affair in 1999. She realized event planning was her passion and found a job with the East Bay Community Foundation operating its convention center. As she grew as an event planner she eventually decided to devote herself full-time to her own thriving company.
College was not on the map until she began talking to her daughter Chloe about college. "I'd say, 'Chloe, it's time to start thinking about college. What's your plan?' and she was like, 'Well, Mom, you didn't go to college and everything is fine with you.'" That conversation led Daniels on a search for college programs tailored to working adults.
After completing work at a community college, Daniels transferred to SF State in the Hospitality and Tourism Management program. Even though she was older than her peers and well-established in her career, the program was rewarding, she says.
She continues to give back to that program by mentoring students interested in event planning. Each year she speaks to classes and on panels about her field. "Half of my employees are from that mentorship program," she says, including two of her most long-term employees.
She's hoping that her efforts in and out of the field help continue diversifying the industry. "Don't be fooled by what you see in the magazines," she says. "There are some folks out there who are doing their thing, but they may not get the recognition, and they may not have a platform, but they are out there."
Photo by Patrick Quezada