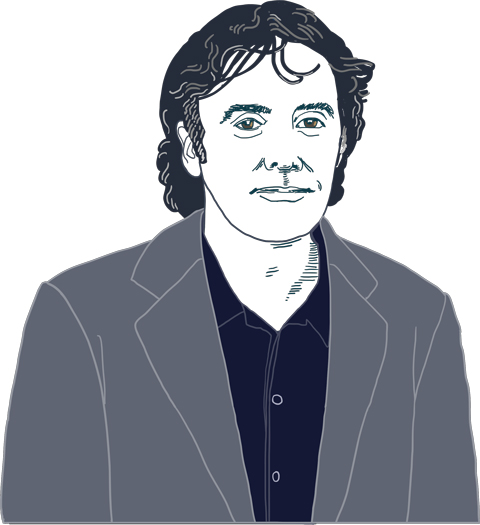 Working Man
Knowing all about employment has been John Logan's job for nearly a quarter century. Between 2000 and 2009, he taught comparative employment studies at the London School of Economics and Political Science. Today, he's professor and chair of Labor and Employment Studies in SF State's Lam Family College of Business. He's also one of the most sought-after experts on unions — and those who fight them — in the country.
There are unionization efforts at a host of big companies, including Amazon, Starbucks and Trader Joe's. Has the long decline of unions in the U.S. finally ended?   
The most noticeable thing about the current wave of union organizing is that, overwhelmingly, it's led by young workers, often LQBTQIA+, college educated and many BIPOC workers. Look at Starbucks. One of the leaders of the union campaign, Jaz Brisack (who spoke at SF State's Business Ethics Week in April), is in their mid-20s, and Forrest Kreiss, an SF State student who organized their Starbucks store at 18th and Castro in San Francisco, is a 20-something LGBTQIA+ activist. Forrest is currently writing about their experiences organizing at Starbucks and were recognized by SF State's Institute for Civic and Community Engagement with the 2023 Student Award for Excellence in Community Engagement. Other young SF State students have been involved in labor activism at Trader Joe's, REI and elsewhere.
So there's a new generation of workers that's more pro-union?  
That's right. NPR's "Marketplace" recently called this generation of young workers — primarily working in low-wage, service sector jobs — the "most pro-union generation ever." Polls show that young workers are extraordinarily pro-union. But they have extremely low levels of union membership because young workers work, overwhelmingly, in young workplaces — such as Starbucks and Trader Joe's — and young workplaces are overwhelmingly non-union. Today's generation of young workers are pro-union because of a mixture of frustrated economic expectations and because they have been politicized by social and political movements, such as Bernie Sanders' presidential runs, Black Lives Matter and #MeToo. Plus, of course, many worked on the front lines throughout the pandemic and were treated appallingly by multibillion-dollar corporations, whose vision of the future of work is based on low wages, algorithmic management and expendable workers. Thus [younger workers] believe they need an independent voice at work to get treated with dignity and respect.
How are big employers reacting to this generational change?
Not well. Rather than recognize workers' desire for a voice at work, for example, Starbucks has violated the law hundreds of times — sacking workers, closing stores and denying wage and benefit increases to workers who exercise their federal right to organize. This has created a climate of fear around union organizing — which is Starbucks' intention — but young workers have continued to organize in the face of this unlawful retaliation. So far, workers at over 270 stores have voted to unionize. It's a similar story at Trader Joe's and REI (whose CEO began an unlawful anti-union meeting in New York City with a land acknowledgement and stating his pronouns). SF State students have been directly involved in organizing campaigns at Starbucks, Trader Joe's and elsewhere. Unions at hostile billion-dollar corporations don't just happen — the Starbucks union didn't just emerge out of thin air in Buffalo in December 2021. Activist workers have to will them into existence; they have to breathe life into them. And that's what some of our students have been doing. The campaigns don't work unless most of the workers want it, but the activists are there to give them the tools they need to succeed. That's what some of our student-organizers have been doing. They are the heroes of this story.
How are you exploring these issues in the classroom? 
We often look at contemporary labor events to explore larger issues in U.S. labor relations: the precarious work conditions faced by young workers and the rise of Gen Z labor activism, the vision of the future of work promoted by billionaire CEOs such as Jeff Bezos and Howard Schultz and the questions of why workers' legal rights are weaker and corporate opposition to unions is stronger in the U.S. than in other rich democracies. 
What drew you to labor studies originally?
I grew up in a working-class background in Glasgow (Scotland) — labor issues were pretty much everywhere. In the U.S., unions and collective bargaining have arguably been the most effective anti-poverty program in the country's history, and labor activists have played a key role in fights for racial and environmental justice, gender equality and LGBTQIA+ rights. You can see examples of all of these not just in labor history but in current labor struggles: Queer, trans and non-binary workers have played prominent roles in the Starbucks union campaign, Black and Brown workers led the campaign to organize Amazon, grad student workers are demanding subsidized public transportation in their benefits, not just for economic reasons, but also for environmental reasons. But, mostly, these workers are struggling for dignity and respect at work — something everyone should have — and view unions and collective bargaining as the institutional embodiment of their notions of just treatment at work. The involvement of SF State students in several of these organizing campaigns shows that young labor activists can not only play a role in creating a fairer, more decent society, but they are also probably our best hope of achieving that.
Illustration by Karen Q Kemp