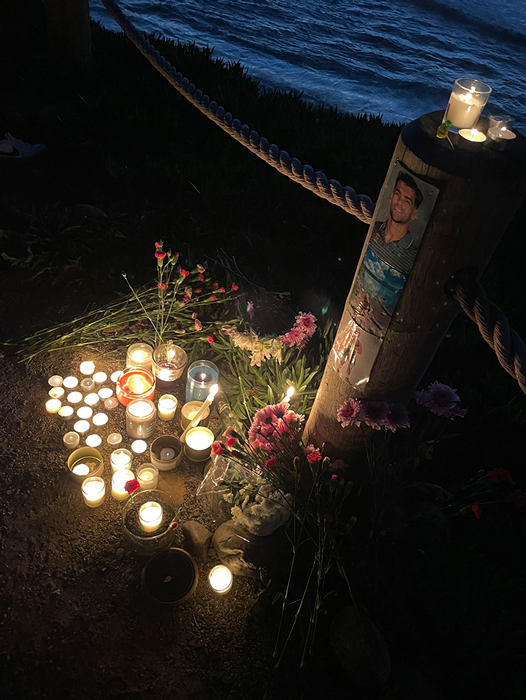 "Hamzah's personality was like the sun. It was contagious and made you feel special. We'll remember him for his exuberant style, his kindness and his mischievousness."
—Jason Welch, SF State Head Wrestling Coach
In January, student-athlete Hamzah Alsaudi was lost at sea while swimming with fellow SF State wrestlers near Pacifica. Born in Iraq in 2000, Alsaudi lived in Baghdad until he was 4. After six years in Jordan, his family came to the United States in 2010. Alsaudi was majoring in Political Science at SF State with a minor in Arab and Muslim Ethnicities and Diasporas Studies. (Pictured: a memorial to Alsaudi created by his teammates at a tribute event earlier this year; photo by Brayden Concepcion)
Samuel Boikaner (B.S., '15) was killed while volunteering overseas. A medical student at Ben-Gurion University of the Negev in Israel, Boikaner was part of an Israeli group providing medical services in Nepal. He was due to graduate in July.
Virginia Dooley (B.A., '40) passed away in her home in Calistoga, California, on Oct. 25, 2022, just 13 days shy of her 103rd birthday. She earned a degree in Elementary Education from SF State (then known as San Francisco State Teachers College) and went on to a long career in public education.
Jordanna Freemer (B.S., '09) was part of the 2005 SF State softball team that was inducted into the University's Athletics Hall of Fame last fall. That squad is the winningest team in program history and went on to win the NCAA Western Regional. Freemer holds a number of batting records for Gator softball, with 33 career home runs, 137 RBIs and 152 runs scored. She passed away in November at the age of 36.
Author and playwright Cecile Pineda (M.A., '70) founded the experimental Theater of Man theatre company in 1969 and guided it as director for the next 12 years. The author of both novels and nonfiction books, including the memoir "Fishlight: A Dream of Childhood," she won the Sue Kaufman Prize for First Fiction, a Gold Medal from the Commonwealth Club of California and other literary awards. She died in Berkeley at the age of 89.
Emeritus counselor faculty Michael Ritter (M.S., '84) passed away unexpectedly Sept. 16, 2022. The 67-year-old Ritter was training for his eighth Alcatraz swim to raise funds for the Continue the Dream for Academic Excellence Scholarship, created to benefit undocumented college students. He was passionate about working with marginalized communities, particularly those impacted by homophobia, racism and other forms of oppression. As program director of Prevention Education Programs within SF State's Counseling and Psychological Services, he ensured that students had access to information, counseling and resources on sexual violence, HIV/AIDS and alcohol and other drugs.
In the 1960s, Don Took teamed up with other student-actors from SF State to help launch the South Coast Repertory theatre company in Orange County. When Took enrolled at SF State he intended to follow his doctor father into a medical career. He ended up getting bitten by the acting bug thanks to his roommate, actor (and future South Coast Rep Founding Artistic Director) Martin Benson. Over the years, Took appeared in dozens of South Coast Rep productions. A favorite role was Jacob Marley in "A Christmas Carol" — a part Took played 25 years in a row.