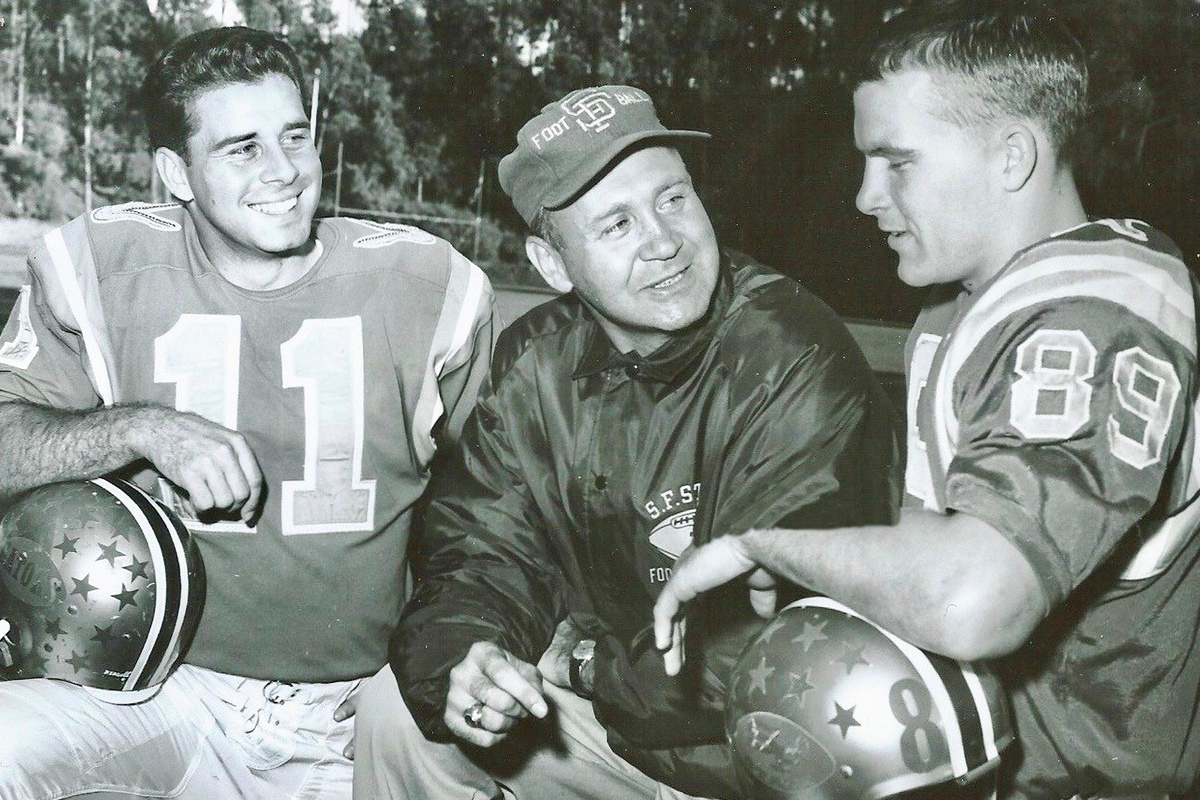 Legendary SF State football coach Vic Rowen had a lasting impact on his players, his assistants and even the sport itself
By Matt Itelson
Although Vic Rowen's 29-year tenure as SF State head football coach ended 34 years ago, his impact on the sport carries on as strong as ever. Dozens of his former Gator players and assistant coaches have gone on to success at the highest possible levels, establishing a coaching tree that is historic.
Watch any NFL or college game and you will likely see Rowen's impact, not just on the sidelines but also in the Xs and Os. Some of the electrifying plays that helped the Kansas City Chiefs win Super Bowl LVII this year were developed by Rowen. Chiefs head coach Andy Reid and tight ends coach Tom Melvin (B.A., '84; M.Ed., '87) both served as Gator assistant coaches in the 1980s, very early in their careers.
The late Rowen was a pioneer in the style now known as the West Coast Offense, normally credited to the great Stanford and San Francisco 49ers coach Bill Walsh.
"Everybody talks about the West Coast Offense. That's Vic Rowen's offense. Bill Walsh said that when there was a testimonial of the great coaches alive. I was there," says Philip Ferrigno (B.S., '00), one of three brothers to play for the Gators and now the championship-winning head coach for Lincoln High School in San Francisco. "He said, 'Hey Coach Rowen, you know, a lot of my concepts were from Coach Rowen's offense.'"
Born in Brooklyn, Rowen played tight end at Long Island University and earned a doctorate in physical education from Columbia University. He served as a staff sergeant in the U.S. Army 101st Airborne Division in World War II, including at the Battle of the Bulge.
He joined SF State's football program as an assistant to head coach Joe Verducci in 1954 before taking the full reins in 1961, also spending one year as the Gators men's basketball coach.
By 1967, the Gators had five Far Western Conference titles under their belts and a high-octane passing game that led the nation. With quarterback (and future UCLA head coach) Bob Toledo passing to future NFL wide receivers Ed Larios and Joe Koontz, the 1967 team was undefeated in conference play and earned a trip to the Camellia Bowl. Rowen also developed future NFL players Floyd Peters, Bill Baird, Charlie Fuller and Elmer Collett. He gained national clout as president of the American Football Coaches Association and, following retirement, the player selection director for the East-West Shrine Bowl.
"Everybody talks about the West Coast Offense. That's Vic Rowen's offense."
—Philip Ferrigno (B.S., '00)
Rowen approached his job with the erudition of a professor, inspiring his players to pursue advanced degrees as well as coaching careers. Nose guard Allen Abraham (B.A., '62; M.A., '64) earned his doctorate from Columbia before returning to SF State as a Kinesiology professor for 45 years and Gators wrestling coach for 18 years.
"Rowen's contribution is massive in the academic theory and analysis of football. I think it's the teaching aspect of football — the pedagogy of football," says Abraham, also a member of the National Wrestling Hall of Fame. "He opened up the game. He studied everything."
Playbooks were Rowen's secret weapon. He kept playbooks from other colleges in the team office, making them assigned reading for all players and staff.
"Vic Rowen was a great teacher of coaches, and he had this huge library of playbooks in the office — from every school. He'd call up a coach and go, 'Hey, can I get your playbook?' and guys would send him their playbooks," Kansas City's Reid said at a press conference last fall. "That was a beautiful library. He had all this stuff that you could look at and dive into."
Quarterback Donald McPhail (B.A., '66) transferred to SF State from Navy in his mid-20s. With a night job at United Airlines, McPhail didn't get to know Rowen until much later in life. He is very grateful that he did.
"He had an amazing memory of every player who ever played for him. He would reflect a lot, and any name that came up, he knew that kid," says McPhail, now the president of the Gator Gridiron Club, a football alumni group keeping the program's history alive and raising funds for scholarships. "He knew about them, and for most of them, he knew what they were doing later in life."
What were they doing? Coaching and teaching, of course. As Ferrigno says, "Coach did it right."
Bonus Content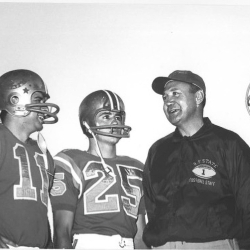 The Vic Rowen Coaching Universe
Learn more about the football coaches whose careers Vic Rowen helped launch.